Imagine leaving the comforts of frigid 24 degree weather in Chicago (eyeroll) to travel to one of the Nation's best foodie festivals on the sandy beaches of Miami. As always I had an AMAZING time attending the Food Network and Cooking Channel South Beach Wine & Food Festival presented by Capital One.
The South Beach Wine & Food Festival is a national star-studded, five day destination event showcasing the talents of the world's most renowned wine and spirits producers, chefs, and culinary personalities. There's over 100 events, 450+ Talent, and 65K+ in attendance. 100% of proceeds benefits the Florida International University Chaplin School of Hospitality & Tourism Management.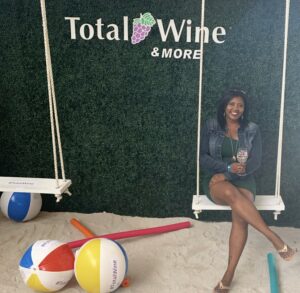 This was my second year attending the festival (check out the prior year HERE) and they always bring it with high class talent. This year Dwayne Wade was hosting a pool side wine & cheese love affair, Tyler Florence was getting the crowd mouths watering with the Chicken Coupe (check out my past interview with Tyler Florence HERE), Martha Stewart was hosting private dinner events, and Busta Rhymes was bringing the beats at the Goya Foods Grand Tasting Dave Grutman Experience.
Soooo many events and so little time! It's hard to narrow down which events to attend! There's location (sandy beach or posh hotel), which culinary personalities you want to meet, what food you're craving….. DECISIONS DECISIONS!!!! Check out my five days of SOBEWFF attending official and unofficial events below. If this sounds like your type of festival start planning for next year. The 20th annual SOBEWFF will be held February 24th – 28th! www.sobewff.org
Last year I mingled with super talented chefs at the SOBE 2019 events. I met Food Network Celebrity Chef Chris Valdes at the Welcome Director's Happy Hour. Since then I've been an avid follower of his You Tube show "Cooking with Chris" and made one of his delicious recipes of Seared Salmon with Honey Lime Corn Salsa. (https://youtu.be/dcfS2p9H7xw). I also had the opportunity to interview Chef Valdes at the New York City Wine & Food Festival (Click HERE).
While in South Beach I attended a private influencer soirée hosted by Florida Milk Ambassador Chef Valdes and his team at the beautiful Gates Hotel South Beach. We partied the night away with special food/drink pairings created by Chris and had a wonderful time mingling and EATING. I was also lucky enough to get to try one of Chris Taco creations at the Tequila Cazadores presents Tacos After dark hosted by Danny Trejo event. If you like Taco's and Tequila you were in PARADISE that evening!
This year unfortunately I didn't make it to my favorite event "Taste of Jamaica" but I heard the second year of this event was the best year yet! The sold out fest was hosted by Chef Andre Fowles (Appleton Estate Premier Rums "Rumbassador", culinary ambassador for Jamaican cuisine, and owner of Everything Food based in New York) and Chef JJ (James Beard Award winner and founder of FieldTrip Harlem in New York). The signature soiree pays homage to the classic flavors of Jamaica and the Islands.
I heard one of the crowd favorites of the night was Chef Fowles take on the Jamaican mackerel rundown with dumplings. I'm drooling and need to try it!! So glad I got to meet up with a few of the Chefs participating in the Taste of Jamaica for lunch and I plan on interviewing the talented #IslandChefs (Chef Kahari Woolcock and Chef Andre Fowles) in the near future as they expand their culinary talents worldwide. Stay tune!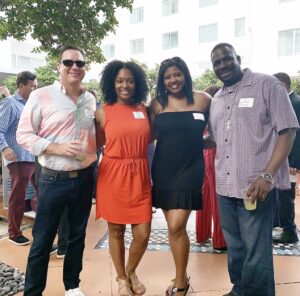 Check out my experience at the First Annual Taste of Jamaica HERE. One of my favorite bites last year was from returning Chef Wenford Simpson. Chef Simpson Deboned Oxtail Stew with Mac & Cheese last year was one of my favorites and definitely a crowd favorite. I traveled to New York last year to interview the highly motivated Walkerswood ambassador and successful Chef of Sony Hall in New York. Check out our past interview HERE. It was so wonderful getting to see Chef Simpson at the Directors VIP SOBE Happy hour.
It's always nice to attend SOBE's signature events. This year I attended the sold out Saturday Goya Foods' Grand Tasting Village. Held on the sandy beaches of Miami, the event allows guests a chance to refresh and tantalize their taste buds with offerings from more than 50 restaurants and an array of wines and libations from Southern Glazer's Wine & Spirits. I was definitely getting my drink on and taking advantage of all the instagramable moments, like this one with Confetti Wines. So much fun!!!!
Remember my mention of "Unofficial" SOBE parties?? I attended the fourth annual "New Taste" pool party hosted by Chef JJ of FieldTrip in Harlem. Sooo much fun eating and drinking (Coca Cola Energy, S. Pellegrino, and Maison Marcel) pool side while listening to what sounded like my playlist. LOL. Music was FIRE!!
I'm now back in the tundra of Chicago already looking forward to the next SOBEWFF. Make sure to follow sobewff.org to stay up to date on all the events and deal offerings. See you next year!!

Copyright secured by Digiprove © 2020