"I'm a perfectionist. The presentation of my food represents who I am as a person. I take pride in myself and I'm going to take pride in what I send out to my customers," said executive corporate chef of Sony Hall in New York, Wenford Patrick Simpson. Chef Simpson went on to say, "It's everything from the taste, quality of the product, consistency, everything that has to do with the dish… I'm going to take pride in. People appreciate it more when they see that the dish comes from someone who cares about their opinion on the dish and wants them to enjoy it." Wenford, AKA Chef Patrick, culinary journey started from cooking as a youngster for his sister in Jamaica. Now he's coming out with his own cookbook later this month and hosting his own show on the Food Network next month!!
I first met the International Culinary Celebrity Chef when I was covering the Food Network and Cooking Channel South Beach Wine & Food Festival in Miami back in February. Chef Patrick is well known for fusing together Caribbean spices with an American Southern cooking technique. I was won over by the tantalizing flavors and presentation of his Deboned Oxtail Stew with Mac & Cheese at the Taste of Jamaica event. This time I was heading to Sony Hall in New York to interview him. Sony Hall is a premiere music venue located in Times Square. Renowned performing artists across all music genres perform at the venue powered by state of the art technology. The venue is owned/operated by Blue Note Entertainment Group and sponsored by Sony Corporation.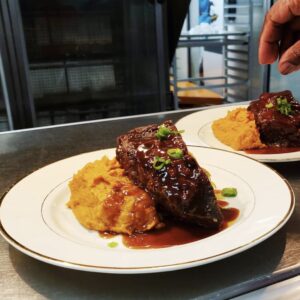 When I arrived at Sony Hall Chef Patrick was preparing dishes for a tasting. My stomach was doing a low growl as I watched him orchestrate and masterfully plate several courses of meticulously prepared dishes. By the time he got to the dessert course I was full on drooling in the background and wishing I could trade places with the taste tasters. I had plans to return that evening to the venue for dinner….so I patiently reassured myself to wait my turn.
You could tell Chef Patrick's comfort level in the kitchen. As he prepared each dish, he was in his creative zone. As a brand ambassador for Walkerswood Caribbean Foods, he definitely knows his spices! The way he drizzled the sauces or sprinkled the seasoning on each dish was thought out and done with precision. Chef Patrick represents Walkerswood seasoning because he is passionate about their brand and their located in his hometown of Jamaica. Walkerswood is the first company to export Jerk Seasoning and distribute their product in North America, Europe, New Zealand, and throughout the Caribbean.  Chef Patrick has a packed schedule between being a brand ambassador, executive corporate chef, cooking for celebrities, TV appearances, and all of his civic & culinary endeavors. When it comes to preparing his dishes though….time seems to just stand still as he prepares the food with such love and care.
As we sat down for our interview he had to take a few minutes to check his emails which involved tons of catering and TV appearance request.  We sat down to talk about his highly anticipated cook book, "Cooking with Love", his show coming out on the Food Network (with a May/June release time frame), and his endeavor to give back to his homeland of Jamaica by opening a culinary school there. Chef Wenford Patrick Simpson will soon be a household name and I was so excited to get to interview him! Check out our one on one interview below!
Tavi J. One on One Interview with Chef Wenford Patrick Simpson

I was super impressed with your cooking when we first met in Miami at the Sobe Wine & Food Festival. I remember that weekend you were leaving the conference early to cater an event for rap super star Nicki Minaj. You have cooked for over 300 celebrities and have appeared on many major network tv shows (Fox, NBC, Good News Jamaica….to name a few). I want to go back to how you got involved in the culinary world. Can you explain to us your childhood journey and what led to where you are now?
How cooking came into play for me was more so out of poverty. I grew up in a single parent home and had to take care of my sister. I was always trying to whip up something in the kitchen for her. One day I was in the kitchen and the only thing we had was cabbage and rice. So I was going to make steam cabbage and rice. When I was trying to get a seasoning out of the cupboard I accidently spilled something directly in the cabbage. When I looked down it was Curry. So at this point I'm like OMG what am I going to do because I can't remove it. So I just stirred it in. When my sister came home she was with her friends and she laughed and laughed at me. At this time I was around 10 or 11 years old. She taunted me that I couldn't cook and between my tears I declared to her I was going to be a chef one day. I'm known for taking negatives and turning them into positives.
You knew from a young age you wanted to be a Chef. What steps did you take in your career to get to where you are now?
When I got to high school they asked me what I wanted to do for my practical career. Originally I wanted to be a pilot. I was always intrigued by airplanes. The closest I got to an airplane was looking up at the sky. I always wondered what was going on up there and wished they could take me away somewhere. I stuck with cooking though and told my teacher I wanted my "working experience" (similar to internships in the United States) to be in the cooking field. She sent me to a restaurant and when I got there the only thing they made were patty's and coco bread. I was a professional at making them both after three days there. When my two weeks were up I told my teacher I didn't learn anything. I could tell her every ingredient that goes into patty's and coco bread, but that's about it. She was able to connect me with her friend that worked at Club Caribbean Hotel. That's where my culinary career began. I started off peeling potatoes in the kitchen, helping the dish washer, and doing anything I could to get experience. I was offered a job to work there after graduation.
How did you make your way to the States to cook?
I was working at another hotel in Jamaica by that point. While I was there they were recruiting for people to go work on the cruise ships. One of my friends encouraged me to go take the test for the cruise ship. When I arrived at the testing facility there were already other cooks and chefs in the classroom. The instructor gives me the 100 question test and tells me I have 45 minutes to complete it. I was done within 20 minutes and went to go hand it in. The instructor didn't believe I was done because I started after the rest of the students and finish so quickly. He said he wanted me to take 10 minutes to review my answers. I took the 10 minutes and was still satisfied with what I handed in previously.
Six months later I was at work and was paged over the intercom to come to the front desk. When I get there two guys are standing there looking like Feds. They took out there Ids and identified themselves from the cruise line and they were based in Miami. They said you took the test about six months ago and basically to make a long story short were not supposed to go back to Miami without you. You were the only one that scored 100% in the shortest amount of time. They came to Jamaica just for ME and to take ME back to Miami.
I had never traveled before and had no passport. They told me all I had to do was say yes and they would take care of all the credentials. Everything was going great and then the devil threw a curve ball. I was told I had to pay for my first plane ride ticket to Miami. The reason being because the company had been losing a lot of money from the workers running off the job after they got to Miami. So the company would reimburse me back the ticket after working for them a year.
My mom worked two jobs at the time and my dad was not around and non-supportive my whole life. I had no idea where to find that kind of money. In those times tickets were expensive. I hadn't talked to my dad since I was six years old and now I was 17. He refused to give me the money to help with my future. My mom never gives up and she contacted a friend in the UK. Not only did her friend book my plane ticket, but he had me riding to Miami first class.
Isn't it funny, but sometimes the people you know the least are the people who help you the most.
That's very true. I never got to meet my mom's friend, but I did get a chance to thank him on the phone. From there I worked on the cruise ship nine years, came off and went back to Jamaica and started a chemical company business. I also bought two mini buses and started a transportation company. For the next two years I operated these companies. I started missing cooking and decided selling chemicals and driving a bus weren't for me. I heard that Disney Cruise lines was hiring. I interviewed and was hired. I worked for them for 3 years as a sous chef. After that I went back to Jamaica briefly and once my whole family all migrated to the US I decided to come back as well and settled in New York.
I know once you got to New York you had many hardships?
Yes I was homeless for a minute. I put together my resume with the help of one of my aunts and went to Manhattan. I was looking for anything that said hotel or looked like a restaurant. Most of the places I went into either threw my resume in the garbage can or didn't take it and told me to go online and apply. I ended up working at several places until I got my big break at a restaurant I entered in Harlem. The guy I was talking to was the general manager of B.B. King Blues Club & Grill. They were looking for a chef. I told him I was interested and he called the next morning to schedule an interview with me. They put me at the Highline Ballroom first to test me out since it's a smaller venue. Once I proved myself I was hired as the executive chef for B.B. King Blues Club & Grill. Now I'm at Sony Hall and I'm the corporate chef for the company. I've been with this corporation now for nine years.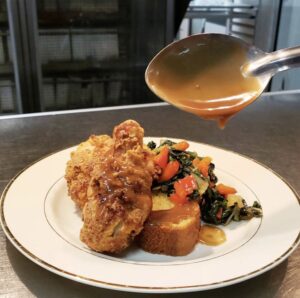 You use a Southern Cooking technique to create a distinct flavor profile and a unique flair. Do you think nowadays food presentation is just as important as the taste itself?
Yes. Presentation is key! That first impression sells. People eat with their eyes before they even taste the meal.
Sony Hall is such a unique venue in that it's a concert venue hall. What dishes are most requested at Sony Hall?
The Pan roasted chicken and the salmon with the picante sauce. All the dishes are really delicious!
You've cooked for over 300 celebrities and counting. Is there anyone you were star struck by?
I would definitely say Obama. I cooked for the President and his wife at an event in Washington DC at the Howard Theater. I was like a groupie when I went over to him. Barack ordered the jerk chicken and Michelle ordered the coconut curry salmon. They both enjoyed their meals!
You're pretty much a celebrity yourself now! Can you tell us a little bit about the highly anticipated cookbook "Cooking with Love" coming out this month?
This cookbook is me pouring out my love of cooking into each paragraph. Each paragraph tells a story about me. When people hold this book it's not going to be like any other cookbook. From the moment you pick up the book and hold it in your hand… it's my life story. How this book came to be in your hands is going to be on every page.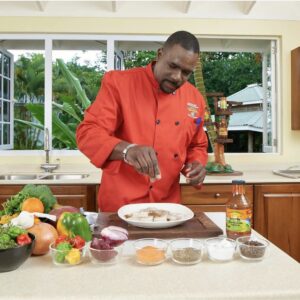 Are all the recipe's Caribbean Inspired?
No it's a fusion of many different recipes across your favorite dishes. They'll be dishes I made for celebrities and a wide variety of other occasions.
Every picture you see in my book wasn't a picture that was just set up for a photoshoot. It's a picture that was taken before someone actually consumed the dish on such and such night. Someone ate it. All the dishes you drool over on my social media you can eventually make it yourself.
Is the cookbook okay for beginners or only the pros?
You're the first person to actually see what the pages are going to look like and the back cover. You can see that the pictures and layout of the book are different from most cookbooks you see. Look at the name of the soup "Grandma Chicken Soup." Each paragraph list what the food is and tells a story. I'm not trying to make it where people won't be able to find the ingredients.
So the burning question people keep asking you is when and where will they be able to purchase the cookbook?
I'm shooting for the last week in April. You'll be able to purchase it on Amazon and from my website www.chefwenfordpsimpson.com.
Is that going to be around the same time your show debuts on the Food Network? Can you tell us a little about that?
There finishing up editing the Promo's. The show is going to debut around the same time as the book. I'm thinking most likely May or June timeframe.
So you got a book coming out, going to be starring in your own Food Network show, and you're giving back to your hometown of Jamaica in a big way. Can you tell us about "Simpson's Culinary Institute?"
I believe you can be anything you want to be. I see myself in so many of the kids that I mentor. My culinary school should be opening in July of this year. It's my way of giving back to Jamaica. Yearly I do tours where I go around and mentor the youngsters and this was a way to give back to the community even more. The school will be for ages 15 to about 25. It's not funded by any Jamaican Institute. It's funded out of my own pocket. I'm trying to make it a non-profit. Whatever the government or Jamaican Ministry of Education wants to give is fine, but I definitely will be involved and will be opening this institute with or without help.
Stay tune because Chef Patrick will be a house hold name in the near future! Make sure you're following him on social media to see what he's doing next!

Copyright secured by Digiprove © 2019