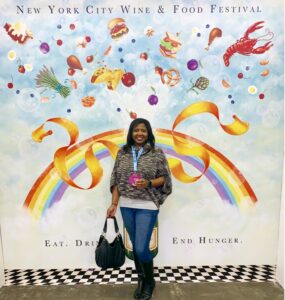 New York City is a food lover's paradise! Being from Chicago we have our fair share of culinary greatness and hospitality, but there's definitely something about jetting off to New York to experience four days of culinary greatness known as the Food Network and Cooking Channel New York City Wine & Food Festival. Festival guests experience the very best food and beverages from over 500 of the industry's best chefs and restaurants. Event proceeds benefit the organizations Food Bank For New York City and No Kid Hungry in their fight to end hunger.
I was super excited to cover the Festival again! Going into its twelfth year, the star studded event showcases the talents of the world's most renowned chefs, wine, and spirit producers, culinary personalities, lifestyle experts, and America's most beloved television chefs. The festival is considered the largest wine in food festival in New York with over 80 events and over 50,000 event attendees.
One of the beloved Chefs participating in the festival was Celebrity Chef Chris Valdes. Chef Valdes likes to fuse Caribbean flavors with modern influences to create thought provoking dishes that are easy to make. I got the opportunity to grill the Miami native about his time on Food Network season 14 of "Food Network Star" and talk about his popular hit You Tube series "Cooking with Chris," which is now in its fourth season. Chef Valdes also shared an exclusive with Chiataglance readers! Check out our interview below and keep scrolling for my other highlights from the New York City Wine & Food Festival.
Tavi J. One on One Interview with Celebrity Chef Chris Valdes
Chris I can't believe November is right around the corner and next month is Thanksgiving! Do you like to keep it traditional for Thanksgiving or do you like to spice things up in the kitchen?
I personally like to keep it traditional, however my family does not like for me to keep it traditional because we're Hispanic. So I make all the traditional sides and dishes, but they also make me do the Latin side. We do the Flan and we do a full roasted Pork. Being Latin American it's important for us to do a little bit of both. So I'm going to be doing a little bit of both.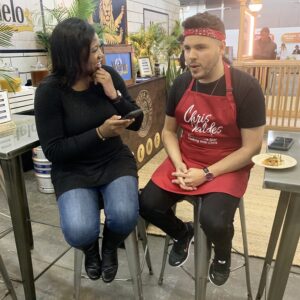 Can we look forward to Thanksgiving based episodes on "Cooking with Chris?"
Not really, but I do want to do a video about frying a whole turkey. Every year I fry my turkey and it's the most delicious and beautiful thing. I think a lot of people are scared to fry their turkey because they don't know how to. I want to teach people how to fry a damn turkey! I want to show my followers it's super easy to make at home and you'll be fine.
Frying a turkey at home seems super delicious, especially when you can take your time and do it right. You were on Season 14 of Food Network "Food Network Star." I can imagine it's vastly different cooking when you're competing in timed competitions. Can you give us a little behind the scenes of what it was like?
At home what people see is a 30 minute to an hour show. If they only knew that for one episode you typically have three days of filming. It was hard to deal with. I had to hide a bottle of Vodka in my room. (Chris laughs) It's long hours and you're on your feet for about 18 of them. On top of that there's so much going on around you. You have like 25 Camera men shooting you from all different angles. You better not fart, you better not look weird because they capture everything. With the constant adrenaline you don't even need coffee because you're constantly running and looking around. Then there's the intimidation factor. You have Bobby and Giada which for me are two chefs I looked up to growing up, so obviously you get a little nervous. There's a lot going on.
I'm sure your Food Network debut isn't the last time will see you on our television screens. I read somewhere you're an inspiring actor. Is that true?
Yes I am an inspiring actor. I went to the Miami acting studio for three years. One of my first passions was being an actor. I remember back in 5th grade I was in the Wizard of Oz play and it's something I've always loved. I'm so thankful and grateful that I took these acting classes because they help me. Even if you're being yourself on TV for a reality show you always need a little training how to work the side angles and how to smile correctly and all these things. I definitely want to work towards acting in the future.
What would be your perfect role?
It's a little scary, but I love dramatic acting. It's something that I do very naturally. Not that I'm dramatic though. Another thing I like to do besides acting is singing. In December/January I plan on doing a little something with that.
Also in January I have something big coming out I haven't shared with anybody, but I'll share it with you. I have my first cook book coming out and we're going to be officially announcing it in December.
That's awesome! Who has been your cooking inspiration?
I like a little bit of everyone, but my favorite Chef is Chef Emerald Lagasse. In my cookbook I write a little autobiography and I say how Chef Emerald inspired me to be who I am today. Growing up my father was in jail, so I didn't have a father figure. Anything Chef Emerald did on TV inspired me.
On the cooking series "Cooking with Chris" how do you decide what to teach the audience to cook?
I like to do a lot of things that are trending. For Example this year what was trending was the fried chicken sandwich. I did an episode on that last season. I always look for what's trending and what people want to eat.
It's great seeing you here at NYCWFF and meeting you earlier this year at sister festival SOBE Fest. Will you be returning to SOBE Fest in February 2020?
I am going to be at SOBE Fest! We have a few demos lined up. I have around eight events I'm going to be doing. My own events and I'm an Ambassador for Florida Dairy Farmers, so we're going to be doing events with them as well.
Make sure to follow along with Celebrity Chef Chris Valdes at www.chefchrisvaldes.com. Check out his Popular You Tube Series "Cooking With Chris" and give him a follow on Instagram and Twitter @ChefChrisValdes
Tavi J. from Chi@Glance Highlights from The Food Network and Cooking Channel New York City Wine & Food Festival!
With so many events it's hard to narrow down which ones to attend. I began my festival food journey Thursday night (10/10) with Elvis Duran's Taste of New York. We danced the night away while sampling dishes from more than 25 of New York City's popular restaurants. The crowd got super pumped when Grammy Award-Winner Alessia Cara made a special appearance! I myself couldn't wait to see her perform "Scars to your Beautiful."
The next morning I was quite tired, but the show must go on. 🙂 I attended the Invite-Only Trade Tasting presented by Southern Glazer's Wine & Spirits and hosted by Wine Spectator. The exclusive experience for SGWS's top clients and partners educated us about new trends and products in the food beverage industry. Of course, we got to taste these new trends and also sip on rare, exclusive or limited vintage wines and spirits from the SGWS and Lauber Imports Portfolio's. I took a visit to the Wine Gems Collection Room and was super impressed with Benziger 2017 Cabernet Sauvignon.
Later on in the evening we kept our food adrenaline going by attending The Blue Moon Burger Bash presented by Pat LaFrieda Meats and hosted by Rachael Ray. NYCWFF's epic burger battle is one of the most popular parties! I even bumped into Journalist/ TV Personality Gayle King. I would say for my fellow Chicagoans it's similar to the Hamburger Hop at Chicago Gourmet. We spent our evening under the stars while chowing down on over 25 of NYC's juiciest burgers, featuring premium Pat LaFrieda meat, along with classic side dishes and indulgent desserts. Once you've sampled ALL the burgers (lol or as many as you can handle) you vote for the Blue Moon People's Choice Award. The 2019 Champion this year was San Matteo Pizzeria e Cucina. The Blue Moon's People's Choice winner was Pig Beach NYC. Definitely one of my favorite events of the weekend!
The next day I headed to the Grand Tasting! Again you get to experience food from some of the best NYC restaurants and the most sought after wine and spirits. Attendee's roam over a city block's worth of food and beverage offerings while mingling with amazing culinary personalities. My favorite highlight would probably be sampling whiskies I wasn't familiar with. I really enjoyed Nikka Coffey Grain Whisky and Ka Va Lan Whisky. Of Course, I loved my tried and true favorites as well…like Makers' Mark, Basil Haydens, and Four Roses.
Saturday evening I ended the day with the Titans of BBQ event presented by National Beef and Pat LaFrieda Meats and hosted by Dario Cecchini, Pat LaFrieda, and Michael Symon. I would have to say one of my favorite BBQ bites was the smoked beef rib taco from Carlito's Barbecue Taqueria.
I was in a food coma on Sunday, but I slowly made my way to brunch with the cast of Food Network's Chopped. So much food, so much entertainment, and an absolute four perfect days spent in New York City for a great cause!
Can't wait to experience next year's New York City Food & Wine Festival for yourself? Consider checking out their sister Festival SOBE Fest in South Beach Florida. Very similar to NYCWFF except in February and on the beach. 🙂 Check out my recap from last year HERE and if it seems like your type of event head to sobewff.org and get ready for a super fun time February 19-23, 2020.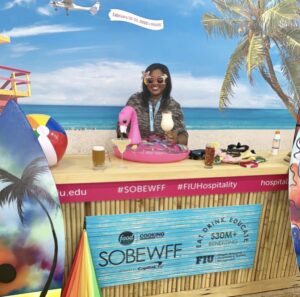 Copyright secured by Digiprove © 2019