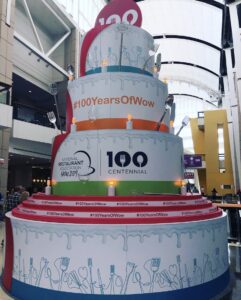 The National Restaurant Association Show (NRA) is one of my favorite events! It's the largest foodservice trade show in the country hosting up to 67,000+ professionals. The NRA show started in 1919 and this week we celebrated the 100th Year Anniversary! May 18th – May 21st at McCormick Place was the place to be to learn, experience, network, sample, and test ALL the latest things in the food/beverage industry. This year there were more than 100 education sessions. The sessions offered show attendees the opportunity to grow their industry knowledge while leveraging and expanding their professional and business networks. The NRA show is open to professionals involved in the restaurant, foodservice, and hospitality industry. More than 2300 exhibitors were at the 2019 show. Attendees came from all 50 states and 100+ countries.
Tavi J. Takeaways and Highlights from the 2019 National Restaurant Association Show




The FABI Awards
The NRA show gears up with the "FABI Awards." The FABI awards recognizes food and beverage products that are breaking new ground in taste, creativity, packaging, and profit potential. These industry-altering products will shape the future of food and beverage with flavorful and marketable items designed to delight diners and drive sales for years to come. Each award recipient and their product were highlighted throughout the exhibit halls at the show. One of the award recipients was, Beyond Meat. No surprise there with all the restaurants and stores now serving this product. I remember having my first Beyond Beef patty at an event at Epic Burger Restaurant. The plant-based ground beef product that looks, cooks, and satisfies like traditional ground beef contains no cholesterol and 25% less saturated fat than 80/20 ground beef. It also contains no gluten, soy, or GMO's. It's made from simple, plant based ingredients-peas, brown rice, and mung beans to provide protein. Coconut Oil ensures mouthwatering juiciness and beets provide the meaty red hue.
World Culinary Showcase
The World Culinary Showcase at the NRA show features top chefs on stage showcasing the latest trends, techniques and recipes, fascinating behind-the-scenes stories, and how to rethink cuisine in their own kitchens. I attended the session with Andrew Zimmern. Andrew Zimmern is a four time James Beard Award winning Chef, Author, TV personality, and Teacher. He is regarded as one of the most versatile and knowledgeable people in the food world. I've seen Chef Zimmern speak on other occasions and he does such a great job captivating the audience and dropping gems of knowledge. During the showcase he did a culinary demonstration. Some tips I took away were:
Most home cooks don't cook with enough heat. They don't taste their food and they use pots and pans that are too small. Don't cram six chicken breasts into an 8 inch skillet. It's not in your best interest to do so.
Browning the chicken. Browning is something else you can only do when you have a really hot pot and you don't crowd the pan. HOT PAN DON'T CROWD IT! Browning is a culinary term. Beiging is the capital of China. (LOL) The reason why we want our food to be brown is texturally it improves the quality of the dish and gives you really great levels of flavor.
Cannabis Pioneer Presents at the World Culinary Show Case
There's so much talk about CBD and Cannabis in the restaurant and consumer markets. CBD and THC make up Cannabis. The non-psychoactive component, CBD, was removed from Congress list of illegal drugs last year. With that came the CBD Craze. Chris Sayegh, also known as The Herbal Chef, is a pioneer in the Cannabis-infused fine dining experience and uses it to elevate the perception of Marijuana in mainstream media. I had the pleasure of interviewing Chef Sayegh and attending one of his CBD infused dinners. At the Culinary World Showcase he did a demo and later on that day he led a panel and spoke on understanding the buzz of cannabis in foodservice.
"A Fine Line" – Award Winning Documentary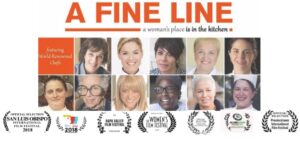 I recently heard the question posed how is it that women are traditionally known to be the cooks at home, but so few transition to the professional culinary world? Less than 7% of head chefs and restaurant owners are women. "A Fine Line" is a critically- acclaimed award winning documentary chronically the challenges and triumphs that female chefs face in a male-dominated environment. The film includes trailblazing women such as Dominque Crenn, Mashama Bailey, Cat Cora, and more. The NRA hosted a screening of the documentary with the filmmaker, Joanna James, in attendance. The post-screening panel included a discussion on diversity and women leadership initiatives with Chicago's very own two Michelin Star Chef Carrie Nahabedian, Owner and Chef of Naha and Brindille and Celebrity Chef and TV Personality, Rick Bayless.
New Initiative announced by the National Restaurant Association Educational Foundation (NRAEF)
The National Restaurant Association Educational Foundation (NRAEF) announced a new initiative with funding from PepsiCo. The new community collaborative between local restaurants, nonprofits, and its Restaurant Ready Program will train both young people disconnected from the workforce and formerly incarcerated populations in work-readiness skills to prepare them for careers in restaurants and foodservice. The announcement was kicked off with a ribbon cutting ceremony during the National Restaurant Association Show, with appearances and remarks from local and national leaders supporting the initiative. The goal of the collaborative is to bridge the gap between the community organizations and restaurant employers to connect career opportunities to individuals who need it most, leveraging restaurants and foodservice companies as a first-step to employment – and ultimately serve as a national model to bolster workforce efforts across the county.
Mixology Demo
The Aviary is known for having world renowned cocktails, so it was only fitting the Assistant Bar Director of the Aviary, Jarmel Doss, lead us in a mixology demonstration. Jarmel was the winner of the inaugural Chicago STARS Mixology competition last year hosted by the National Restaurant Association. At the mixology demo the topic of discussion was reverse spherification and its uses in mixology. Jarmel has a degree in biochemistry and was able to break it down to us how we can use the reverse spherification process in our homes. Reverse spherification involves taking a liquid that has flavor and adding a calcium salt to it. By adding the calcium of salt to it you're able to drop it into a hydrating bath (for example gelatin). What you're doing is creating a sphere that contains a liquid. So interesting and so scientific!
Walking the National Restaurant Association showroom floor
What better way to learn about the products than to have no agenda and just take a day to walk the showroom floor. That's what I did! Here are a few tasty items (both old and new) I enjoyed.
Head to nationalrestaurantshow.com for more information on this #tradeonly event.
See YOU next year!

Copyright secured by Digiprove © 2019