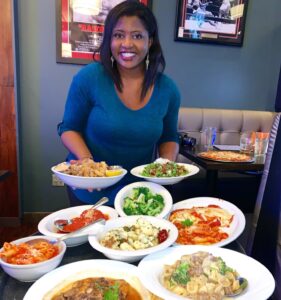 Happy National Pasta Day! How fitting I started my celebration early at Giglio's State Street Tavern! Giglio's opened in the summer of this year and their keeping the heat going with their DELICIOUS offerings! I pretty much tried the whole menu and was super impressed with the flavors and with Bobby! Who's Bobby you ask?!? Found and Owner of Giglio's, Bobby Hitz is the longest-running boxing promoter in Chicago. Bobby is a Chicago Legend and wanted to create a home style Italian feel to pay homage to his grandmother. Giglio's is a South Loop Neighborhood destination with authentic Italian cuisine ideal for family dinners and hungry sports fan. Read below for more details and to check out what me and my friend had for dinner last night! 🙂
GIGLIO'S STATE STREET TAVERN
PUNCHES UP THE SOUTH LOOP WITH HOMESTYLE ITALIAN COOKING
Chicago Mega Personality Boxing Legend Bobby Hitz Opens Neighborhood Destination
Authentic homestyle Italian cooking finds its roots in Chicago's South Loop with the opening of Giglio's State Street Tavern at 825 South State Street, where Chicago mega personality and famed boxing promoter (Hitz Boxing), Bobby Hitz shares not only his grandparents' recipes, but also his love for lingering family dinners around tables full of home-cooked food.
While Giglio's is decked out with 20 television screens for sports fans, just in time for football season, there's a stylish vibe to the cozy eatery with dark wood floors, plush mocha leather booths and black lacquer tables.
Whether in the boxing ring or in his restaurant, guests can be sure of a good time had by all with great food, nightly specials and a relaxing atmosphere. "Like my Grandma Giglio's home, the restaurant is for family and friends to gather and feast," said founder of Giglio's, Bobby Hitz.
"Kick off" the meal with Fried Calamari, served with house-made cocktail and sweet chili sauces, or share Meatballs and Polenta, topped with a rich marinara. Round out the first course with Giglio's must-have Eggplant Chopped Salad with fresh mozzarella and balsamic glaze.
Hearty entrées include Roxy's Pounded Pork, with sweet and spicy roasted peppers and Chicken Parmesan. Rustic pasta dishes feature Orechietti with Sausage and broccoli and white wine sauce; Rigatoni ala Vodka; and Gluten Free Beyond Burger Penne Bolognese. Thin and crispy pizzas include Cheese, Meatball, Sausage and Giglio's signature Spicy Ricotta with fresh tomatoes. There are burgers and then there's Big John's Burger, topped with American cheese, caramelized onions, lettuce and tomatoes served on brioche.
The meal isn't complete without the heavenly Tiramisu Tower and vanilla, lemon or flavor of the day homemade Chicago Style Cheesecake.
Seasonal cocktails include Grandpa Giglio's Sangria, with freshly chopped oranges and lemons; Cetriolo Martini, with cucumber purée and rosemary syrup; and the Tiramisu Shot, topped with whipped cream and cocoa powder. The drink menu also includes an extensive list of wines and draft beers.
Giglio's is open Monday through Thursday from 4:00 p.m. to 11:00 p.m.; Friday from 12:00 p.m. to 12:00 a.m.; and Saturday and Sunday from 11:00 a.m. to 12:00 a.m. For reservations or private parties, call 312-957-0095.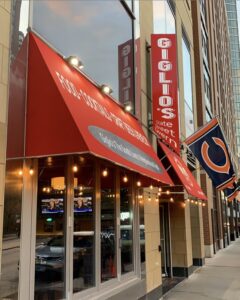 Visit Giglio's on their website at www.giglioschicago.com, on Facebook at @giglioschicago and Instagram at @giglioschicago.
*BONUS* Guess what?!? It's also #NationalDessertMonth Giglio's State Street Tavern is celebrating by offering $5 Chicago Style Cheesecake or Tiramisu Tower throughout October!

Copyright secured by Digiprove © 2019