Happy New Year! January is reinvention month. Resolutions are made and we're all planning ways to meet our goals. As the years go by and I get older I tend to think towards the future and where I see myself. One thing I envision always doing in some capacity is writing. Maybe not necessarily blogging, but writing in some aspect for publications. Our January Spotlight individual inspired me during our interview that nothing is impossible with hard work and passion. We both come from finance backgrounds and we both decided to explore our creativity through interviewing and our love of food. Chi@Glance first Spotlight feature of the year is shining the light on Margaret McSweeney of the podcast Kitchen Chat.
Margaret came from a finance background, but decided to take the advice she once received… which was "Do what you loved to do as a 3rd grader." Well Margaret loved to write, eat, and chat. Since heeding to that advice she has interviewed countless chef's and culinary professionals such as Carla Hall, Abe Conlon, Ina Garten, Dorie Greenspan, Stephanie Izard, Bill Kim, Clare Reichenbach, Anne Willan, and Fabio Viviani (to name a few). She has also interviewed on the red carpet of the James Beard Awards with dear friend and, Kitchen Chat co-host, celebrity chef Jaime Laurita. For those not familiar, the James Beard Awards are the Oscars of the foodie world.
Margaret officially started Kitchen Chat in 2011. She started off interviewing Chefs and people from the culinary world from her kitchen counter. The inspiration for Kitchen Chat came from Margaret wanting to pay homage to her late father who was a gourmet home chef. Margaret's father passed away a few months before her wedding 28 years ago. One of her biggest regrets was not cooking in the kitchen with him. She has fond taste memories of his culinary creations such as his hollandaise sauce, egg benedicts, and crepes. Starting Kitchen Chat was a way for Margaret to not only honor her father, but a tangible way to work through grief. Margaret didn't know how to cook at first and the kitchen intimidated her. However, as she started interviewing and testing recipes out in the kitchen, she began to understand what her father's joy for cooking was all about. It wasn't just about creating food, but sharing and experiencing fellowship around the table.
Kitchen Chat helped Margaret to preserve her father's memory, but also it helped her through another difficult time. After launching Kitchen Chat she was diagnosed with breast cancer and Kitchen Chat occupied her time as she was going through treatments. Margaret will be the first person to tell you she isn't tech savvy, so in order to begin her mid-life culinary journey asking for help was a must! Margaret said to not look at age or your circumstances. She's in her late 50's and decided it was time for her to pursue her dreams and purpose. Margaret reached out for technical support and at the time her studio was her kitchen counter. Now she's interviewing at the Viking Showroom at the Merchandise Mart with dear friend and co-host Celebrity Chef and Interior Designer, Jaime Laurita. The best advice Margaret can give is to "ASK." Ask for help and share your dream with others. Ask for their insight and input. The other thing she recommends depending on what industry you're in is to join organizations.
Margaret is a part of the IACP (International Association of Culinary Professionals) that was founded by the late American chef Julia Child over 40 years ago. When Margaret approached the CEO/President at the time (Meredith Deeds) she said "Meredith, I would love to join IACP, but I can't cook." Margaret will never forget Meredith response because it gave her much validation and inspiration. Meredith said, "Margaret of course you can join. You are a culinary communicator." Margaret isn't trying to be the next Julia Child or a talented chef, but she loves to Spotlight the culinary world stories. She loves to share their joy and that's where her passion lies. Margaret was such an inspiration to me seeing our journey and passion is similar. Check out the rest of our one on one interview below.
Tavi J one on one interview with Margaret McSweeney of Kitchen Chat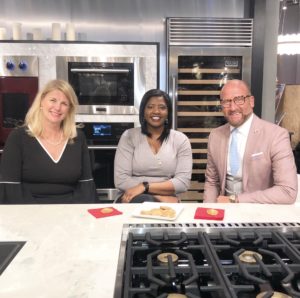 Let's talk about Kitchen Chat. You've interviewed an incredible list of Chefs and people from the culinary world. Can you share with us a memorable interview you will never forget?
There are so many memorable interviews and milestones in this journey. I'll never forget crying in Anne Willan's kitchen. Anne is an amazing woman and founder of the prestigious cooking school Ecole de Cuisine La Varenne and has launched the careers of countless chef's. Anne was much beloved by Julia Childs and was one of Julia's protégés'. I was in Anne's kitchen for a Kitchen Chat episode and there was this tiny copper pot and it was the same one my dad would use to make his hollandaise sauce. It was at that moment I was like, "Wow this is what it's all about." In one of Anne's cookbooks a Hollandaise sauce was featured so I decided to try to make it. I remembered watching my dad making hollandaise sauce when I was doing homework in the kitchen. My first attempt at making it turned out okay. It was a little runny, but I took a picture of it and sent it to Anne in an email. She sent me the sweetest note back that said "Bravo, you did a great job." That was such a highlight of my journey.
Another amazing milestone was going to Carla Hall's kitchen in New York City. Having a kitchen chat with Carla in her kitchen was amazing! Carla also lost her father, so there was a special connection and powerful moments from that. I could go on and on cause there were so many incredible moments!
What was one of the funniest interviews you've ever had? What chef was hilarious?
Most chef's have such a great sense of humor. I'll never forget though when I asked chef Fabio Viviani what would you be if you weren't a chef and he said, "I'd be in jail." It was so unexpected to get that answer. He exudes such joy in the kitchen.
You've had the honor of interviewing at the James Beard Awards. How was that experience?
It is such a highlight of my journey to be able to be on the red carpet with the luminaries in the culinary industry. It truly is so amazing to meet and chat with the chefs. I get to co-host with my good friend Chef Jaime Laurita. We have a running joke that he's tattoo and I'm pearls. We have such a special time on the red carpet and it's truly an honor.
Who do you dream of interviewing next?
Omg the world is my oyster! There are so many people I want to interview and not just necessarily chefs. I would love to interview people who have a connection with food. I would love to interview Bradley Cooper about his movie "Burnt." I would love to interview Chef Tyler Florence about his wonderful documentary called "Uncrushable." There's so many people I want to interview. I'm going to be 57 in a couple of months and I feel my journey is just beginning. That's the exciting part!
January is the month where people are sharing tons of healthy recipes. What is the healthiest thing you can think of that you've made before that also taste good?
I interviewed Deepa Thomas (She writes about healthy Indian Cuisines) and her recipe for Avocado, Tomato, and Plum Salad is incredible! It was a little challenging to make, but it was worth every minute of time. http://kitchenchat.info/3084/deepas-secrets-slow-carbnew-indian-cuisine/
Do you eat out a lot in the city?
I do, but the funny thing is a lot of times I'm doing the interviewing and I don't take the time to eat. My New Year resolution is I'm going to eat in more restuarants and not just interview the chefs in the restaurant. Chicago is such a great restaurant culinary capital. We are so blessed to have all these options in Chicago where we can literally taste the world. Great restaurant groups, chefs, and a wonderful culinary community.
Are you from Chicago?
No I grew up in Alabama. I moved to Chicago 25 years ago and I live in the suburbs. I've live here so long that Chicago is home now.
What can we look forward to from Kitchen Chat in 2019.
Look for some more fun and exciting episodes from the Viking showroom in Chicago as well as the Viking showroom in New York City. They just opened a showroom there. Will be having some of your favorite chefs and cookbook authors. As I said before never feel limited by age or circumstances. Pursue your dream and the doors will open.
So much communication goes on in the kitchen. I always say on Kitchen Chat that the kitchen is the heart of the home, but really the kitchen is the heart of the world. Universally we get a better appreciation of each other, of cultures, of cuisines and we realize that there are so many common ingredients that we share in life.
I will never forget my kitchen chat with chef Leah Chase. She won the James Beard Lifetime Achievement Award in 2016. When I was in New Orleans I interviewed her in the kitchen and she said "There could be world peace if everyone came around and sat at the table and had a cup of gumbo and some fried chicken."
My final question that I always ask is Why are YOU Chicagoan WE should know?
Oh wow that's a tough question. I'm not one to put the spotlight on myself. I would say I'm someone you should know because of the spotlight I put on others. We can pursue the joy together through Kitchen Chat. I also want to encourage people that charity begins in the kitchen because that is so important to me. To really highlight the charities that are out here because we can all make a difference in some small way.
Is there one particular charity you're working with?
I'm on the leadership advisory board of WINGS (Women in need growing stronger). It's a wonderful non-profit that helps women and children fleeing from domestic violence to get a second chance. There's a safe house in the suburbs as well as downtown.
It reminds me of another really special moment. Mayor Rahm Emmanuel came into Viking for a kitchen chat. The oven broke at the Chicago WINGS safe house and Viking so graciously installed a new oven. What was so special is Mayor Rahm Emmanuel has a special involvement with the Chicago safe house. He was so keen in getting that project going. It was so special we were able to surprise him during kitchen chat. The children of WINGS in the Chicago safe house made some chocolate chip cookies in the Viking oven. The CEO of wings was able to present those cookies to the mayor and surprise him and share the story during our kitchen chat. So that goes to show you that charity begins in the kitchen and everyone can make a small difference.
Make sure to follow Margaret and Kitchen Chat on social media
Instagram: @KitchenChat Twitter: @mcsweeney Facebook: https://m.facebook.com/kitchenchat

Copyright secured by Digiprove © 2019