"Hi, My name is Tavi and I am a Dessertaholic." Is that a thing??? If it is, I'm guilty. Everyone that knows me knows dessert is my favorite part of any meal. My friends live in California, but were getting married in Chicago and knew to come to me for advice on where to go for their wedding cake. Without hesitation I recommended ECBG Studio.
In honor of the sweetest month of the year Chi@Glance is shining the spotlight on Erin Martin, Founder and Owner of ECBG Studio. ECBG Studio operates in the Chicagoland area and provides customers with customized cakes and pastries.
"ECBG Studio uses only high quality and organic ingredients to create custom designed cakes, cupcakes, cookies and sweets tables that are worthy of your celebration. We work with you to create a delicious and beautiful piece that captures the vision and style of your event. From wedding cakes to smash cakes you wont believe how sweet it is. Celebrate love, celebrate friendship, and celebrate life. Celebrate the moments that matter with ECBG Studio." Erin Martin
I stumbled upon ECBG Studio when I won a contest put on by Fab Food Chicago. I won a box of assorted cookies and pastries. Around that time I was celebrating my blog's two year anniversary and had Erin do a couple extra cookies with my site's Logo. I was blown away by the design of the pastries and also the taste. I'm totally not cool with desserts that don't taste as good as they look. Erin's creations taste and look divine!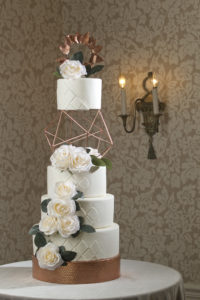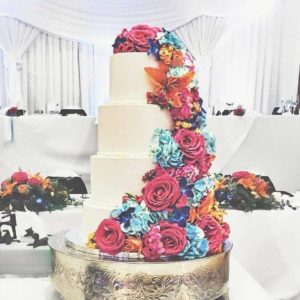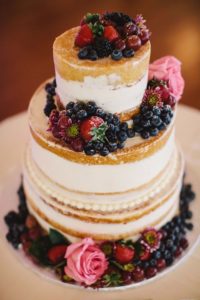 I love Erin's Entrepreneurial spirit. She opened ECBG in March of 2017, but she's been selling her baked goods since 2011. What really got her into baking was back in 2007 watching Ace of Cakes on The Food Network. She went to college and majored in communications with a minor in art. After graduating she worked with non-profits briefly, but realized her heart was into baking and decided that one day she would own her own bakery. Erin worked at several bakeries and enrolled in a culinary program to perfect her craft. To this day she will tell you she's still learning, but if you look at her portfolio you'll see she's made tons of drool worthy masterpieces for her customers.
Why is Erin Martin of ECBG Studio a Chicagoan WE should know?
"ECBG Studio is a local woman owned small business that values high quality and authentic creating. We are an up and coming business with momentum and vitality. We value working with and giving back to the community and the industry. We believe collaboration is king (or queen) and work hard to work with other small female owned businesses to help one another grow and succeed. We believe in the value of celebrating the moments and people in your life that matter by indulging in a custom, quality, delicious gift. We believe in the value, chemistry, integrity, and artistry that goes into specialty desserts, knowing it is much more than dessert. We value you overall, and cannot wait to create with you." Erin Martin 
One thing that really stood out to me about Erin is her spirit to help others succeed as well as herself. She demonstrates that with all of her collaborations. She has a Valentine's Day event coming up and is collaborating with several small businesses for the goodies and prizes. She believes greater results occur when we help each other. If you're looking for a fun event to do for Valentine's Day make sure to check out her CupCake party on February 11th. You can decorate your own cupcakes, enjoy live music, prizes, and much more.
https://www.eventbrite.com/e/valentines-day-cupcake-party-tickets-42285416820
If you're looking for upcoming cake/pastries for a special event, you're going to want to check out our one on one interview for ideas below. 🙂
TJ: What is the most requested flavors? 
EM: People LOVE funfetti for weddings, birthdays, and anniversaries. Of Course, Chocolate and Vanilla too.
TJ: What is your favorite theme you created?
EM: My favorite would probably be a clown cake I did for Halloween. I also love doing food things and making it look really realistic. I'm excited about an order I have coming up of an Italian Beef Cake.
TJ: What flavor combination sounds weird together, but people should give it a try cause it's actually really good?
EM: Lavender and Honey or Lavender and Lemon
TJ: When your not baking what are you up too?
EM: I'm literally always working, but when I get a little downtown you can usually find me with my boyfriend, roommates, or family in Naperville. I love going out to dinner and recently tried Spiaggia. For Valentine's Day were heading to Fat Rice and I'm looking forward to checking out Paulie Gee's soon as well.
TJ: Do you cook as well as you bake?
EM: No. I like too cook, but usually I just throw everything together and hope it tastes good.
TJ: As an entrepreneur what advice would you give to other entrepreneurs?
EM: You have to take risks. You sometimes have to jump before your ready to. Also, Networking is a must, collaborating with people. I find the most beneficial connections I have made are with other small businesses. We help each other.
Erin has taken many risks and is looking to rise (pun intended) to the top. 🙂 This year she's looking to expand and open a pastry studio somewhere up North in either the Ravenswood or Andersonville area. Make sure to follow along with Erin on social media and check out her upcoming Valentine's Cupcake event on February 11th.  https://www.eventbrite.com/e/valentines-day-cupcake-party-tickets-42285416820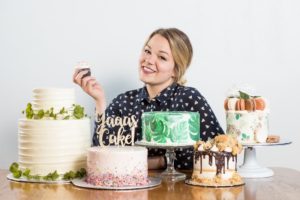 ERIN MARTIN: ECBG STUDIO
Ecbgstudio.com
Email: erinscustombakedgoods@gmail.com
Instagram: @ecbg_studio

Copyright secured by Digiprove © 2018