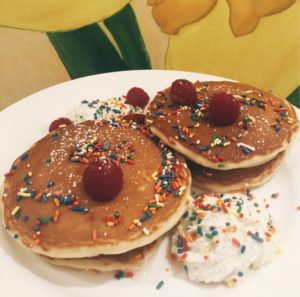 Chicago is a foodie town and I get super excited whenever I feature delicious food spots! My favorite meal of the day is brunch and one of the spots I tend to frequent the most is Meli Café. Meli Café is a restaurant in Chicago that specializes in breakfast/brunch for the past 13 years. Meli is the Greek word for honey. I LOVE that they serve everything from sweet & savory to nutritious or pig out worthy. 🙂 They really cater to the individual and have various vegan and gluten free items to choose from.
Great food is rather common in Chicago, but Meli sets itself apart by the customer service provided inside and outside the restaurant. If you follow Meli Café online you'll see the same personal care you would expect at the restaurant. Their super responsive/interactive on social media, friendly, and share DELICIOUS pics of what you can expect at their 3 restaurant locations. If you've wonder who's the person behind Meli Cafe social media presence your wait is over…..Chi@Glance is shining the spotlight on Angelo Georgacopoulos, Social Media and Public Relations Director of Meli Café. Angelo and I discussed a wide range of topics from favorite menu items, to his creative promotions, to what it takes to be in the restaurant business. Check out our one on one interview below!
Tavi J. One on One Interview with Angelo Georgacopoulos
Tell us more about what a Social Media/Public Relations Director entails for Meli Café?
As the Social Media/Public Relations Director of Meli Café, I oversee all things pertaining to social media and handle all of their marketing/advertising (print, online, television, radio). If you have ever received an email or tweeted Meli Café, you have been in contact with me personally. I have also started to participate in the development of special dishes in the kitchen.
You've worked with Meli for four years now. What made you decide to work here?
It was an easy decision because my father-in-law owns the cafe. He's a part owner and always wanted me to go into the business. I refused at first. It's a great business, but working in a restaurant is hard. When you work in a restaurant you're working 24/7. You have no time for family, you're working on the weekends, at night, and all sorts of crazy hours.
We have 3 locations…there's the one on Halsted (first location), River North (Second location), and one on Dearborn (third location) which serves dinner too. So let's say your brunch place is open from 7am to 3pm. In reality someone has to be there at 5am (if not 4am) to open the kitchen so everyone can get started. Afterwards when you close at 3pm you start working on different specials till about 5 or 6pm. I have a family and knew I couldn't put in the long hours. My father-in-law wanted me to come into the business somehow/some way to help out. My father-in-law had no idea how to use Instagram, Twitter, or do marketing. I decided that's where I could come in. My background is in psychology so I literally looked at you tube videos, different bloggers, and analyzed what was going on out there. 4 years ago social media definitely wasn't as big as it is now. It's very interesting how things have changed.
In the beginning I followed suit what others were doing and I took a picture and I posted it. After a while though I wanted to put my own twist on it. I'm a very fun sarcastic person. So I started following different people and communicating. Even though it's not the restaurant thing to do perse it was just to be different from everyone else.
I would post and start doing things different. I would contact different sports teams to partner up to do fundraisers for them. In the pass we worked with Jay Cutler. Right now were working with Johnny Campbell from the Chicago Fire. We're going to do a special with him this month for his charitable organization. We have a dish in his name and whatever proceeds we get from the dish go to his foundation. He's going to give us a signed jersey and we're going to sell tickets and raffle it off. We try to do something different and something fun.
The last couple of months I decided to push the envelope even more. There are all these people on TV and a lot of time they don't get the recognition they deserve. So I contact different channels ABC, FOX, WGN, etc…to create a special in an individuals name.
Speaking of restaurant specials…you guys offer quite an extensive menu. Who comes up with the menu items and specials?
Usually it's the Chef that comes up with the menu items. Sometimes our specials are such a hit that they make the permanent menu. Our Elvis French toast was a specialty we brought back by popular demand. We also had a big hit with our Churro French toast and churro pancakes.
Do the customers play a big part in what you put on the menu?
Meil is a Greek brunch place and one of the first brunch spots in the city. We always strive to be above the curve. We make sure to offer Vegan, Gluten Free, and seasonal options. However, customers play a huge role in our menu decisions as well. I'll get emails, tweets, Instagram messages from people wanting to try something not on the menu and we take suggestions to heart and try to comply.
What is one of the favorite brunch items that guests order?
Our favorite right now is our chicken and waffles. People love our savory waffles. Our steak and eggs as well as our regular brioche French toast are also very popular.
Have you always been in the restaurant business?
Yes since I was seven. I started as a bus boy, dishwasher, I did waiting a little bit, I was a host, and a manager. My father has always been in the restaurant industry. My brother was a Chef at Meli, but then he branched out and opened up his own place. I love cooking at home and I dabble and experiment with food, but I realized I'm a people person and my specialty is interacting with our customers.
For someone looking to break into the restaurant industry what pointers would you give them?
They need to have a lot of patience and be as creative as possible. There are 10 different brunch spots on this street. You have to make good quality food, you have to be creative to draw in people, and you have to be consistent. You can give someone a juice and they love it and if they come back 2 days later and it doesn't taste the same then you risk being known as inconsistent. You won't make it in the business. You have to be very patient. It's not going to be busy all the time and you will have ups and downs. But if you're patient, persistent, and serve good quality food more people will come back. Always listen to your customers.
What would you say to someone graduating from college and wanting to break into the restaurant industry as a chef?
My strongest advice is to try to work under a chef that knows what they're doing and will guide you. To be a chef you have to be at the restaurant pretty much 24/7 cause you have to do the ordering, know what's going on out there, know what the specials are, know pricing…. you have to be on top of it ALL the time.
What about if someone is trying to go the restaurant ownership route?
Try to do every single job there is. Start out at the lowest possible job and see how it is on busy/slow days. Work in the back and the front. There's paperwork to do, schedules, working behind the scene and at the same time trying to make the people's job in the front easier as well. Also, what people don't realize is it has to be passion. You need to have fun with it. If you don't have fun it's pointless.
A good movie that shows the true passion of a Chef to checkout is Bradley Cooper's movie Burnt. A Chefs goal is to be the best and it shows the psyche of a Chef. As a psyche major it really interests me. Literally you have to live in the restaurant. The day you sit back and say you're going to relax that's the day you won't be in the restaurant. You always have to be ahead of the curve. Now you can always have someone running the restaurant for you, but then that can even bring about problems of their own.
How do you think social media has changed not only how you interact with guests but how Meli caters their menu as a whole?
4 years ago I had no idea what social media was all about. It was a quick picture of the food and you post it. Now it's a whole career. Like people are doing photo shoots with food. There is a lot of guest interaction. I try to be on social media as much as possible. If you post a picture or a video I'm going to acknowledge it. I appreciate our guest posting pics and I ask for feedback all the time. One thing I do not like about social media is some people complain just to complain. Social media though has definitely helped us in expanding. I also like it when the experience is authentic. I do not pay for followers or people to help us promote.
What can we see from Meli Cafe in the near future?
Right now in the future we are working with Jonathan Campbell of Chicago Fire to do a fundraiser promotion. $2 of every fire bowl menu item sold will go towards Good Sports Inc. organization. We love to give back to the community!
You can also expect us to keep experimenting with the menu. Our next experiment is with Jack Fruit (a type of fruit from India, Bangladesh, and Sri Lanka). We want to revamp a little bit with our juices and Jack Fruit is known as a super food.
What other trends do you see coming in the restaurant industry?
I've actually been noticing a trend of people returning back to "normal food." Meaning French Toast and piling on the bacon.
Last, but not least why are you a Chicagoan WE should know?
As a 1st generation Greek-American living in Chicago, the restaurant business runs in my veins. Who else would you want to know about, than someone who makes your taste buds go on a journey around the world, all while keeping it fun and exciting on social media :). With a background in Psychology (school counseling), I am looking to change the way restaurants interact with their guests. Restaurants should be more than food on your plate, it should be an experience before you even visit and after you have consumed half the menu 🙂 🙂 🙂
Make sure to check out Meli Café at their 3 locations and follow along on social media. Facebook, Twitter, and Instagram: @MeliCafeChicago
Meli Café Locations


www.melicafe.com
301 S Halsted Street, Chicago, IL 60661
540 N Wells Street, Chicago, IL 60654
500 S. Dearborn Street, Chicago, IL 60605

Copyright secured by Digiprove © 2018