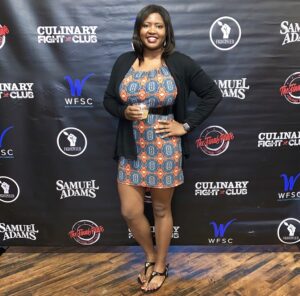 You know the thrill you get when you see a sporting event live? I felt that same adrenaline rush this past weekend when I attended Culinary Fight Club annual "Culinary Fight Fest" competition. We watched 25 Culinary Fight Club champion chefs from 14 states compete with their best bites to win the popular vote of the crowd. The top four chefs then went head to head in a 45 minute quick fire challenge using limited equipment and ingredients. There dishes were then dissected and rated by an esteem panel of judges that included: Adam Gewanter from Tao Group Chicago, Mark Nureddine from Bull Outdoor Products, Inc., Soo Park from Fab Food Chicago + Author of Chicago Food Crawls, and Kevin Hickey from Duck Inn Chicago.
One thing I love about Culinary Fight Club is no two events are the same. There's different themes and teams every month leading up to the annual Culinary Fight Fest. This was the 4th annual year for Culinary Fight Fest and the winner happen to be in the final four round the last three years in a row, but this year he pulled off a WIN. Congrats to Chef Kris Schoenberger! Chef Schoenberger delicious Kansas City Wagyu S-Turf Sliders help advance him to the final round.
Aside from being an incredibly fun event, Culinary Fight Club gives 20% of proceeds to a non-profit organization called Fight2Feed. Fight2Feed partners top restaurants with food trucks to provide service and support to hungry men, women, and children in our communities. For more information on the non-profit head to www.fight2feed.org
Culinary Fight Club is a national organization. Head to the website at www.culinaryfightclub.com to see when the next competition will be in your city. Check out some of the tasty bites and pics from Culinary Fight Fest this past Sunday (October 6th) hosted at Lacuna Lofts below.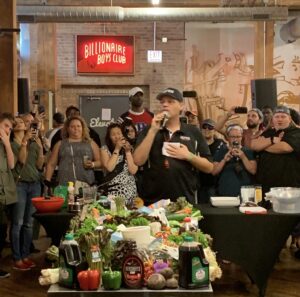 Copyright secured by Digiprove © 2019