If you've been following along with me on Chi@Glance you know I have a sweet tooth. Although I can cook…I LOVE to bake! Sweets are definitely my kryptonite. One of my favorite things to make is New York Cheese Cake. Well…let's change the name to Chicago Cherry Cheesecake. 🙂 Hope you enjoy this yummy treat as much as I do. I love to make my crust from scratch as well. You'll want to have a 9 inch spring form pan to bake the cheesecake in. Also, if you're not a fan of cherries feel free to top the cheesecake with another topping you like.
Ingredients for Pie Crust
1 ½ cups of finely ground graham cracker crumbs
1/3 Cup of White Sugar
6  teaspoons Butter, melted
½ Teaspoon Ground Cinnamon (optional)
Directions for Pie Crust
Grease a 9 inch spring form pan.
Mix graham cracker crumbs, sugar, melted butter or margarine, and cinnamon until well blended. Press mixture into an 8 or 9 inch Springform Pan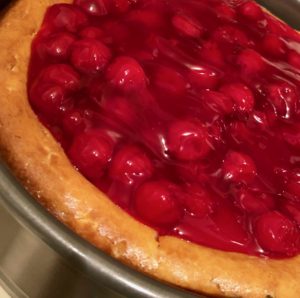 Ingredients for Cheese Cake 
(4) 8 ounce packs of cream cheese
1 ½ Cups white sugar
¾ cup of milk
4 Eggs
1 Tablespoon Vanilla Extract
1 Cup of Sour Cream
¼ Cup of all purpose flour
Directions for Chicago Cherry Cheese Cake
Preheat oven to 350 degrees
In a large bowl mix cream cheese with sugar until smooth.
Blend in milk, and then mix in the eggs one at a time, mixing just enough to incorporate.
Mix in sour cream, vanilla, and flour until smooth.
Pour filling into prepared pie crust.
Bake in preheated oven for 1 hour. Turn oven off and let cheesecake cool in oven with door closed for 3 hours. (This prevents cracking). Chill in refrigerator until serving.

Copyright secured by Digiprove © 2018-2019