You guys know by now I'm all about having fun and supporting a good cause! On Saturday, January 28th over 600 guests gathered to support the Black Creativity Gala hosted by the Museum of Science and Industry. Ticket proceeds from the gala benefitted the black creativity program. Black creativity programming reaches more than 25,000 students, teachers, and families in underserved Chicago areas and enables them to inspire and transform through science education programming. The goal is to encourage African American youth to pursue educational and career paths in the fields of science, engineering, medicine, and technology.
This year marked the 34th annual Black Creativity Gala and was chaired by Allstate Insurance Company Senior Vice President of sourcing and procurement solutions… Cheryl Harris. If you haven't been to the Science and Industry Museum before….it's a must see for native Chicagoan's and Tourists. The Science and Industry museum is one of the largest museums in the world and has the longest running exhibition of African-American art called The Black Creativity Juried Art Exhibition. The exhibit has been at the museum since 1970 and features more than 100 original works of art from professional and amateur African American artists from around the country. The exhibit is going on now and goes through February 19th 2017. Guests of the gala got to mingle, view, and experience the captivating artwork after hours.
All of the artwork was powerful and represented African American's. I especially loved the artwork by Gerald Griffin –  "Breakfast at Tiana's." The woman featured is beautiful and I like the name of the piece. Not sure if it's a play on Breakfast at Tiffani's, but that's what I thought of right away. 🙂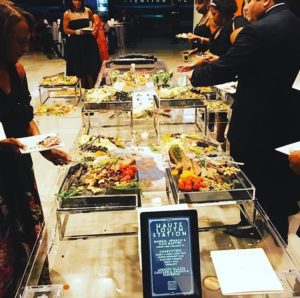 The cocktail reception concluded with a performance from the Children's Choir and then we were ushered into the Museum's Rotunda where we enjoyed elegant food stations catered by Sodexo. I absolutely loved the set up! No line pile ups at this event and a huge variety to choose from. I love the idea of buffet style, but the food stations were in various areas so there wasn't a bad seat in the house. My favorite seat is as close to the food as I can get! 🙂
Our Emcee for the evening was actor, writer, and producer…Chris Spencer. During dinner we got to enjoy LIVE  music from the Dante Hall Band. Between mingling and eating guests were also able to enjoy other museum exhibits including Brick By Brick, Numbers in Nature, Science Storms and the Great Train Story.
The night continued after dinner with dancing with music provided by DJ Nick "Nonstop" Nicholson. Definitely a night to remember! As Science and Industry Museum President and CEO David Mosena said, "The Black Creativity Gala is a great event because it celebrates two pillars that spark innovation: Science and Art. Every guest who attends helps us to further achieve our mission and vision to inspire kids to find creative solutions to the problems that challenge our world."
I can't wait until the 35th Annual Black Creativity Gala! Make sure to check out the Museum of Science and Industry website to find more ways to get involved.
You know Gala's mean FASHION! My dress for the evening was provided by: The Frock Shop! 2150 S. Canal Port Avenue, Chicago, IL 60608
My philosophy is I'm only going to wear a dress once (thank social media for that….lol). I LOVE that you can rent a designer dress at an affordable price and look fly at every event!
Update: See below Post Press Release: January 30, 2017
MORE THAN 600 GUESTS CELEBRATE ART AND INNOVATION AT MSI GALA
Hundreds of thousands of dollars raised to support Black Creativity program
Chicago (January 30, 2017)—The Museum of Science and Industry, Chicago hosted its 34th annual Black Creativity Gala on Saturday, January 28, 2017. The Gala, planned in collaboration with a committee of prominent Chicago African-American leaders, raised $400,000 to support Black Creativity programming and events, which pay tribute to the culture, heritage and science contributions of African Americans and help motivate youth in the sciences. This year, more than 600 people attended the Gala.
"Hundreds of guests came to MSI to celebrate diversity in science and art during this year's Black Creativity Gala," said David Mosena, president and CEO of the Museum. "Their support helps MSI continue Black Creativity programming that honors African-American innovators and artists, which in turn inspires the next generation to invent new solutions that will continue to shape our lives."
The Gala was chaired by Cheryl Harris, senior vice president at Allstate Insurance Company. The evening started with hundreds of guests enjoying cocktails and hors d'oeuvres in the annual Black Creativity Juried Art Exhibition, a gallery featuring more than 100 original works of art from professional and aspiring African-American artists, including dozens of student artists.
After cocktails, guests proceeded to the Museum's Rotunda where they enjoyed elegant food stations catered by Sodexo. Dinner options featured seafood, New Orleans-inspired cuisine, and desserts including made-to-order ice cream created using liquid nitrogen.
Chris Spencer, actor, writer and producer, emceed the evening's program. Spencer has appeared in several films, including "The Sixth Man," and also collaborated with Nick Cannon to create MTV's comedy show "Wild 'N Out." Spencer has worked with comedy legends including Jamie Foxx, the Wayans family, and also Kevin Hart on BET's "Real Husbands of Hollywood." Guests enjoyed live musical entertainment from Dante Hall and the Chicago Children's Choir, and danced the night away with DJ Nick "Nonstop" Nicholson. The Black Creativity Innovation Studio was also opened, allowing guests to create prototypes to solve everyday challenges using household items. Throughout the night, guests celebrated the Cubs' historic World Series win by taking photos with the Cubs' World Series Championship trophy.
In addition to the Black Creativity Juried Art Exhibition and the Innovation Studio, guests also explored other Museum exhibits throughout the evening, including Brick by Brick, Numbers in Nature: A Mirror Maze, Science Storms and The Great Train Story.
About the 2017 Black Creativity Program
The Museum of Science and Industry's annual Black Creativity program invites students, teachers, families and the public to explore the legacy of rich contributions and achievements made by African Americans while encouraging deeper interest in science and technology. This year's programing focuses on innovation, inspiring children to become innovators of tomorrow. 
The Black Creativity Juried Art Exhibition features more than 100 dynamic works from both professional and amateur African-American artists from around the country, including artworks from youth artists between the ages of 14 to 17. This longest running exhibition of African- American art has been displayed annually at MSI since 1970. The Juried Art Exhibition is included in Museum Entry and open through February 19.
Also a part of the program is the Innovation Studio, an exciting space for youth to experiment and explore new ideas through making. Powered by guests' own curiosity and inspired by science-related challenges, guests have access to a variety of materials and tools to create solutions to issues. During these sessions, facilitators chat about innovative African Americans to help inspire young inventors about future possibilities and opportunities in science, technology, engineering and medicine. The Black Creativity Innovation Studio runs sessions for school groups by reservation throughout the week. Open public sessions are offered daily through March 4.
Families will also have the chance to speak with the experts who make and create for a living. On Saturday, February 25, the Career Showcase will offer guests the opportunity to talk with African-American scientists, engineers and artists about their jobs, inspiring the next generation of artists and STEM professionals.
Black Creativity 2017 is presented by Allstate. Black Creativity partners are Adobe CDW, ComEd, Dover Inc., ITW, Lexus, Nicor Gas, and Peoples Gas. United Airlines is the official airline of Black Creativity. Media sponsors are Comcast and NBC 5 Chicago.
The Museum of Science and Industry, Chicago (MSI), one of the largest science museums in the world, offers world-class and uniquely interactive experiences that inspire inventive genius and foster curiosity. From groundbreaking and award-winning exhibits that can't be found anywhere else, to hands-on opportunities that make you the scientist—a visit to MSI is where fun and learning mix. Through its Center for the Advancement of Science Education (CASE), the Museum offers a variety of student, teacher and family programs that make a difference in communities and contribute to MSI's larger vision: to inspire and motivate children to achieve their full potential in science, technology, medicine and engineering. Come visit and find your inspiration! MSI is open 9:30–4 p.m. every day except Thanksgiving and Christmas day. Extended hours, until 5:30 p.m., are offered during peak periods. The Museum is grateful for the support of its donors and guests, who make its work possible. MSI is also supported in part by the people of Chicago through the Chicago Park District. For more information, visit msichicago.org or call (773) 684-1414 .

Copyright secured by Digiprove © 2017-2018