Are you looking for a FREE (yes, FREE) and environmentally safe way to get around Chicago??? Check out Gest Carts Chicago. It's a FREE electric transport service in Chicago. I took a ride along yesterday with one of the owners and I was impressed!
Gest Chicago has been operating since May 1, 2021. Currently there are 4 Polaris Gem E6 carts in the fleet and 5 drivers. Future plans are to add more carts and drivers by Fall. All carts are electric and have about 65 miles/ or about 5 hours of drive time.
Currently Gest is operating in Denver, Detroit, Cincinatti, and Chicago. Expect to see expansion into more markets soon. Currently in Chicago Gest covers the Downtown Proper, Wrigley Ville, Lakeview, and River North area.
Days and Times of operation are currently:
Friday – 6pm to 11pm
Saturday – Sometimes 1pm to 6pm normal hours 6pm to 11pm
Sunday – 1pm to 6pm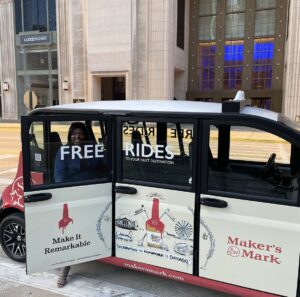 I know the big question on your mind. 🙂 "How are these rides FREE?" Your FREE rides are paid for by advertisers like Maker's Mark. Gest carts are extremely noticeable around the city and sponsors are lining up to get their product/service advertised on a Gest Cart.
As a consumer ordering your Free Gest ride is easy. Just download the app in the app store. Select your location and where to. From there it's an easy and environmentally safe ride to your next destination. Note that Gest Carts cannot go on the freeway (only go 25mph) and these are short distance rides. Typically between 1 to 3 miles. In case your app isn't working there is also a dispatch number located on the website Gestcarts.com.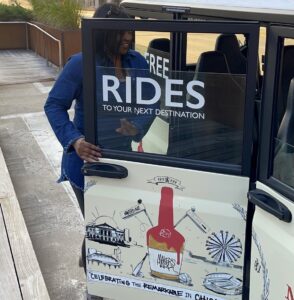 I also know the next question you're thinking. If you see a Gest Cart around town can you just hail one? Technically no. You can wave over the cart, but in order to ride you must download the app. Unfortunately with city ordiance rules you cannot hail a Gest Cart like a normal taxi cab because Gest drivers do not have medallions. Gest drivers do have to pass background checks and have a squeaky clean driving record. Hopefully will be able to hail a Gest cart in the future. I feel a pettion coming…how does #Letgesthail hashtag sound? 🙂
Ready to ride? Download the Gest App. All carts have seating for six (including the driver). You can also place pre-event order rentals for events. Another little fact I happen to know is by riding Gest you're supporting a black owned-business. The Gest License for Chicago, Detroit, and Denver are Black-Owned.
Gest Chicago offers such a cool, fun, and most important of all FREE way to get around the city. Happy riding!
https://youtube.com/shorts/aXA43VeZ60o?feature=share

Copyright secured by Digiprove © 2021