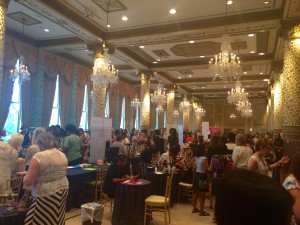 If there is one thing you do not need to force me to do it's….SHOPPING. My love of shopping has gotten me into trouble on more occasions than not. I couldn't turn down a free ticket to attend the Sassy Chicks Chicago event. http://sassycitychick.com/event/details/sassy-city-chicks-chicago-2/. This was my second year attending.
Local designers and boutiques showcase their products at a discount. The tickets to enter the event are usually sold online around $10.00 and $40.00 at the door. I'm assuming a percentage of the ticket sales goes towards hosting the event at the Drake Hotel. Location is amazing. Everyone gets a free drink at the event and usually some snacks are provided.
I enjoyed getting my nails done for free. The makeup application on the other hand was just okay. I don't think they had enough experience doing African American makeup. Anywho…since I didn't pay for the ticket I was a happy camper. Nails done, makeup done, and browsing through purses, clothes, facial products…I was all set. The icing on the cake was each of us got a flower as we left the building. Now that's how you treat a lady!
I normally get a code each year to purchase tickets for free. Once I receive the code I will be sure to post it to this site.