CHICAGO RESTAURANT WEEK 2022 RESTAURANTS REVEALED AT EATITUPCHICAGO.COM
Reservations now open – Menus available for dine-in, takeout, and delivery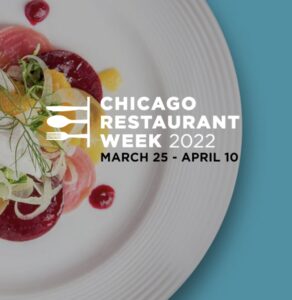 From Friday, March 25 to Sunday, April 10, 2022, Choose Chicago welcomes the highly anticipated return of the annual Chicago Restaurant Week (CRW), celebrating its 15th edition. Diners can reserve tables and view menus online beginning today, Wednesday, February 23, for multi-course meals at 329 Chicagoland eateries ateatitupchicago.com.
This year's participants include a range of restaurants offering specially priced, prix fixe menus for dine-in, delivery, and/or takeout.
The highly anticipated event will feature more than 329 participants representing 37 distinct Chicago neighborhoods, including 31 suburban restaurants. 66 participants are women, minority and/or black-owned enterprises. In 2022, 68 restaurants make their CRW debut and include a range of both recently opened and established locales, such as Jaleo (River North), El Solazo (West Lawn), Majani Soulfood Vegan Cuisine (South Shore), and Shang Noodle (South Loop). They join a list of repeat loyalists such as Big Jones (Andersonville), Chez Joel Bistro (Little Italy/University Village), HaiSous Vietnamese Kitchen (Pilsen), and Virtue Restaurant & Bar (Hyde Park). A complete list of participating restaurants and their curated menu offerings can be found here. Reservations are now open ateatitupchicago.com with additional restaurants onboarding daily.
Chicago Restaurant Week offers visitors and local foodies a meaningful opportunity to experience some of the area's most sought-after restaurants. For 17 consecutive, dining-packed days, participating dining establishments will showcase specially curated prix fixe menus with prices set at $25 for brunch and lunch, and $39 and/or $55for dinner (excluding beverages, tax, gratuity and delivery). Lending an ideal reason to explore Chicago's nationally lauded culinary scene, diners can experience new, showstopping restaurants and familiar favorites alike throughout the city's vibrant communities.
In lieu of the previous, large-scale CRW kick-off event, First Bites Bash, Choose Chicago this year will host two consumer-facing events to celebrate CRW. The first, in partnership with Let's Talk Womxn, takes place Tuesday, March 8 from 6pm-9pm at Morgan Manufacturing, featuring 25 impressive female chefs and restaurateurs. The second event takes place Tuesday, March 22 in collaboration with Immersive Frida Kahlo and will feature food and beverage tasting stations alongside an exclusive viewing of the stunning new exhibit. Tickets will be available for two different time blocks: 6pm-8pm and 8pm-10pm. Click here to learn more and purchase tickets. Choose Chicago will once again continue its long-standing tradition of community support, donating to three deserving local charities to be named at a later date.
For reservations, visit eatitupchicago.com. Fans are encouraged to follow @choosechicago on Facebook, Instagram and Twitter and tag #ChicagoRestaurantWeek.

Copyright secured by Digiprove © 2022