KRISPY KREME® Celebrates Halloween with NEW 'Monster Batch' Doughnuts
Available Through October 31
Come in costume for a FREE doughnut on Halloween at Chicagoland Shops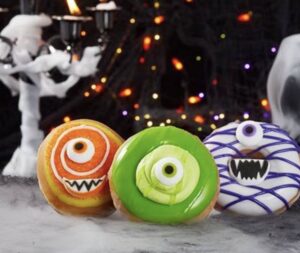 Krispy Kreme's new Monster Batch Doughnuts have snuck out of Krispy Kreme shops across the country and have their eye on sweetening Halloween experiences throughout the month.
The Monster Batch, a new collection of deliciously mischievous treats, will haunt Chicagoland shops located in Homewood at 17815 South Halsted Street, Evergreen Park at 9150 South Western Avenue and Hillside at 110 South Mannheim Road, starting today.
Krispy Kreme has released descriptions of the most wanted Monster Batch:
Slimon, the Slime Monster Doughnut: The Original Filled "ring leader" of the Monster Batch and known for covering everything in his path with green slime, Slimon is an Original Glazed® doughnut with lemon slime filling, dipped in spooky green icing with a green Kreme dollop and covered in "slime."
Mumford, the Mummy Monster Doughnut: Last seen wrapping doughnut boxes and coffee cups all around the shops, Mumford is an Original Glazed® doughnut "wrapped" in purple ​icing.
Hypno-Henry, the Monster Batter Doughnut: A doughnut filled with cake batter, dipped in yellow icing and orange sanding sugar with a mesmerizing icing swirl, Hypno‑Henry hypnotizes fans into wanting more doughnuts. Please note: people may be unable to resist his crave-worthiness.
"Krispy Kreme is excited to introduce the new Monster Batch Doughnuts just in time for spooky season," said Carlos Larcada, President of Chicagoland Restaurants, LLC. "Bring the skele-fun to your Halloween party with a dozen of these ghoulish treats."
With the Monster Batch unleashed around the country, Krispy Kreme is offering guests a FREE doughnut of choice (in-store only) when they wear a costume on Halloween, Thursday, October 31 at Chicagoland shops.
Share how you're celebrating Halloween with the Monster Batch by using #KrispyKreme and tagging @krispykreme.

Copyright secured by Digiprove © 2019