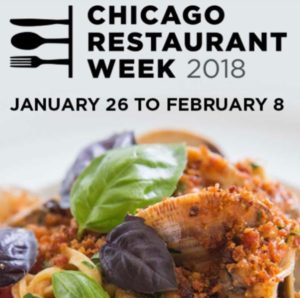 Foodies unite for The 11th Annual Choose Chicago Restaurant Week which starts this Friday, January 26th and goes through Thursday, February 8th. For 14 days you can enjoy specialty prix fixe menus from more than 370 restaurants. Most are a bargain at $22 for lunch/brunch and $33 and/or $44 for dinner (excluding beverages, tax, and gratuity). Restaurant week is a great way to try new restaurants or support your local fav's. (Chicago Restaurant week Listing)
370 Restaurants can seem overwhelming to choose from so I've put together a few tips. Keep scrolling to the end of the article to see my recommendations and where I plan on going this time around.
Tavi J Tips for Navigating Chicago Restaurant Week
Most of us have a list of bookmarks of places we want to try. Take out that list and see if they're on the restaurant week listing.
When choosing a restaurant make sure to browse the menu. You want to make sure you like all the courses offered because there are no substitutions. Check to make sure you're good especially if you have allergies or dietary restrictions.
Get the most bang for your buck. Some restaurants already have lunch time specials, so you may want to hold off on trying them at a different time and use Restaurant Week to try the more pricier options.
Although it's not required, reservations are a good idea.
For those of you wanting to preview as many Chicago Restaurant week restaurants as possible check out the Choose Chicago First Bites Bash. First Bites Bash is the official kick off party to Chicago Restaurant week. You can try sweet and savory tastings from 60 of Chicago's most celebrated chefs and restaurants. Check out all the fun I had last year here and make sure to follow along on @Chiataglance (Instagram, Facebook, and Twitter) as I cover the event this year.
If you're active on social media check out the Chicago Restaurant Week Contest. So many cool prizes you can win for posting pics of your food.
Top 10 is so last year. 🙂 Check out my top 11 restaurants I want to try and my top 11 restuarants I have tried and recommend. Hope you have an awesome restaurant week. I'm going to be starting mine off on Friday, January 26th at Blvd. I'll make sure to let you know how it is. 🙂
Tavi J Top 11 Recommended Restaurants for Chicago Restaurant Week

Barrio
65 W Kinzie Street
Nonnina
340 N Clark Street
Portsmith
660 N State Street
Tanta
118 W. Grand Avenue
Top 11 Restaurants Tavi J. may try for Chicago Restaurant Week
The Allis
113-125 N Green Street
Artango
4767 N Lincoln Avenue
BLVD
817 W Lake Street
Cindy's
12 S. Michigan Avenue
El Che Bar
845 W Washington Blvd
Ema
74 W. Illinois
The Heritage
7403 Madison Street, Forest Park, IL
Monteverde
1020 W Madison Street
Two
1132 W Grand Avenue
HAPPY EATING!

Copyright secured by Digiprove © 2018