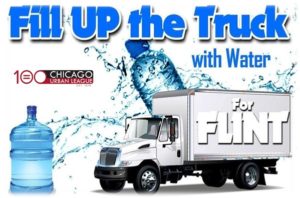 I cannot imagine the possibility of being robbed of a basic necessity like Water. You always hear the terror of what people go through in third world countries to find acceptable drinking water. It hit close to home here in 2014. Flint, Michigan experienced a water contamination crisis when changing its water source. 6000 to 12000 children were exposed to drinking water with high levels of lead and they may experience a range of serious health problems.
This 2016 Veterans Day the Chicago Urban League students are taking action by loading up 600 cases of water to ship on Monday to Flint, Michigan. Check out the press release below!
Chicago Urban League Students to Spend Veteran's Day
Prepping to Ship Water to Flint
What: Two months ago, the Chicago Urban League's Human Capital Division launched a water collection drive for the residents of Flint, MI. The initiative was the idea of one of the students enrolled the League's Human Capital Program and is categorized as a project through the National Urban League's Project Ready Program.
After collecting more than 600 cases of water, the students will spend Veteran's Day at the Chicago Urban League loading the water for shipment to Flint on Monday. The water, along with filters, lotion and monetary contributions, will be delivered to Asbury United Methodist Church.
"Our students set a goal to collect water and went above and beyond their expectations," said Angela Hamilton, Director of Human Capital at the Chicago Urban League. "It's a great way for them to spend Veteran's Day continuing their service to others."
CUL staff and students plan to visit the church and meet congregation members in December.
When: Friday, Nov. 11, 2016
12:00p.m. – 3:00p.m.
Where: Chicago Urban League
4510 S. Michigan Avenue
Chicago, IL 60653
About the Chicago Urban League
Established in 1916, the Chicago Urban League works for economic, educational and social progress for African Americans and promotes strong sustainable communities through advocacy, collaboration and innovation. For more information, visit www.thechicagourbanleague.org. Find us on Facebook or follow us on Twitter.

Copyright secured by Digiprove © 2016