"Go Cubs Go…Go Cubs Go…Hey Chicago what do YOU say?
Cubs are going to win TODAY!"
You can't have #SummertimeCHI without a trip to the ballpark! Whether you're a Northside Cubs fan or a Southside Sox's fan…summer is not complete without a baseball game filled with yummy food and libation of your choice.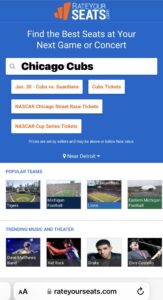 My friend and I decided to ditch the workday and head to a Friday afternoon Cubs game. A little birdie told me about RateYourSeats.com, so we decided to try it out for our ticket purchase. Rateyourseats.com is not just for baseball events. I was also eyeing the NASCAR Chicago race and Drake concert coming up. The site has a wide range of events to choose from. Just type what you're looking for in the search box and see what options pop up.  It's really cool that you can view the seats on an actual map of the stadium.
On https://www.rateyourseats.com/tickets/chicago-cubs the ticket prices are set by the sellers which means the tickets can be higher or lower than face value price. Think about this scenario… if you bought tickets to an event and can no longer go. You'd rather get some money than no money, so a lot of times you can find discounted tickets on this site. Also, as the name suggests…you can "Rate your seats" to help future ticket purchasers.
Our tickets were delivered straight to my email address. So simple and easy! I saved the tickets to my Apple wallet for even easier access. Our seats were in the 400 section, but judging by the online map it looked like a great view of the field… and it was. 🙂 We had an awesome view of the field and all the action. Guess who was in town and threw the first pitch of the game….Nascar Star Bubba Wallace. Also, the Cubs won against the Cleaveland Guardians. Want to head to a Cubs game this summer? For a limited time use my code to get a discount on your tickets: https://www.rateyourseats.com/save/chiataglance
The party doesn't end after you leave the ballpark! Here's some suggestions of places to go within walking distance of the stadium.
Where to keep the party going after the Cubs game
Bamboo Club
3505 N Clark St, Chicago
Bringing a taste of the tropics to the heart of the city
The Cubby Bear Chicago
1059 W Addison St, Chicago
Chicago's Iconic spot for Cubs post-game parties since 1953. Bar, restaurant & live music
Alma at Hotel Zachary
3630 N Clark Street, Chicago
A place to gather, indulge, and celebrate. Bar and lounge features an extensive wine and cocktail menu, Mediterranean-infused bites, and a DJ.
Murphy's Bleachers
3655 N Sheffield Ave, Chicago
One of Wrigleyville's favorite neighborhood bars since 1980. Its family owned and operated and offers local craft beers and an award-winning menu.
Guthrie's Tavern
1300 West Addison St., Chicago
Neighborhood bar serving craft beers and bar bites for over 30 years.
Moe's Cantina Wrigleyville
3518 N Clark Street, Chicago
Authentic Mexican food and drink with a stunning rooftop bar.
Happy Camper
3458 N Clark Street, Chicago
Appetizers, Pizza, and booze…Oh My! Perfect place to stop after the game.

Copyright secured by Digiprove © 2023