One of my FAVORITE events to cover each year is the Sweets & Snacks Expo. It's known as the largest candy & snack event in North America. Unfortunately due to the Coronavirus the 2020 expo was cancelled. 🙁
That doesn't mean Chiataglance is going to stop bringing you the latest in sweets & snacks! I'm still eating my way through reviews and this time I want to talk about RED Chocolate.
Do you ever wish you could have chocolate without the guilt? Well… RED Chocolate tag line is "Pleasure, without the guilt." RED has all the guiltless indulgence of regular chocolate, but with up to 50% less calories and 30-40% less fat! Formulated by European Master Chocolatiers, RED is ready to take the US by storm! RED offers three types of chocolate products to satisfy your cravings—full bars, grab-n-go, and pralines. The full bars and grab-n-go are offered in classic dark, classic milk and delicious flavors like orange. The pralines are available in either a smooth nut or a coconut filling.
RED Bars are:
Keto-Friendly
Weight Watchers Friendly
Up to 50% less calories than other dark chocolate brands
30-40% less fat than other chocolate brands
No added-sugar- natural sweeteners from plants
Cocoa from the ivory Coast of Africa, whose farmers select, roast, and grind the cocoa beans to perfection.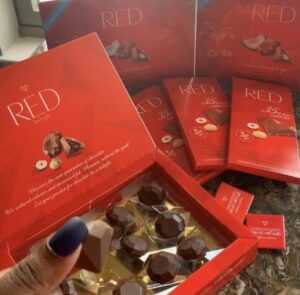 I tried out the RED delight European Milk Chocolate with Hazelnut & Macadamia bars and also some of the Praline boxes. I can't believe that these bars are so fewer calories because the taste is FANTASTIC!!
Want to try RED Chocolate for yourself and get more details? Head over to the RED Chocolate Amazon store!

Copyright secured by Digiprove © 2020