As 2019 comes to an end I'm smiling and feeling quite blessed. Being a Lifestyle Blogger/Influencer has allowed me to pursue my passions and experience a wide range of events in various industries. This year I got to interview world renowned chefs, embark on a private yacht tour around the amazing city of Chicago, attend highly coveted events like the James Beard Foundation Awards, mingle with celebrities, play tourist in my own town with staycation adventures, delve more into product reviews, explore the Chicago art scene, travel to cover festivals, and OF COURSE you know I live for my restaurant sneak peaks and food reviews! I contemplated how to present this article and decided to highlight my special moments categorically. Hope you enjoy reliving my 2019 with me…..2020 I'm ready for YOU!
First off….why did I start blogging? PASSION….pure passion! I'm always the go to person on what's going on in Chicago. Celebrating an anniversary, have friends in town, looking to relax, looking to turn up, looking for a good time….I'm the person that always get asked for recommendations. I also LOVE to hear life stories….not necessarily about current successes, but what it took to achieve those monumental moments. I combined my passion of interviewing with my love of events in Chicago and turned it into CHI-at-A-Glance. I live, breathe, and truly LOVE Chicago, so I wanted to share the positivity of the city with the world.
SPOTLIGHT FEATURES
One way I share Chicago with the world is through my interviews. The Chiataglance monthly Spotlight Features took a hiatus mid-year, but they truly encompass what this blog is all about. Chicago can sometimes get a bad rap in the media, so I made it my mission to highlight Chicagoan's in various industries YOU should know making a positive impact in the city. This year was ALL about women empowerment. I started off the year interviewing "Kitchen Chat" podcast host and creator Margaret McSweeney. What an encouraging interview to start the year with!!! Margaret is a 50-something year old that knew to follow her dreams no matter what stage in life you're in. She received advice from someone to "follow what you loved to do as a 3rd grader" which led her to eat, chat, and interview amazing people of the culinary community. Her journey from a finance background to the food industry as a culinary communicator had me motivated for 2019.
I also interviewed other media and marketing communicators that left me with HUGE life lessons. Special thanks to Maudlyne Ihejirika (Sun-Times Reporter), Watchen Nyanue (Chicago Sky Marketing), Melissa Foreman (93.9 Lite FM Morning DJ). To revisit ALL of our wonderful Spotlight features click HERE.
INTERVIEWS
Did I mention interviewing is my passion?!? My Spotlight Features allow me to highlight Chicagoan's once a month, but I'm also looking to highlight people ALL throughout the month and not just from Chicago. This year I had the privilege of interviewing astounding members of society from all walks of life. The culinary industry has always been so welcoming to me. I got to sit down with Food Network Celebrity Chef Tyler Florence and chat about his documentary film Uncrushable. I covered the Food Network and Cooking Channel New York City Wine & Food Festival and Sobe Festival this year. I interviewed amazing chefs at both events like Celebrity Chefs Chris Valdes and Wenford Patrick Simpson. Besides attending the James Beard Awards I immersed myself in the after parties where I got to chat with James Beard Award winner Mashama Bailey.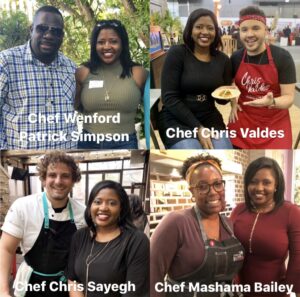 Being an avid knowledge seeker, an unmistakable trend in the foodie world this year was CBD cooking. I interviewed Chef (and OG of Cannabis fine dining cuisine) Chris Sayegh. In addition, I got to hear him speak on a panel at the National Restaurant Association Show and I attended his 7 course fine dining dinner co-hosted with Chef Brian Jupiter of Frontier restaurant. I kept following my nose of staying on top of the restaurant trends and interviewed former Bears football player, Ryan G. Mundy. At the beginning of 2019 many cities were banning the use of paper straws to become environmentally friendly. Ryan G. Mundy saw the opportunity to join the environmental fight and cofounded the company Swzle that produces stainless steel and reusable straws.
I interviewed SOOOOO many people this year, but one interview that really stood out… took me back to my college years. M Lounge is a Chicago Jazz Club located in the South Loop of Chicago. I frequented the spot several times in my youth and M Lounge turned 13 years old this year. The highlight of the interview was not just about the lounge, but the couple that have been married for 23 years that own the lounge (Reginald and MaryAnn Marsh). Okay….you gotta read their love story. Click HERE!
FOOD REVIEWS/ SNEAK PEAKS
The culinary community has been super kind to me. As much as I love interviewing Chefs….I love eating their food even more. 🙂 I've been fortunate to get to preview restaurants/bars/lounges before they open to the public. Some highlights this year included the new Cooper's Hawk Winery downtown location on Oak Street, Timeout Market Chicago, the expansion of Veggie Grill to the West Loop, Ocean Prime first Chicago location, Machine Engineered Dining & Drink, Politan Row Chicago Food Hall, Etta Restaurant, new speakeasies The Hyde and Chit Chat, and countless others.
Besides getting to preview the openings I also would like to thank restaurants that have me in to preview new menu changes like River Roast, Tanta, Trattoria Gianni, and countless others. One of the perks of food blogging is being able to enjoy private dinners and share my thoughts in food reviews on the blog. This year I got to dine with friends at Stockton Chicago, Trio Eatery and Juice Bar, The Publishing House "Long Lunch Series" with Pink Salt, Giglio's, Prairie Grass Café, Sepia Chicago, The Old Plank, Joe's Imports, Etta, Saba Italian Bar & Kitchen, Cafe Spiaggia, Broken Barrel, The Promontory and many more!!!! My food reviews are one of my favorite parts of the blog. I love to eat, but I love taking pictures of food just as much. 🙂
Speaking of eating….how about eating with other foodie's that enjoy food just as much as you do
FOOD FESTIVALS/EVENTS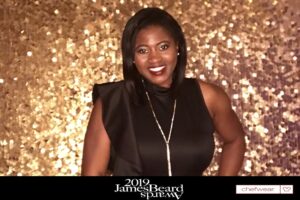 OKAY….when I started blogging there was one event that stood at the top of my list I wanted to cover and I did so this year. The James Beard Awards are known as the "Oscars of the Food World." When I received the email I could cover the event I was ESTATIC! I started my James Awards weekend first covering an event hosted at The Viking Showroom at the Merchandise Mart called the IDE All-Star Culinary Bash. The super unique event was in its third year and recognized James Beard Foundation Chefs of Color. What a great way to start off my James Beard Award weekend experience. The Awards show was everything I imagined!
First off, my seats were so close to the stage (winners were coming from behind me)!!! I met some really cool Chefs, attended some amazing after parties, and partied into the wee hours of the morning. How's getting home at 5:30am on a Monday night?!? Totally my highlight of the year! Other food/drink related events I attended that I loved were: Choose Chicago First Bites Bash, American Lobster Fest, Chicago Gourmet, Cochon, Culinary Fight Fest, Beard Foundation Taste America Tour, Chicago Food Bowl, National Restaurant Association Show, Sweets & Snacks Expo, The Whisky X, Whisky Fest, Whisky Live, Whisky Extravaganza, Luxe Home Chill, Wine Riot, Festival of Wood & Barrel-Aged Beer, and countless more.
I attend so many wine seminar lunches/dinners and can't name them all. Some that really stood out though was the Wines of Portugal hosted by Alpana Singh, The Bordeaux Wine luncheon hosted at Nomi and Virtue restaurant, the private Domaine Carneros summer lunch with wine maker Zak Miller at Somerset, and an exclusive invite to attend Cooper's Hawks Winery dinner with the CEO.
UNIQUE EXPERIENCES
As much as I love to eat…I also find delight in experiencing Chicago in different ways. I started off the article mentioning my private yacht tour. I embarked on a sunset boat tour with the Air BnB for boats….Boatsetter. What an amazing experience seeing Chicago in all its glory from the lake! Speaking of boats…I also attended a dinner with author Veronica Hinke of the book "The Last Night on the Titanic: Unsinkable drinking, dining, & Style." I thought it was such an interesting angle to learn more about the titanic based on the food that was served.
Unique doesn't mean getting away from food. 🙂 I organized my first influencer outing and took my girls with me on a wine tour of Southwest Michigan with Midwest Adventurers Winery tour (If you saw the pics….we were wildn out on that bus ride!!!!).
I'm like totally stressing out right now cause I had so many amazing experiences and just know I'll reread this article again and be like….BUT I FORGOT…. So here's a quick run down of what I remember. LOL
Aqua Mermaid Valentine's Day photo shoot (who wouldn't want to be Ariel for a day), Filming Channel 7 Heart & Soul Segment with Sommelier Derrick Westbrook, attending several opening night plays, Dancing the night away and playing video games at the new Virtual Reality spot Redline VR, promoting women networking events, Attending the Man Vs. Chef event at Soldier Field, becoming a contributing writer for the Chicago Women magazine "Curated Chicago" , conducting staycations in my own town with fabulous stays at the Double Tree by Hilton and the Marriott, and being invited to learn about other cities like Lexington Kentucky. I got to take a boat cruise down the Chicago river with the Kentucky Tourism team while eating and learning about Kentucky. How cool!!!
And….ya'll know I love my Pop Ups…so shout out to all the PR companies that invited me to attend the previews. We covered all seasons, creativity, and enjoyed some of our favorite shows.
I received so much this year it's only right to give back!
VOLUNTEER EVENTS
You all know how much I love my gala's. I'll take any reason to get dressed up, but knowing the proceeds go to non-profits with a good cause is the cherry on top. Some of my favorite charity gala's I promote for are the First Look for Charity Gala for the Chicago Auto Show, The Science and Industry Black Creativity Gala, and I love conducting interviews with celebrities on the red carpet at the Gateway for Cancer Cures Gala. This year was my fourth year interviewing celebs from Brian Mcknight, Earth Wind Fire, Ceelo Green, Carley Rae Jepsen, NBC Chicago Fire, Med, and PD cast mates, and many more.
Another organization I've consistently worked with over the last four years is the Anti-Cruelty Society. It was such an honor to be a sponsor/influencer with their annual Bark in the Park event this year.
When I first started blogging I met a fellow blogger/YouTube show host Julie Hightower. I have now worked with her non-profit organization "The Daisie Foundation" on several occasions. This year I was a correspondent again at the Daisie Foundation luncheon. Money was raised to give Mother's in need or suffering from illnesses, Mother's Day makeovers. I ended my giveback holiday spirit this year with Kiehl's. We packed meals to support Feeding America. Attending all of these events shows how much fun giving back can be. You can't just receive, but you must give as well.
One thing Chicago gives the community is…..
ART
My year was filled with ART! One of the highlights was artist Hebru Brantley #Nevermore Park immersive art experience. I got to interview the highly sought after artist and attend a couple of events he was in this year. Chicago and Art just go together! Andy Warhol exhibit made its way this year to the MCA and I got to enjoy a super unique experience of an Andy Warhol inspired dinner at MCA Restaurant Terzo Piano with Chef Carolina. She prepared for us an Andy Warhol inspired meal/cocktails. The MCA is such a staple of the art community in Chicago. I attended the highly anticipated media preview and Art Edge Gala for Virgil Abloh "Figures of Speech" exhibit over the summer. Other cool artistic events I attended were: Expo Chicago, SOFA Chicago, Design Chicago at the Merchandise Mart, and the Chicago Flower & Garden Show.
Not Chicago related, but still really artistic….I enjoyed interviewing emerging artist Keith Anderson for his design on the official Woodford Reserve Kentucky Derby bottle. Keith is the first African American to have his artwork displayed not one, but two years in a row on the official bottle for the Kentucky Derby.
PRODUCT/SERVICE REVIEWS
I love interviewing…I love eating…I love new and unique experiences… I love to travel…. and I love to highlight the wonderful city of Chicago. What else do I love?!? Sharing with you the products and services that help me with my everyday life. This year I was lucky to work with some amazing brands (Krispy Kreme, McDonald's, Kiehls, First Aid Beauty, Sephora, Ulta, Tenth Street Hats, Hilton, Marriott, Litchfield Whisky, Jayson Homes, Caorunn Gin, Bedhead, The Frock Shop, etc……) Next year I hope to work with even more brands and share with you my HONEST opinion of my likes and dislikes. If you have a product or service you want me to review send me a message to tavij@chiataglance.com.
Thank you SOOOOOO MUCH for exploring Chi-At-A-Glance with me and I can't wait to see what 2020 brings. 🙂

Copyright secured by Digiprove © 2019