Settle in children it's time for a LOVE story in honor of Valentine's Day! The back drop to this story is a Chicago jazz club that is owned and operated by a couple married for 23 years! Reginald and MaryAnn Marsh opened M Lounge in the south loop neighborhood back in 2006.
I myself have been to M Lounge many times and have several stories of my own to share. I remember heading to M Lounge to gossip with my girlfriends over a cocktail, celebrating birthday parties, and cuddling over a late night date. The intimate lounge located at 1520 S. Wabash has over the years become synonymous with hot, live jazz; cool innovative cocktails; awesome customer service, and a very loyal fan base. It's like the "Cheers" bar except on the south side of Chicago. Besides regulars the lounge is also known for attracting celebrity clientele like Angela Basset, Jussie Smollett, Andre Royo, and other cast members of the Empire TV show during filming. Chicago media personalities, members of the Chicago Bears, and Chicago Sky also stop by after games.
The live Jazz and intimate setting sets the scene for romance. Area client "regulars" are so loyal that quite unintentionally, the South Loop oasis has spawned a sub-community of couples who have met their match at M Lounge — some married with children. The married couple/proprietors of M Lounge consider it a badge of honor to have been responsible for over a dozen weddings.
I had such a good time sitting down with MaryAnn and Reginald to talk about M Lounge, their new venture Per.so.na, love, and advice for couples working together. Check out our one on one interview below!
Tavi J one on one interview with Reginald and MaryAnn Marsh of
M Lounge and Per.so.na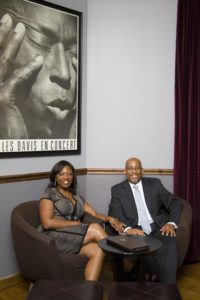 First, how did you guys meet?
Reginald: Interesting story. MaryAnn lived in Chicago and I lived in Cleveland. We met at the Philadelphia airport after attending the NABJ (National Association of Black Journalist) convention 24 years ago. I was a television news producer. We didn't meet at the convention, we met in line at the airport. She was in front of me and turned around with her big smile and said "Hi." We started talking and had great conversation.
MaryAnn: I would add that I'm a very outgoing person. I love meeting and talking to new people. I will make friends on vacation before he's even unpacked. I'm just very outgoing! The ticket agent thought we were together and sat us together on the plane. That was the beginning of everything. Less than a year later we were married and that was 23 years ago.
What a romantic story! M Lounge was born in 2006. How has it been working together? Were you guys nervous?
Reginald: I think it was natural. I was more so nervous opening up the business. As far as working together, not at all. MaryAnn is my best friend. That's why it's worked all these years. We can be in each others face pretty much 24/7 and it's fine because we just love being together.
MaryAnn: I've been a realtor for 23 years. Reginald had encouraged me to get my license. I make my own schedule which is very freeing. Reginald was working at the time as an executive producer at NBC. Reginald then was the Press Secretary for DHS under Governors Edgar & Ryan; and for a short time under Blagojevich. One day he said you know I'm not really fond of politics in Chicago. So the question was what to do next? We love to travel. A few months after meeting we went to Paris together. I love intimate Jazz Clubs. I LOVE Jazz…I'm an old soul. We frequented underground clubs in Paris. We love places that make you feel like you're the only one there. At that point Reginald had decided to be an entrepreneur. He said you know what that's what I want to bring to Chicago. Something that made us feel like what we look for when we travel.
M Lounge is known for the cocktails? Can you tell me a little bit about them? Do you have a beverage program?
Reginald: I create most of our cocktails and put the menus together. We get ideas from everywhere we travel. In creating the martini's we have dessert ones and for those that don't like sweet we have scotch.
MaryAnn: One of the things I love about Reginald and myself is we're very open to trying different things when we travel. If the cocktail is really good I'll say to Reginald we have to bring this drink to M Lounge or Per.so.na. So he'll reinvent the cocktail, but with a twist.
How did you choose the location for M Lounge?
Reginald: We live in the south loop and thirteen years ago there wasn't a lot of entertainment in the area. We wanted to bring something to our neighborhood.
What does the south loop neighborhood mean to you?
MaryAnn: The south loop was the fastest growing neighborhood 10 years ago. It was the fastest growing neighborhood in the country. Millennials and retiree's alike were moving in. Chicago has a history of segregation, but it seemed like all cultures were gravitating to the South Loop. We didn't want to live or work anywhere else.
How did you decide to go about opening up your new lounge/event space Per.so.na in March of 2018?
MaryAnn: For 12 years we had M Lounge and we get a lot of regulars. We've become very much like the "black Cheers." We love it! We know most of our customers and they're loyal to us. One of the things they always said was they would love to have larger parties with us, but we couldn't accommodate the larger size parties because of the size of the space at M Lounge. After hearing that probably once a month for 12 years we decided we were ready for M Lounge part two. We tried to bring the same vibe, only much larger. There's still warmth, character, and it feels like you're in your living room, but now you can be in your living room with 200 of your closest friends.
What advice would you give to other couples thinking about partnering together for business?
MaryAnn: People always come in and say "You and Reggie have a perfect marriage." I will say we do have a perfect marriage… FOR US, but no marriage is perfect. Every partnership takes work. There's three things you have to have to make a relationship work whether it's professional or personal. You have to have trust. We trust each other professionally. I know Reginald has the background and he knows how to run a bar. He's good at what he does. He knows I like to talk….so I'm very good with PR. I'm a saleswoman. We trust each other in our lanes to get the job done. In our personal lives we trust each other as well. The second thing is communication. You have to communicate with your partner. Especially in a marriage. Communication is just as important in a professional relationship. We have bi-monthly meetings with our partners at Per.so.na so we're all on the same page. Reginald and I always take a quick trip after New Year's Eve to reflect on where we've been and where we're going both professionally and personally. Last thing is commitment. If you're not committed to success you're not going to make it. Because there's ups and downs both in marriages and businesses. You really need all three. I can't think of any of those components you can leave behind and still make it. I think that's sort of our secret sauce to us making it professionally and personally.
I agree! What advice would you give to singles looking for love?
Reginald: My advice is not to rush love. It just happens. A lot of times people think it has to happen right away. Start with a friendship. If you run into someone and you meet them….be friends first and see if that relationship will really work before you have to be all lovey dovey.
MaryAnn: I think you have to like a person before you can love them.
Reginald: Absolutely!
MaryAnn: M Lounge has become the love boat. We've created an atmosphere where single women feel safe. They'll come in and have drinks and our gentlemen customers are very courteous. So women feel really comfortable being here.
Reginald: We've actually had 10 couples that we know of that have met at M Lounge and have gotten married. It's fantastic! We've even been to a couple of their weddings. One of the couples we have become great friends and we're the God parent's of their children.
Now for the bad…..What are red flags you should look for when you meet someone?
Reginald: Let me tell you something. Personally I'm old school. If you're standing at the bar talking to a guy and he's sitting and won't get off his chair to give you that seat. That's a red flag. If you're talking to a guy all night long and he won't buy you a drink. That's a red flag. I believe that men have to be gentlemen and you shouldn't short yourself. Women these days are settling for guys. Don't settle. A guy should be a gentlemen and if he's not move on. Because there are gentlemen out there still. At least I think there are.
You guys have the professional and personal life down pact. Are you guys working on any future business ventures?
Reginald: We never completely close a door. We leave all options open.
MaryAnn: I think it always depends on timing. After 12 years we knew it was the right time to open Per.so.na and expand our footprint. We do have some opportunities and in the future we want to bring this vibe to the south side.
Another lounge or something different?
MaryAnn: I think our next venture will have the same vibe, but probably a restaurant.
Are you foodies? Do you both love to cook?
Reginald: We're both foodies, but I do the cooking. If we did open a restaurant I'm not doing the cooking though.
MaryAnn: I don't like to cook, but we mesh well together. He does the cooking, but I open the bottle and pour the wine. 🙂
You guys are #Couplegoals! Will there be anything going on at M Lounge for Valentine's Day?
Yes! We're having a special 13 year anniversary party/Valentine's day celebration. We're bringing in a great saxophonist and will have champagne specials. Any couple or friends that come in and tell us that they met at M Lounge are going to get special gifts and be entered into a raffle to get a beautiful staycation in Chicago. We really want to make sure we're thanking our customers!
Make sure to check out M Lounge and sister location Per.so.na.
M Lounge
1520 S. Wabash, Chicago
www.mloungechicago.com
Per.so.na
408 S. Wells Street, Chicago
www.personachi.com

Copyright secured by Digiprove © 2019