I started a travel bucket list and added witnessing the Kentucky Derby live to the ever growing list of destinations. I interviewed artist Keith Anderson recently for his artwork on the Woodford Reserve Limited Edition Derby bottle. He really brought the essence of the state of Kentucky to light! The citizens of Kentucky are just as proud of their hometown as we are of Chicago. From the whisky/bourbon tastings, to the delicious comfort food, to the Southern Hospitality…..
Speaking of Southern Hospitality you can imagine my excitement when I was invited to an exclusive "Spirit of Kentucky" event right here in the heart of Chicago. The kind folks from the Kentucky Department of Tourism and VisitLex hosted a cruise down the Chicago River while highlighting elements unique to Kentucky.
Kentucky is known as the bluegrass state and the front porch to the South. The state offers a world of outdoor adventures, vibrant arts scene, expansive distilleries & micro-breweries, and an explosive culinary scene. From legendary Horse Country and the grandstands of America's most storied thoroughbred racing tracks to the Kentucky Bourbon Trail.
Our hosts for the "Spirit of Kentucky" event in Chicago picked the perfect day to set sail. We had clear blue sky's and amazing weather! As we boarded the boat we were greeted with a Four Roses Bourbon welcoming cocktail. I may have had a couple of those! 🙂
The table setting was absolutely stunning and picturesque of the South. I couldn't wait for our four course tasting dinner brought to us by Chef Mark Richardson from the Kentucky restaurant Dudley's on Short. First I headed to the front of the boat to mingle and listen to a real Kentucky bluegrass band called The Wooks. It might have been my first time experiencing that genre of music, but I was feeling it and it contributed to my mind slowly leaving Chicago and transporting itself to Kentucky.
As we were about to set sail we were seated for our four course dinner and bourbon tasting led by Four Roses Senior Brand Ambassador Al Young. Check out our menu for the evening below!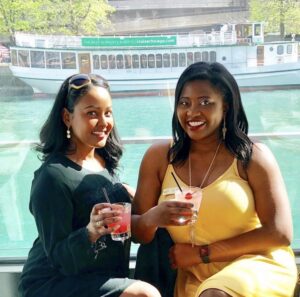 This unique experience has me definitely wanting to head to the beautiful bluegrass state of Kentucky soon! How does Chi-At-A-Glance does Kentucky sound?!? 🙂
For more information on all the fun you have to look forward to in Kentucky head to:
http://www.kentuckytourism.com/

Copyright secured by Digiprove © 2019