It's Kentucky Derby time! I know I'll be gathered with friends somewhere in my big hat, floral dress, and drinking a mint julep. The official Kentucky Derby race this year is Saturday, May 4th. The Derby is presented by Woodford Reserve and is the top rank Grade I stakes race for three-year old Thoroughbreds. Known as "The most exciting two minutes in sports," the race distance is one and one-quarter miles long on a dirt race track. It takes about two minutes for the winning horse to run from the starting gate to the finish line.
The Derby takes place in Churchill Downs in Louisville Kentucky. The spectator sport has a long history and will be celebrating its 145th anniversary this year. There's so much history and traditions to the Kentucky Derby. One being the cocktail the Mint Julep. The Mint Julep has been the traditional beverage of the Kentucky Derby for over a century now. For about two decades Woodford Reserve has a special limited edition Kentucky Derby Bottle. The coveted bottle is sold all over the world and is known to be a collector's item.
For the last two years the bottle art work design was created by artist and hospitality professional, Keith Anderson. Keith Anderson is a Louisville native and also the first African American Artist to have his artwork displayed on the Woodford Reserve Derby Bottle. I looked more into the Kentucky Derby and didn't realize that African Americans played a vital role in the race. For example 13 of the 15 riders in the first derby race were African American. I was super excited to have a chat with Keith to find out more about his artistic artwork and how life has changed since having his artwork featured not only on the 2019 limited edition Woodford Reserve bottle, but the 2018 limited edition Woodford Reserve bottle as well. Check out our one on one interview below.
Tavi J. One on One Interview with Artist Keith Anderson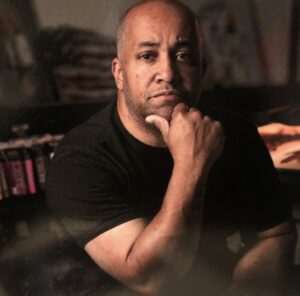 You're an emerging artist and a hospitality professional. How long have you been with Brown-Forman?
I've worked for them now going on 13 years. I've worked several hospitality related jobs.
Have you always created art on the side?
My artwork has always been a passion. To me it's never been a side thing. It was always a passion deal. I'm getting more business and more opportunities now though. That's what makes it great. I've always been an artist, but the addition to doing the bottle opened up more doors. It's A LOT more busier for me, which is what I always wanted.
What other type of artwork do you do? What's your forte?
I was taught to do a little bit of everything. Right now it's all about Derby! A lot of people are into the horses. I do a variety of artwork and work with a lot of mediums. I work with water color, oil, acrylic, I sketch, draw, paint, abstract. I grew up with art. My brothers were very artistic and taught me a lot.
How often are you working on art pieces?
I work on art every day. When I finish my day job I would always go home and work on my art at night. Now since I have a little one I work later at night, but when I was single I would get off of work and wind down the day working on art. I can create until the sun comes up. My art studio is in my basement, but I'm working on getting my own gallery. That would be really nice!
What location are you thinking for your gallery? Louisville?
I would like to start in Louisville of course, but then every city….like Chicago and New York. I was in Harlem New York recently for their African American Harlem Renaissance Derby Day party. The party was founded by Rob Ownes and their going on their 7th year. The Harlem Renaissance Derby Party was great! Not only is it tradition, but it's history. I knew about African American Jockeys, but I didn't know a lot of the rich history that they taught me there. I did a piece of artwork for them and I'm planning to have an art show there soon.
How did you come up with the 2019 design for the Woodford Reserve bottle? Were you asked to come up with the design?
I was asked by the Woodford Reserve team to do the design for both the 2018 and 2019 bottles. I was already grateful and very thankful to be doing it last year. I'm very thankful to be a part of the Woodford Reserve team. This year during a strategy meeting we were going over everything and they looked at me and were like "You know you're doing the bottle this year?" I was like OMG…back to back! I was shocked! It's such an honor. Usually they get a well-known artist from various cities. To have your artwork displayed around the world like this is such an honor. The bottles will also be on display at the Frazier History Museum.
As far as the design I already knew what I wanted to do. Being at the track all week long and through the years….I already knew the design. That's where I got the inspiration for the first one. As an artist my head is just flowing with a plethora of ideas. My wife was talking to me at the Derby last year and she said I know you're not the artist yet but what would be your next concept?
I said to her I would show her once the race starts. Once it started I showed her now their off….their coming out of the gates… now wait for it….and THERE! I told her I plan on doing an image when their passing the grand stand for the first time and she was like OMG! That image put a chill in my body when I think about it. That's just one of many things you see as an artist. Then when you put it on canvas it's like man oh man. To me satisfaction is when I have this idea/concept and then I share it with the Woodford team and there like OH MAN!!! There excitement makes me happy. I'm very thankful and thank God for the opportunity.
Are you already thinking of a new idea in case they come to you again for 2020?
My wife asked me that. I'm enjoying this ride, but trust me I would have something ready!
Most people I'm assuming are looking at the Woodford Reserve Derby bottles as collector's items? Do you suggest people save the bottle versus drinking it?
Get two bottles. One to display and one to drink. At these bottle signings I've come across people that tell me they don't even drink, but their getting it for the artwork. Woodford Reserve will sell without a doubt even if there's nothing on the label, so when people tell me they're getting the bottle specifically for my artwork, it makes me feel great! It's nice when you get an email about your artwork from all over the world. I had a gentlemen from Japan send me a picture of him with the bottle.
We all know that the Mint Julep is the official drink of the Kentucky Derby. With that said what other drink are we sleeping on that we could be making with the Woodford Reserve Bourbon Whiskey?
The Woodford Spire. That's made with Woodford Reserve, Cranberry Juice, and Lemonade.
Yum! Sounds Delicious!! The Kentucky Derby is considered the most exciting 2 minutes in sports. You've been plenty of times. For those of us that haven't been to the Kentucky Derby what is the atmosphere like?
It's like there's electricity in the air. It's all excitement, fun….the way people dress…there's nothing like it. Derby is all weekend long. Usually the out of towners attend Friday and Saturday. The locals go on Thursdays. They call it Thurby. The Derby is something the city can be very proud of. I was born and raised here and I'm very proud of the derby. It shows out of towners what Louisville is all about.
What is Louisville all about?
It's about Bourbon, artwork, and hospitality. We have so many great restaurants. It's a southern friendly atmosphere like no other.
If we were to come to town what are two of your favorite restaurants we should check out?
OMG one off of the top of my head is Bonefish Grill another one is Doc Crow's. Good ambience and very good food. Also Wiltshire Pantry and Wiltshire on the Market are very unique. The menu changes daily and it's very rare to find a place that does that.
I was reading the history of the Kentucky Derby and that African American men played a vital role in shaping the early Kentucky Derby. 13 of the 15 riders in the first derby were African American. I've never been to the Kentucky Derby, but how is the diversity in the crowd over the years.
Of course back in the early days it wasn't that diverse, but now you have all types of nationalities present, which is great. It's all across the board. You see people from all nationalities doing hospitality or enjoying the race. That's really good to see. As African Americans we've come a long way. I plan to read more history of the African American Jockeys, I didn't realize they were winning like that. It was such a learning experience when I attended the Harlem Renaissance Derby Party in New York.
So what's next for Keith Anderson?
I want to get my name out there. I want to be heard. I'm not where I want to be just yet. I want to hear people say "I've been seeing your artwork all over the place." I want the name Keith Anderson to be known. Art is a passion for me.
To keep up to date on Artist Keith Anderson visit him on his Facebook Page HERE

Copyright secured by Digiprove © 2019