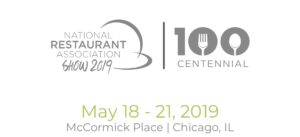 The National Restaurant Association show is back for 2019, May 18th – May 21st! The industry trade only show was founded in 1919. The National Restaurant Association is the leading business association for the restaurant industry, which comprises more than one million restaurant and foodservice outlets and a workforce of 15.1 million employees. It represents the industry in Washington, D.C., and in partnership with 52 state associations, advocates on the industry's behalf in states and locations across the nation. The Association manages the leading food safety training and certification program (ServSafe); a unique career-building high school program (the NRAEF's ProStart); and sponsors the industry's largest annual trade show – National Restaurant Association show.
Check out my recap from last year HERE and keep scrolling for more information below. Please note this is an industry ONLY trade show.
The National Restaurant Association Show will be held at Chicago's McCormick Place from Saturday, May 18 through Tuesday, May 21. The largest annual foodservice trade show in the country is hosting 66,000+ professionals. The National Restaurant Association Show is the place to explore everything that's happening in the industry. This year's Centennial Show features new partnerships, specialized program, and hands-on culinary experiences – in addition to what's new and next in hot products, state-of-the-art technology, trend-forward ingredients, and more.
If you are planning to attend, save time and avoid the lines by completing online registration. Please visit nationalrestaurantshow.com/register to complete the registration process today. This year attendee's will be celebrating and recognizing 100 years of new products, technologies, and innovations. See for yourself what will take your business through the next 100!
This Year's Can't-Miss Sessions and Programs:
Signature '19 (Sunday, May 19): Whether notable for their visionary approach to business, steady hand at diplomacy, or entrepreneurial spirit, our recent Signature speakers have shared personal experiences and meaningful lessons that transcend industries. The influential Signature session continues in 2019 with a panel discussion lead by National Restaurant Association® President & CEO Dawn Sweeney and CEO's from leading QSR, table-service, grocery, and retail chains discussing "The Future of Dining."
 SuperSession (Monday, May 20): From voice commands to robotics and automation, restaurants are
becoming more high-tech – thus more frictionless, allowing technologies to do some of the heavy lifting.  Both consumer-facing and back-of-house innovations are allowing restaurants to incorporate more technology to ease operations and improve efficiencies, while restaurateurs focus on the guest experience. Panelists, including executives from Domino's Pizza and SevenRooms, will discuss trends, technology, and disruptions in the industry.
Come to see their innovation in action and hear a discussion on how tech will continue to change and shape the restaurant industry.
100th Anniversary Celebration at Tao (Monday, May 20):You're invited to an evening celebration of the Show's 100th anniversary, including hot music, some of the best food you've ever tasted, and specialty cocktails by the mixologists at Chicago's newest, hottest restaurant, Tao. Tao opened last year inside a completely restored 1892 building and one of Chicago's most recognizable landmarks. A highlight of the evening will be the finals of the Show's Star of the Bar® competition, a national contest to identify and crown the country's best mixologist. Must be 21+ and a current Show registrant to attend. Additional ticket required.
World Culinary Showcase (Saturday, May 18 –Tuesday, May 21): Education becomes entertainment at the World Culinary Showcase as some of the industry's most celebrated chefs like Rick Bayless, Anjula Devi, and Andrew Zimmern and chefs to know including Abe Conlon and Diana Dávila, share their industry insight, latest menu trends, and mastered skills and techniques.
A Sample of What's New at the Show for 2019:
The New Culinary Experience Center (Saturday, May 18 – Tuesday, May 21): The place to learn applied techniques and the latest trends in culinary, featuring new products that inspire creative and unique dishes. Leading experts will give insight into what's next for food and what it means to you as an industry professional. View full Culinary Experience Center schedule.
The New Digital Media Slam: Showcasing what top brands like Corner Bakery, White Castle and others are doing to win with digital media.
The New Women Leaders Panel: Presenting successful women leaders talking about the challenges and obstacles they overcame to achieve career success.
For more information, visit the Show on social at Twitter, Facebook and Instagram.

Copyright secured by Digiprove © 2019