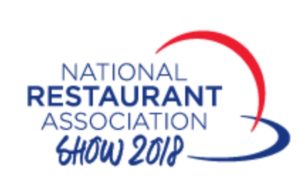 The 2018 National Restaurant Association Show has come to an end and I would be remiss if I didn't share with you my highlights and first time experience attending the 4 day show. First off, lets shorten the name….lol…those in the industry refer to the show as the "NRA Show"…not to be confused up with another type of organization you may be familiar with that's in the news a lot. The NRA show is Trade Only and you must be a professional involved in the restaurant, food service, or hospitality industry to attend.
The National Restaurant Association (NRA) is the largest foodservice trade association in the world. They support over 500,000 restaurant businesses everyday by empowering restaurant owners and operators to achieve more than they thought possible. The NRA show gives the opportunity to discover the latest innovations in the Food and Beverage industry. This year there were more than 2,300 companies/exhibitors and over 66,000 food service professionals from around the world. The show highlights the latest culinary breakthroughs, new equipment/technology, and bold insights from industry leaders. Influential executives, thought leaders, industry titans, and innovative exhibitors attend the show.
As I mention earlier I attended the show as media and as overwhelming as it was….it was also a lot of fun! I can definitely see why this is a must attend show for those in the industry. As an outsider looking in here are my highlights that I think you may find interesting as well.
Tavi J. Highlights at the 2018 National Restaurant Association Show (NRA)
#CoffeeInACone
Do you like Coffee? Do you like Cones? Why not combine the love? #CoffeeInACone is known as the "World's Most Instagrammable" coffee. I met the founder, Dayne Levinrad, at the media breakfast and had him pour me a cup….excuse me "a cone" of the Swiss Chocolate. I was wondering how the cone would be able to retain the coffee, but if you keep the cone tilted at a 45 degree angle it works out. I had a little spillage my last few bites, but it was well worth it. The cone is coated in a special chocolate compound made from various types of cacao to make it leak proof. I love that the cones are made in a small kitchen in Johannesburg, South Africa and provide 20 jobs to the people in the community. You can learn more information by visiting www.coffeeinacone.com
Keeping along the lines of Coffee my next highlight is……
Ripples – The Ripple Maker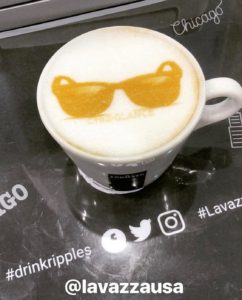 I'm not a huge coffee fan, but I'll be the first to admit I love seeing people post pictures of coffee with beautiful artistic designs. Ripples Maker can print any image, logo, quote, or message into a favorite beverage in just 11 seconds!! I stopped by the Lavazza Booth at the show to take in the action in person. I had them print a screen shot of Chiataglance logo and I LOVED it!! Hotels, restaurants, bars, and event teams are using Ripples products to engage with their customers. Hmmm….what image would you want printed on your cup of Jo? www.coffeeripples.com
Some like Coffee in the morning…. other's enjoy hotdogs…..
Vienna Beef – Hotdog
Yes I started off Day 1 of the NRA show with a Chicago Style hotdog. Vienna Beef was dishing out hotdogs and this year their celebrating their 125th year anniversary. So what makes a good Chicago hotdog? First off lets state the obvious….NO KETCHUP!!! Besides that Vienna says the perfect ingredients are: Mild Yellow Mustard, Vienna Chicago Style Relish, Fresh chopped onions, Two tomato wedges, A kosher dill pickle spear, Two Vienna Sport Peppers, and a Dash of celery Salt. I ordered my hotdog with the works and it was DELICIOUS….Congrats Vienna on 125 years!!! Www.Viennabeef.com
What better way to wash your hotdog down than with an….
ICEE
ICEE's bring back sooo many childhood memories! America's frozen beverage maker wanted to put our Taste Buds to war at the show by introducing its new line of Warhead beverages. The company partnered with Warheads to add a sour and spicy twist to its lineup. The four newest flavors to try are ICEE Warheads Watermelon, Warheads Hotheads Lava Lime, Warheads Hotheads Piping Hot Pineapple, and Warheads Hotheads Molten Mango. The experience definitely leaves a sour taste in your mouth! For those who like it more sweet they also served their classic flavors as well. This has me thinking what flavor I would like to see ICEE come out with next?? www.Icee.com
Speaking of slurping….I have to tell you about the best Oysters I had at the show….
Pana Pesca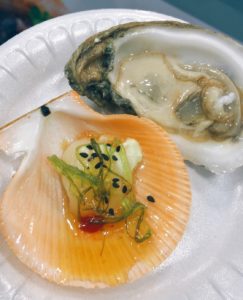 I made it a point to stop by the Pana Pesca booth each day of the show to grab some delicious oysters. Besides the delicious taste the other benefits are their ALL natural with no additives or preservatives, year round availability, Pre-shucked, processed to eliminate any harmful bacteria, 100% yield guaranteed, Wild-caught, and product of the USA. Even better on the last day of the show they were kind enough to give me various seafood packages to try. I will be having a seafood feast at my house…who wants to join?!?! www.panapesca.com
I know what you're thinking….what else is there to do at the National Restaurant Association Show besides eating….seminars of course!! There are various seminars taught by industry leaders to give insight on various aspects of the restaurant/hospitality industry. I attended a really great seminar aimed at teaching restaurant owners how to get their customers off of the couch and into the restaurant:
Menu Trends 2018: Turning Trends into Money Makers
Hosted by Nancy Kruse of The Kruse Company. We learned why customers opt to stay at home (Really big TV's at home, Netflix effect, Amazon effect, Grocer innovation, Deli prepared foods, home cooking, restaurant delivery). Then we learned ways to get the customer off the couch and into the restaurant. It's not just about ambiance but menu's can be experiential too. We discussed 5 ingredients to a experiential menu (Eye popping presentation, Pumped up preparation, Vibrant Vegetables, Meat Matters too, and global kitchen). If I was working in a restaurant this seminar is definitely very helpful to stay abreast of the trends.
After learning about what brings consumers into the restaurant it was time for a food demo at the World Culinary Showcase…..
Chef Barton Seaver showed us several ways to cook Salmon. Seaver is on a mission to restore our relationship with the ocean, the land, and with each other through dinner. He has translated his career as a chef into his leadership in the area of sustainable seafood innovations.
Seaver is the author of seven highly regarded books. "For Cod and Country: Simple, Delicious, Sustainable Cooking" introduces the idea of seasonal eating to seafood. "Where There's Smoke" highlights the art of cooking over fire. His book "Superfood Seagreens: A Guide to Cooking with Power-packed Seaweed" explores the health benefits of this emerging player in the superfood realm. His second sustainable seafood-centric cookbook is entitled "Two if by Sea." He is also the author of two books in his role as a fellow with the National Geographic Society. The "National Geographic Kid's Cookbook" and "Foods for Health," a science-based guide to healthy, everyday eating. His most recent book, "American Seafood: Heritage, Culture & Cookery From Sea to Shining Sea", is an essential guide to more than 500 species as well as a riveting history of one of our country's most iconic industries.
If you're going to eat you need something to put that food on! My last highlight from the NRA show is visiting the fine folks of Oneida.
Oneida
I was at Oneida for quite a while at the NRA show. I started off by getting a tour off their ground breaking innovations. They gave me a deeper insight into how tableware and glassware enhances flavor profiles. I first checked out "Plate Envy." Plate Envy is a way for chefs to discover, visualize, and sample. You're asked a series of questions on the touch screen to turn you tabletop visions into reality. Questions range from: Which images best represent your restaurants interior design to Which words best represent the characteristics of your guests. www.plasteenvy.com
After checking out the beautifully designed tableware and glassware I attended a seminar with Charles Spence, psychologist and author of "The Perfect Meal." He shared with us his salient examples of how food is in the mind and not in the mouth. For example he showed us why dessert eaten on white dinnerware is perceived as 10% sweeter than dessert served on non-white dinnerware. He said even the name of a dish and the sounds in a restaurant can effect taste and overall customer satisfaction.
Afterwards Oneida treated us to a wine tasting with award winning Wine and Spirits professional of the year and author of the "Wine Bible", Karen MacNeil. We got to experience the wine tasting with Oneida's new Crystal Glassware collection. The innovative designs from Sant' Andrea Crystal are made with superior, exacting quality. Each shape enhances the guests experience.
I had so much fun at the National Restaurant Association show and could go on and on. From the company hosted parties, to the after hours block party on hubbard street, and ALL the learning ….I can see why this show is such a big deal for the industry. Mark your calendars because the show will be returning in 2019, May 18th – May 21st. Trade Only (professional involved in the restaurant, food service, or hospitality industry)
Still with me….well check out 3 other quick highlights I don't want to forget to mention
Getting my autographed Chef Works Product Catalog by Executive Chef Lamar J. Moore of the Currency Exchange Café. I'm such a huge fan of the restaurant and all of the hard work Chef Moore does for the industry. Chi@Glance was lucky to interview him a while back and it's amazing how much he keeps accomplishing.
I don't even think I need to say anything about my next highlight….other than posting this picture. Who wouldn't want a big, thick slice, of Eli's cheesecake???
Last, but not least this display by W.W. Johnson Ground Beef was everything…..soooo instagrammable. LOL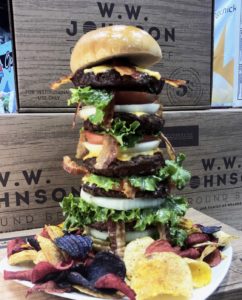 Have a product, restaurant, or food recommendation? Make sure to send me an email to tavij@chiataglance.com.

Copyright secured by Digiprove © 2018