A community cannot survive without resources. Unfortunately, resources are not equally distributed. It takes individuals willing to foster ideas, bring them to fruition, and give back resources to the community they are a product of. Entrepreneur, Donnell Dibgy, grew up in the Chatham neighborhood on the Southside of Chicago. His experience growing up was a fun childhood with baseball and swimming after school and feeling somewhat safe in the streets. By his teenage years, the community changed and crime and murder were in abundance throughout the neighborhood. After briefly living in the South Loop of Chicago, Donnell decided it was time for him to move back to the community he was raised in. He wanted to give his son a home with a yard and foster a neighborhood community that will not only help his child, but others wanting to excel within the area.
Donnell is the founder of The Woodlawn in the Southside Avalon Park neighborhood. The Woodlawn (located at 1200 East 79th Street) is a 4,000 square foot innovative technology center that serves as a multi-purpose facility. The center was designed to foster economic equality through the development of technological skills. Individuals in the community will be able to attend technology based classes, workshops, and various other events in order to expand their knowledge and widen their skill base.
The services offered range from Turn Key commercial kitchen, event space, internet café, podcast studio, pop up retail shops, yoga, gardening, and more to come! I was super excited when I heard about the concept of The Woodlawn and what an impact it will have on the community. I toured the space last week and I was in awe of the beautiful artwork throughout the center. The artwork is sourced and curated by Martha A. Wade. Even better…the art work is for sale! I'm still eyeing my favorite piece of work from Gerald Griffin that I've seen multiple times now at Gala's i've attended.
Also, partnering with the Woodlawn is Zamlabs,Inc. which is a tech incubator and media lab housed on the second floor. You gotta stay awake as you put in the work….so the Woodlawn also partners with a coffee company called Sputnik Coffee Company.
I was highly impressed with The Woodlawn and Donnell Digby. Donnell is a self-made business man. He is a Depaul University graduate with a business administration degree. Donnell comes from a family of business men and entrepreneurs. He's been a real estate practitioner for over 20 years. I had a sit down interview with Donnell to learn more about The Woodlawn and what's to come. Check out my interview below and make sure to head to www.thewoodlawn1200.com for more information.
Tavi J. One on One with Donnell Digby of The Woodlawn


The Woodlawn is such a WIN for the community! Can you tell us how your vision for The Woodlawn came about and what inspired you to start the center?
I own a real estate company and I'm already a business owner in the area. I operate a salon around the corner. My main goal of starting The Woodlawn is to bring resources to the community. I lived in the South Loop area for about 7 or so years. I moved back to the community around a year and a half ago with my son. I wanted to give him a different dynamic and a yard to play in. Moving back and seeing how rough the community was got me thinking "Where are the resources?" I wanted a place that could help the community through pop up shops, workshops, classes, and being able to have good quality food in the neighborhood.
Can you expand more about The Woodlawn Pop up restaurant concept?
We're going to be one of the first real pop up restaurants in Chicago. A restauranter/chef can come in and operate a full capacity restaurant open to public. The dining area serves 30 to 40 people and you can operate like an actual restaurant. Depending on what contract you decide to sign, you can pop up for a week to 30 days or more. It's an opportunity to give people who either can't afford an actual restaurant or want a space to test out their craft and an outlet to do so. The mayor is in the process of creating a new license to allow pop ups to operate legitimately. It's waiting to go through city council now. The Woodlawn is giving restauranteers, chefs, and caterers a chance to operate using a full kitchen.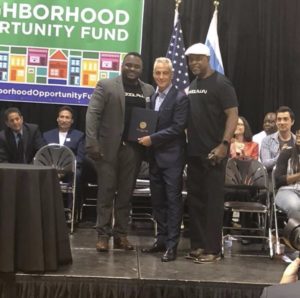 Speaking of the Mayor….I heard you were recently awarded the neighborhood opportunity fund grant. Can you tell us a little more about that?
You basically take your project and submit it for funding to help with construction, build out, and stuff like that. I applied for all 3 rounds of funding and The Woodlawn was selected out of about 800 applicants. There's a bunch of different components in the selection process. You have to be within the funding district, but also be a catalyst for the community. A catalyst for the community means someone that can bring economic spending and social resources to the neighborhood.
I'm a huge foodie, so I was extremely interested in the pop up restaurant concept. However, can you tell us a little bit about the other services and amenities offered?
With part of the grant money we are going to do a state of the art rooftop deck. The rooftop deck is around 1,000 square feet for indoor and outdoor use. There will be a rooftop garden to teach the kids horticultural and green living.
On the 2nd floor of the Woodlawn we partnered with Zamlabs, Inc. for our podcast studio. We have a module we can offer to allow workshops and people instructing the classes to have filming access for streaming and online classes. We have a media lab and podcast studio for those looking to create content. There will be an hourly rate or a monthly membership rate. It's an excellent resource especially to those new to podcasting. Be on the lookout for our upcoming launch event in September where we will be teaming up with local podcast influencers to do a podcast workshop.
The Woodlawn will be amazing for the community and creatives in general. Do you have any other future community plans?
Honestly I think if you can fuse bringing resources back to your community and combining the resources in a way to monetize …. that's a small nitch that works. I want to do several more "Woodlawns" in the next couple of years.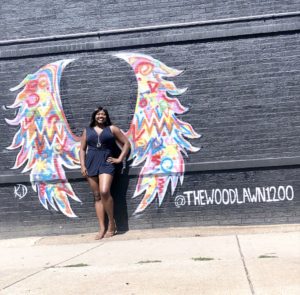 Can you give us advice for those of us that want to make a difference but feel we are just one person and can't?
I think the easy answer is impact. If you want to make a difference…start doing impactful things. This is my philosophy….you can change the life of somebody with basically one interaction. That's why I built this space for creatives. If I can get my peers, professionals, creatives, artists, chefs, in the space to interact and give classes and bring themselves South of Roosevelt Road, there's no way this won't be successful. It takes people willing to give back to change lives.
I'm just a real estate investor overall. That's my background but I saw a heartfelt need. So rather than create another fast food joint I thought about giving a chef a place to practice their skills and shoot it to the community to see if it works. Give someone who wants to teach yoga a space to do so or an artist a place to showcase their work.
I need people like yourself and other creatives to help activate the space. The space is open and ready. We just need dope people to come to this dope space and bring resources.
Are there any upcoming events we should be aware of?
We're going to put our schedule online, but you can expect art therapy, salsa classes, youth men classes, yoga, boxing, chest classes, improv classes, and more.
For more information on the woodlawn head to www.woodlawn1200.com and follow them on social media on Instagram, Facebook, and Twitter @thewoodlawn1200.

Copyright secured by Digiprove © 2018