Summer is heating up! One of my favorite pastimes during the summer is eating, drinking, and socializing on a rooftop. There's something about enjoying a conversation while gazing at a beautiful picturesque skyline. I'm sharing with you some of my favorite Chicago rooftops to patronize (in no particular order) and a few tidbits on what makes them unique.
IO at the Godfrey Hotel
127 W Huron, Chicago, IL 60654
This is definitely one of my favorite rooftops! I've been going since its inception back in February of 2014. I celebrated my 30th birthday here, went with friends, went on dates, and have been for several events. Seriously, it's my home away from home. Maybe living a few blocks away makes me bias ( 🙂 ), but this rooftop has it all. Located on the fourth floor of the Godfrey Hotel you get great views of the skyline, awesome drinks (especially the cocktails made in the kitchen), and even better… as swanky as this spot is I have NEVER encountered any inferiority complexes from any of the staff or doormen here. I recently discovered their amazing Happy Hour Monday through Thursday from 3pm to 6pm and Friday from noon to 3pm. IO isn't cheap, but during happy hour you can get $6 Cocktails, $7 glass of prosecco, and quite a few eats between $5 to $7. Count me in! Definitely make sure to try the signature truffle fries with garlic aioli. Only $6 during happy hour and you get a huge serving!
Boleo at the Kimpton Gray Hotel
122 W Monroe Street, Chicago IL 60603
I first experienced Boleo a year ago for New Year's Eve. The food and drinks won me over!! Located on the 15th floor of the Kimpton Gray Hotel you can enjoy the beautiful skyline while noshing on food/cocktails inspired by Peru and Argentina. The space is absolutely gorgeous and the times I've been since they either had a DJ or a performance going on.
A little tidbit to note is during the Cochon555 Chicago competition this year Boleo won the food category with Chef Cory Morris and the Punch Kings category with Sammy Garcia. Winning 2 categories while competing against very notable restaurants in Chicago speaks to what a mouth-watering experience you're in for here!
Raised at the Renaissance Hotel
1 West Upper Wacker Drive
Raised Bar is a true testament to height doesn't matter. Located on the third floor of the Renaissance hotel this rooftop has got views for days. I think I'm going to go ahead and claim this rooftop as my home away from home as well. I've been on several occasions and each experience left me wanting more. There's an indoor and outdoor area. The first time I went it was a dreary day, but the views were still top notch. Also top notch is the food. I've had everything here from their parmesan fries, shrimp, beef tenderloin, ice cream sandwiches and it was all delicious! I definitely need to speak on the cocktails. One of my favorite one's to order (that's still on the menu) is the Watered Flowers cocktail. Just the right amount of sweetness and presented beautifully. I'm definitely raising a glass for Raised! (See what I did there). Check out my full experience at Raised HERE during my "Adult Ditch Day" adventure.
Devereaux at the Viceroy Hotel
1118 N State Street, Chicago, IL 60610
Devereaux is fairly new to the Rooftop scene. This rooftop (with a pool) opened in September of last year at the Viceroy hotel in the Gold Coast. I checked it out last month and I would say this is definitely a scene to be seen spot. I enjoyed people watching and looking at the fabulously dressed guests walk by. As I mention there is a pool, but I'm not sure if it's exactly people friendly….meaning not one single person was in it and the only time the pool got some action was when a group of friends started pushing each other in as a dare. Drinks were good and of course I had the garlic fries. I recommend checking this spot out at least once. Great views from the 18th floor! As a sidenote this spot is generally packed, so hover close to a table that's about to pay and snag the seats immediately!
Zed451
739 N Clark Street, Chicago, IL 60654
Dinner/drinks…this spot is the place to be! Zed451 is a Brazilian steakhouse that delivers a personal culinary experience. My first time at Zed's was on a date. The guy was a vegetarian (lol….I know) and we went for brunch. Needless to say I had more options to choose from than him. The meat at Zed's is spectacular! I enjoy the dessert just as much as the food. Do yourself a favor and order the butterscotch bread pudding. Me and my girls still go there till this day just for that. I went on a recent occasion to the rooftop to check out there media preview for happy hour. Cocktails were on point and try out the flatbreads and other menu items as well. Did you know Zed451 was the second rooftop to open in Chicago? Now that's staying power!
Waydown at Ace Hotel
311 N Morgan Street, Chicago, IL 60607
I was lucky enough to attend the media preview of Waydown before it officially opened back in August of last year. The view drew me in! Check out the picture perfect landscape! Doesn't it look like a painting?!? I'm been coming back for the drinks and the music. Located in the west loop, Waydown is a really chill spot. It's massive, has plenty of seating, and has an indoor/outdoor area. I usually frequent on Friday and Saturday nights for good music and cocktails. Waydown also hosts events on a regular basis, so make sure you're following along with them online to stay posted. I went once on an old school music night and had a blast!
J Parker at Hotel Lincoln
1816 N Clark Street, Chicago, IL 60614
I know I keep saying "One of My Favorites" but J Parker is one of my favorites. Located on the 13th floor of Hotel Lincoln this spot has 360 degree views of the city. One of my favorite memories was arriving around 10pm on a date during the week day. It was slow that night and we had the hold place to ourselves and gazed upon this beautiful city with cocktails in our hands. The guy is gone, but the memories still remain. LOL. Ive also attended many private events here and enjoy there nighttime scene. It's always been a great time. Make sure to check them out for dinner as well. Steak was perfecto!!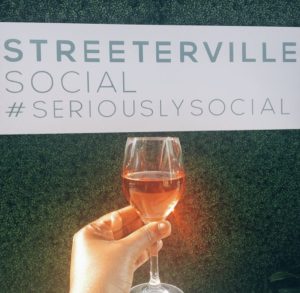 Streeterville Social at Lowes Hotel
455 N Park Drive, Chicago, IL 60611
I'm not going to lie I have a love/hate relationship with this one. The hate (or dislike) is just because a lot of times I have come they have been closed for private events. Other than that….I'm a fan! This place is an estimated 10,000 square feet…which means HUGE. There's two sides to the rooftop and I prefer the side with the comfy couches and games set up (like a life size Jenga game). Drinks are good, food is great, and whenever I come I tend to stay for hours. Surrounding the hotel there's also many things to do like Navy Pier, AMC theater, and very close to the River walk.
Apogee at the Dana Hotel
2 W Erie Street, Chicago, IL 60611
Apogee makes me think about my age cause I remember going here post college days when it was Vertigo…I'm getting old. What stands out to me about Apogee are the cocktails!!!! There is a strong focus on the cocktails and there beautiful to the eyes. One of my favorites to share was "the Spirit animal" It's fun to sit around with friends and slurp out of the same bowl….lol…It's the experience. Great indoor/outdoor rooftop bar to host parties or to just take in the view on the 26th floor. For those that were regulars at Vertigo is that girl still dancing in the window across the street?!? LOL…regulars will know what I'm talking about.
Other Notable Rooftop Mentions I've checked out:
On my Radar to check out……..
Z Bar: https://www.zbarchicago.com/
Up Room: https://www.therobey.com/
Cindy's: http://www.cindysrooftop.com/
Noyanne: http://www.noyane.com/
Aire: https://www.facebook.com/AIREchicago/
Did I miss any???? Drop me a comment below or shoot me an email: Tavij@chiataglance.com

Copyright secured by Digiprove © 2018