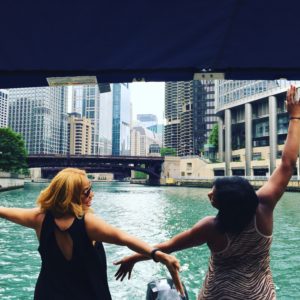 Did you know that June 11, 2016 marked the 30th year anniversary release of Ferris Bueller's Day Off? I can't believe that movie came out 30 years ago!!! All of a sudden I started reminiscing and thinking back to what it felt like to be a kid again. No responsibilities, meeting up with your friends at the mall, playing at the park, and oh let's not forget having a WHOLE summer off! I wanted to be a kid again for a day and I want YOU to be a kid again. This month the SPOTLIGHT is on YOU! I encourage everyone to ditch work (or take off :)) at least one work day this summer. Grab some friends and explore Chicago!
There's something extra naughty or thrilling about taking off mid-week and not being in the office. It makes you feel like you're getting away with something and in my opinion heightens the experience. Also, during the work week you don' t have to deal with crowds as much because those poor souls are in the office. LOL. Myself and a friend decided to ditch work and have our very own "Adult Ditch Day." The name pretty much says it all. We picked a day that worked for the both of us and from there started planning our adventure. It's fun if you can try to keep it along the same time as your normal work hours. Set an agenda, but feel free to deviate from it as well and see where the day takes you.
We planned our agenda with all of our favorite places in mind and decided to add in a couple of activities. If I do say so myself we planned the prefect Adult Ditch Day! Check out our agenda below and read on to find out more about our FAVORITE places to patronize. Hopefully this will give you a few ideas on where you should go for your adventures. Happy Ditching fellow Bueller's!
June 22nd – Adult Ditch Day Adventure
Breakfast – Meli's Café
Educational Activity – Chicago History Museum
Lunch – Theory's Sport's Bar and Grill
Activity – Vantage Boat Shares ( 2 hour Pontoon Cruise)
Happy Hour – Raised at the Renaissance Hotel
Breakfast – Meli's Café – 540 N Wells Street, Chicago, IL
Open for Breakfast and Brunch 7 Days a week
http://www.melicafe.com/
First stop and meeting location was Meli's Café in River North. I believe it's essential to get your ditch day started with an excellent breakfast! This has got to be my favorite brunch spot. I used to stalk their @melicafechicago Instagram page every morning before work. Check it out and you'll see why. The combination's and huge variety of dishes makes me keep coming back for more. Every time I come here I have the hardest decision if I want to go sweet or savory. They do both so well.
On this particular day we decided to share everything and chose one sweet dish and one savory dish. OMG the Salmon omelet is divine and the hashbrowns are perfect and not too crispy. To get our fill of sweet we went with the Maple Butter Pancakes. They will definitely satisfy any sweet tooth. I decided to also try out the Orange, Banana, Strawberry, Honey Juice….another WINNER! We left happy and full. You'll be happy to know Meli's Café is really affordable.
Next Stop…..
Educational Activity – Chicago History Museum – 1601 N Clark Street, Chicago, IL
Open 7 Days a week
http://chicagohistory.org/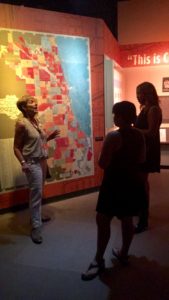 So we decided we didn't want to be complete bums for the day….we are adults right….lol…so we decided to take a trip to the Chicago History Museum. The Chicago History Museum is one of my FAVORITE museums. The exhibits are constantly changing and I love getting to learn more about my favorite city in the world…CHICAGO! 🙂 We received an excellent private tour (Thanks Leslie!) on two different exhibits. First we checked out the exhibit Chicago Crossroads: of America. Very interesting exhibit for tourists or native Chicagoans. The exhibit  shows you challenges and innovations in Chicago. Also, it highlights the different diverse neighborhoods and the culture scenes throughout those neighborhoods. Shout out to all my Gold Coast Peeps! 🙂
We also made our way through their newest exhibit: Lincoln's Undying Words. The exhibit explores the powerful story of Lincoln through five key speeches he made. There's also an audio program you can use to take you through the exhibit. Thankful we had Leslie as her energy made for an even better museum visit.
Side Note: make sure you check out Chicagohistory.org for Illinois residence FREE days!
 So now…..we're feeling smarter as we leave the museum and guess what LUNCH TIME!!! What better place to go than my favorite neighborhood Sports Bar Theory!
Lunch – Theory – 9 W Hubbard Street
Open 7 days a week for lunch, dinner, happy hour, late night menu. Brunch on the weekends.
http://www.theorychicago.com/
It's rare for me to have a GO TOO place because I'm always trying to find something new. However, I've made an exception for Theory. This is my GO TO BAR. You know on the show Cheer's how "everybody knows your name." That's sort of how I would describe Theory. In the busy Rivernorth area Theory is an upscale, but yet laid back bar. The owner, Joel, is very involved and it shows through the excellent customer service of the staff. There are definitely tons of regular customer's that come here (me being included). The food quality is excellent, music is on point, and the TV's throughout the restaurant make it the perfect game night spot.
Now if you want my opinion on what to order…..I ALWAYS have to get the steak nacho's. It's so unique how their presented. Also make sure you come for happy hour. They have drink/food specials every night of the week. Oh also get the fries….and the Caesar Salad….and the house made Sangria…..actually just order the whole menu! 🙂 As other bar's come and go Theory has been around for the last 7 ½ years with many more years to come.
Parting is such sweet sorrow, but hey onto our next stop! I think every ditch day should include some sort of activity. I'm not saying you have to do some strenuous physical activity (although that's fine too). I just think you should do something fun and relaxing for yourself that will put you totally out of the work mindset. I think we accomplish that with our 2 hour boat Cruise! All ABOARD!!!
Fun Activity – Vantage Boat Share – 600 W Chicago Avenue
You Friend with a Boat – Check Site for Details
http://www.vantageboatshare.com/
Now I'm not sure where you work at, but I'm located in the city. I actually do have a big office window by the river where I watch the boats sail by every day. Everyday I'm thinking why can't that be me out there???? Well it can be and it was! 🙂 There are a lot of guided boat tours, but for those of us that know Chicago well sometimes you just want to relax with your friends, listen to your own music, and party like a rock star…..right? Vantage Boat Share allows those with no boats to still get to experience a private cruise with your friends. Hey their tag line is: Your Friend with a Boat. Vantage Boat Share was our friend indeed. 🙂 The weather wasn't the best that day, but we had the BEST time. Thankfully Vantage Boat Share keeps up with the weather and they allowed us to continue on with our boat plans. It was predicted to be 80 percent rain, but lucky us it did not rain during our 2 hour cruise. If it had though we had a covering aboard our 24 ft Pontoon boat……SEA ESTA. SEA ESTA is one of the newest Pontoons to the fleet. It seats 12 (very roomy) and I love how it feels like you're one with river since the height of these boats are shorter than most of the huge guided tour boats.
We brought along some drinks, snacks, and Beyoncé tunes for a fun girls boat ride! Our Captain Ryan was excellent and was able to take us to some key spots we wanted to cruise by. I suggest definitely going over by the RiverWalk to stunt on the crowd…lol. Also to go close by Navy Pier because the view heading back is amazing. Other than that there are many options to take. Another route to take is to cruise on over to China Town. Great scenic views along the way. Thanks to Vantage Boat Share for being our friend with a boat. Will be back!
Okay so even though it's our ditch day and all… we were getting exhausted from all the fun and needed to "quench our thirst" How can you not end a "work/ditch" day without a Happy Hour?!?! Our last and final stop was to one of the hottest and newest rooftops in Chi-Town…RAISED at the Renaissance Hotel
Happy Hour – RAISED at the Renaissance Hotel – 1 W Wacker Drive
Open Everyday – Check site for hours
http://raisedbarchicago.com/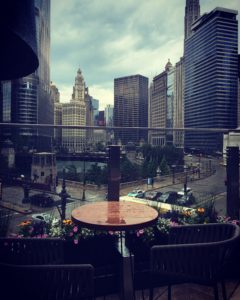 Everyone that knows me knows Summertimechi to me = Rooftops. I cannot think of anything better than to grab some yummy bites, cocktails, and chill for hours on a rooftop overlooking our beautiful city with fashionably dressed people. LOL. RAISED at the Renaissance Hotel is one of Chicago's newest rooftops. It opened May 12, 2016. First off, I loved the name "RAISED." The name was inspired by the 'Main Stem' river district location. It was also refers to the many conceptual layers: the iconic bascule drawbridges that line the Chicago river, the river locks that raise the water for passing boats, and the elevation of the Urban rooftop location. Now that I gave you a little history lesson let me break it down for you how much FUN we had!
Like I mention before the weather was sort of crappy on our ditch day, but we didn't let the weather rain on our parade. Literally! We went on out to the roof top to take in the beautiful views of the city. No joke after about an hour the sun started to peak out a little. Goes to show you a little positive thinking goes a long way. We opted to sit at the bar inside because of the unpredictable weather and I'm glad we did.
We had such a great time with the bartender there and he gave us the best recommendation's. If you like your cocktails on the sweeter side like me you have to try the Spanish Proposal or the Watered Flowers cocktail. Both were delicious! So your probably thinking okay these girls have been eating all day there couldn't possibly be room left in their stomachs. LOL….well there was and we tried a plethora of items on the menu. We had the lobster rolls, beef tenderloin sliders, shrimp, parmesan fries, and we ended our meal with the Burnt Caramel Ice Cream Sandwiches. Everything was delicious, but my favorite would have to be the beef tenderloin sliders. The beef was sooooo tender. We actually didn't end up leaving the bar until about 3 hours later cause we were having such a great time. Definitely a hip place to visit not just afterwork, but the weekends as well. Can't wait to go back again!
Well there you have it. I couldn't let summer pass me by and opted to take destiny into my own hands and have a memorable day off.
Here's a few tips for planning your own Adult Ditch Day:
Set a general agenda. Worst thing that could happen is you take off and spend the whole day trying to think of something to do.

Don't feel like you failed if you stray away from your general agenda. This isn't work so not everything has to be planned. Things will come up that may cause you to have to stray. For example take the weather. We were so close to canceling our boat part of the agenda because of the inclement weather. Thank goodness it stayed nice for us!

Do a little old and a little new. I made sure to go to a couple of my GO TOO spots, but I also wanted to add a little something NEW for the adventure. So glad I checked out RAISED at the Renaissance Hotel cause that will definitely be one of the rooftops I visit this summer.

Decide who you want to spend the day with. Remember ditch day's don't have to involve other people. If you can't find anyone willing to enjoy life with you…..lol…ditch on your own.

Make sure you check to see if the places you plan on visiting are open. We decided to do our ditch day on a Wednesday (especially when it comes to happy hour) because some establishments may be closed Monday/Tuesday.

We had quite a few stops to go through so we planned our ditch day a month in advance. However, it's just as fun and spontaneous to plan last minute. That way too you can check to see what the weather will be like.

It doesn't take a lot of money to plan a ditch day. Stick to places that fit your budget and remember Chicago has sooooo many free activities to choose from

It's nice to add one really relaxing activity. We did a fun educational museum tour and a 2 hour boat cruise. Other suggestions would be a relaxing spa for a massage or facial. Or how about even organizing a game of Volley Ball if your able to convince more friends to ditch.

Try to make ditch day during your normal work hours. You don't want to exhaust yourself and go all day long (or maybe you do :))

Please let your boss and co workers know you are taking off. No one wants to get fired after their fun "ditch" day.
Thanks for coming along for the ride and exploring CHI-AT-A-Glance with me!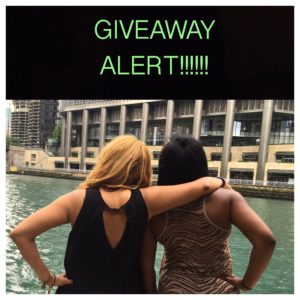 Chi@glance wants to help one lucky reader get a start on their own Adult Ditch Day adventure! I'm giving away a $25.00 Visa giftcard to one lucky follower. Head over to Chiataglance Instagram or Chiataglance Facebook page for more details.

Copyright secured by Digiprove © 2016-2019