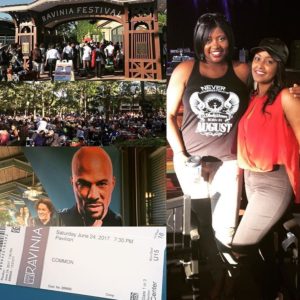 So by now you know Chicago is absolutely the best place on earth for Summer. Yes that is a FACT. From epic beach parties, to festivals galore, to free music, summer dance and movies in the park….we have it ALL. Add to that list venturing outside the city to watch your favorite musician perform under the stars at night. Yep you read that right, #summertimechi definitely includes heading to Highland Park for Ravinia Festival.
I'm ashamed to say as a Native Chicagoan my first time experiencing Ravinia was on Saturday, June 24, 2017. Say what?!?! I know, I didn't realize what I was missing out on. Ravinia is North America's oldest music festival. The 36 acre park is huge and nestled away in a gently wooded area.
So I hope to drop some helpful tips for you as I go through my own personal experience at Ravinia (which is 5 stars by the way – tavij.yelp.com).
My friend and I were so excited our first time at Ravinia would be to see Common. I've seen Common perform now about 4 or 5 times, so to experience Ravinia with him being the musical act was DoPE! We were coming from Skokie so we decided to Uber. (Cost about $20). For those coming from the city though I highly suggest taking Metra. The round trip is easily accessible, coveienently drops you off right at the festival, and very affordable. https://www.ravinia.org/Page/MetraRail
Now there's two ways to experience Ravinia. On the lawn or in the pavilion. I experienced Ravinia in the Pavillon, but I could clearly see there were benefits to both. Having seats in the Pavillion we didn't have to arrive at Ravinia so early (Lawn gates open at 5pm and even earlier for those with priority passes). Having pavilion seating your seats are guaranteed so you just need to get there before the show. I also enjoyed we casually rolled up with just a purse. 🙂 LOL
It was both our first time there and we were in awe of the feeling when you arrive. The only way I could describe it was I felt like I was arriving at Disney Land. I definitely didn't feel like we were in the city anymore. 🙂 As I mention before it's 36 acres!
Now for first timers sitting in the Pavilion you should know there's NO food allow. So you must eat outside (hence the restaurant) or if you happen to know some friends sitting out in the lawn area hit em up. Also you CANNOT bring any drinks into the Pavilion area unless they are in the Ravinia approved $10 cup. Make sure you hold onto that cup cause you can use it the next time you go.
We ate at the restaurant on the grounds. Not being sure what to expect I stuck to the basics. I had the hotdog and Parmesan fries, which were decent.
Sound system is amazing and I would say seeing Common in the Pavillion was the winning move that night. It was a little windy and cold outside that evening, but the temps in the Pavillion were wind free and seeing him perform up close was great.
The LAWN….
I would have to say though in order to say you experience the FULL Ravinia experience you have to go the lawn route. OMG we took a lap around the grounds and people go ALL out with their elaborate picnic setups. You see tables, chairs, gourmet food, tea lights, candles, beautiful linens, etc. So you get a good seat on the lawn it's imperative to get their early to stake your claim. The going price for lawn seats now are about $45 a concert. You can easily make a whole day of this and enjoy some fun with friends. It actually reminded me of a smaller version of the house picnic in Jackson Park on the South Side. It looked liked most people were going the potluck route, but if you're in need of picnic food there are plenty of options:
– Ravinia Picnic Boxes: https://www.ravinia.org/Page/PicnicBox
–  Ogilvie train station French market has various food vendors.
So what are my take away tips when heading to Ravinia Fest:
Decide what experience you want to have before purchasing tickets. A night out on the lawn or assigned seating in the Pavillion
If your going the lawn route get there early to find the perfect seating area
Parking can be a mess, so try to avoid and just take the train. Round trip to and from the city is $8 (weekend pass on Metra)
Prepare for ALL elements! Check the weather. It's cooler at night, so being a jacket so you always remain comfy.
Enjoy yourself! No matter which route you choose Pavillion or Lawn you're in for a good time listening to your favorite artist.
I can't wait to head back and experience Ravinia lawn style next time! Rock out Chicago! 🙂
RAVINIA FESTIVAL


200 Ravinia Park Road
Highland Park, IL 60035
https://www.ravinia.org

Copyright secured by Digiprove © 2017