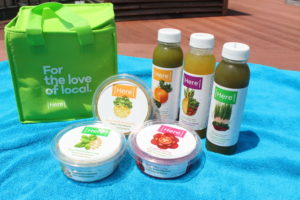 I don't know about you, but I definitely read ingredient labels before I buy anything. Whether it's makeup, skincare, or food products…. I definitely check to see what's all in there. If you can't pronounce the name of the ingredient, chances are it shouldn't be going into your body.
Companies have been taking notice of an ever growing health conscience society and making it easier for us to eat more natural foods. Chicago-based food company HERE is making it's mark on the local food scene with an all new, clean-label line of juices, dips, and dressing packed with produce from Midwest Farms. I've tried the juices and dips and OMG….DELICIOUS! My favorite would have to be the cold pressed juice blended with pineapple, celery, apple, turmeric, and basil juices. YUM!!! I'm also in love with the Basil White Bean Dip. Saving calories, but big on taste.
Here's juices, dressing, and dips have fruits and vegetables grown on farms around the region including:
Wheatgrass – Chicago Urban Canopy
Pea shoots – Chicago Indoor Garden
Tomatoes – MightyVine (Illinois)
Basil – Green Sense Farms (Indiana)
Beans – Carlson- Arbogast Farms (Michigan)
Apples – Belle Harvest Farms (Michigan)
Mushrooms – River Valley Farms (Wisconsin)
Check out the press release below for more details! You can buy Here Products at 100 locations throughout the Midwest including Whole Foods, Mariano's, Sendik's, Eataly, La Colombe, and boutique hotels throughout Chicago.
Here

: A Local Farming Advocate Debuts an All-New Category of Midwest-Made Clean Label Foods, Hitting Shelves This Summer
Here Creates The First "National Local" Retail Brand in the Food Space by Introducing an Inaugural Line of Cold-Pressed Juices, Dressings and Dips Made with Locally Farmed Produce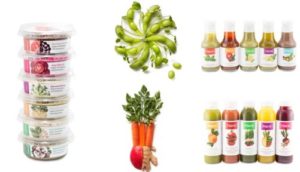 CHICAGO, IL (June 13, 2017) – Here, a food company advocating for regional farmers, has officially launched an all-new retail model for selling local clean label food products made with Midwest-grown produce. The new line of value-added items will hit grocery store shelves across the region this June, and will directly impact the entire local food economy by creating an increased demand for Midwestern farm-sourced product.
With this rollout, Here introduces three categories—bean dips, dressings, and cold-pressed juices manufactured in small batches 25 miles outside Chicago in Carol Stream, IL.  "In order for food to scale, we need to create demand for more product, and that demand has to be there 365 days a year," says Here CEO Nate Laurell. It's Laurell's belief that by using local produce to create retail products specifically, this business model will solve a problem that has long plagued the local food industry. It will create a longer shelf life, which will in turn allow Here to purchase a much larger quantity of product from Midwestern farms—a win/win scenario for all involved.
"By using Midwestern fruits and vegetables from Illinois, Indiana and Michigan in a retail capacity year-round, this line of products will allow us to reach thousands more stores than by just selling seasonal produce alone. It seems so simple, and yet it's something that has not been done. This is a footprint we plan to replicate over the next five years in markets around the country, and we hope to impact other local growing regions on a national scale. Ultimately, we want real food grown everywhere for everyone."
The fresh, seasonal ingredients used to make each product are sourced from nearly a dozen reputable Midwestern farms and co-ops like MightyVine, Green Sense Farms, Carlson Arbogast, Urban Canopy, Belle Harvest and more.
With retail products already sold in over 100 locations throughout the Midwest including Whole Foods, Mariano's, Sendik's, Eataly, La Colombe and boutique hotels throughout Chicago, Here is projected to expand to 500 Midwest grocery stores and food service operations by year end.
WHAT'S CLEAN LABEL?The "clean label" moniker is emerging as a new standard for natural food products found in grocery stores. According to GoCleanLabel™: "Clean label is a consumer driven movement, demanding a return to 'real food' and transparency through authenticity. Food products containing natural, familiar, simple ingredients that are easy to recognize, understand, and pronounce. No artificial ingredients or synthetic chemicals."
More details about Here's inaugural Cold-Pressed Juices, Spreads & Dips and Salad Dressings below: 
COLD PRESSED JUICES
Pairing Midwestern fruits and vegetables with natural superfoods, HERE's colorful cold-pressed juices, each teeming with complex flavors, antioxidant and anti-inflammatory properties, are made with fresh produce enjoyable year round. The juices combine natural superfoods including turmeric root, ginger root, wheatgrass and cayenne to produce five distinct flavors including Kale Apple Wheatgrass Juice, Pineapple Basil Juice, Orange Zucchini Spinach Juice, Beet Apple Ginger Juice and Tomato Cucumber Juice. Each 12 oz. juice is cold-pressed in Illinois and always contains produce grown by a Midwestern farmer, including Chicago Urban Canopy wheatgrass, Illinois MightyVine tomatoes, and Indiana Green Sense basil. These clean label juices are made without any added sugar and boast a 45-day shelf life. HERE.co began selling its cold-pressed juices at Eataly and La Colombe in January 2017 and expanded to Mariano's in May and Treasure Island in June.
SPREADS & DIPS
Colorful and nutritious, Here's clean label spreads and dips combine fresh navy and black beans grown by Michigan's Carlson Arbogast bean farm with Midwest produce such as MightyVine tomatoes (Illinois), River Valley mushrooms (Wisconsin), and Chicago Indoor Garden pea shoots (Chicago). These clean label dips and spreads not only contain half the fat, more protein, and less calories than hummus currently found on grocery store shelves, they're also rich sources of folate and Vitamin K, which aid in cell growth and anti-oxidation. Here's six varieties include Basil White Bean Dip, Black Bean Tomato Dip, Bright Beet Dip, Curry Lentil Turmeric Dip, Edamame Pea Sesame Dip and Spinach Mushroom Dip. Find Here's dips for sale at all Whole Foods Market Midwest and Sendik's Wisconsin locations, as well as at all Mariano's and Treasure Island stores beginning in July 2017.
SALAD DRESSINGS
Made by hand with apple cider vinegar, mustard, lemon juice and fresh Midwestern basil, Here's line of vinaigrettes channel basil's anti-inflammatory and antibacterial properties to create flavorful dressings that also boost cardiovascular health. Naturally preserved with Apple Cider Vinegar for a 180-day shelf life, the five flavor varieties include Ginger Lime Basil Vinaigrette, Greek Olive Vinaigrette, Lemon Garlic Basil Vinaigrette, Original Sweet Basil Vinaigrette and Tomato Basil Vinaigrette. With sugar free and low sodium options also available, these dressings are currently sold at over 100 stores in the Midwest, including Whole Foods, Mariano's, Sendik's, and Eataly.
ABOUT HERE
Here Holdings was created in January 2016 through the merger of FarmedHere—once the nation's largest vertical farm to specialize in year-round organic basil production—and 87P, a leader in the production of clean label food products.  Here has transitioned and grown to support Midwestern farmers by introducing people to local produce with clean label goods including cold-pressed juices, salad dressings, and bean dips. Produced 25 miles from Chicago in Carol Stream, IL, Here promotes local food that not only tastes better, but is better for you and the planet. Choosing Here means supporting the farmers, the team and the customers who help make the Midwestern local food economy shine. Learn more at www.here.co

Copyright secured by Digiprove © 2017