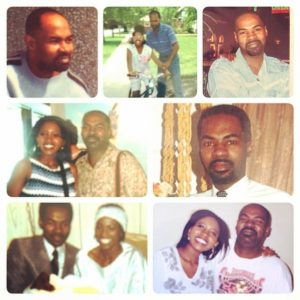 During this time of the year I'm always reminded of how blessed I am, but sometimes it can be incredibly lonely as well. In January of 2004 I lost my dad to Colin Cancer. I seriously remember losing him just like it was yesterday. I was 19, I was in English class, it was 7:00pm, and I just got this weird feeling and decided to leave school early. During that time my dad was going through hospice at home. He refused to have life end in a cold hospital with strangers, so my mom took care of him at home. (That's 25 years of LOVE right there…quitting your job and not thinking about the future, but taking care of the man you love and worrying about the rest later). I remember calling my mom that day on my way home and everything seemed "normal" but it wasn't. When I walked in the house my mom told me my dad had passed away at 7:00. That's it…I lost my best friend and I just went upstairs and did what I do best when faced with bad news…I just laid there and didn't do anything. Just numb.
That year and every year since then has been tough. You don't realize, but when someone close to you passes every day (even 13 years later) you're subconsciously and consciously reminded of them constantly. Whether someone is getting married and you think "man I wish my dad could still walk me down the aisle" or the Cubs win and you think "man my dad was from the South Side, but the Cubs were his favorite team and he would of LOVED this" or Father's Day instead of coordinating where to take dad to lunch its "what time do you want to head to the cemetery?" or on 5/19 his birthday its remembering the last gift you gave him… a CD radio because music relaxed him and he could lay in bed listening to music for hours. Or how about every day because I lived at home and I would always say bye to him every morning when I left for work. Even in my dreams there's a constant reminder. I would say about every other week I still have at least one dream where he's still alive and then I wake up to a nightmare that he's not. In my dreams he always beats cancer.
I have to remind myself how blessed I am  though because I'm left with happy memories and although I didn't handle his passing well I had one class that year that was my therapy. The next quarter I had a religious English lit class and the topic we had to write our paper on was called "A Life Worth Living" Of Course, I chose to write the paper on my dad. My dad passed away at the age of 43, but his life was 10 times better than people who live to be 90.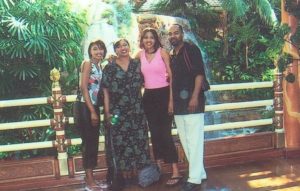 Now I gotta tell you a little bit about my buddy buggles (my nickname for him). He was 1 of 8 children and the only boy. Lol….yes he had 7 sisters. Speeding up he met my mom very young and they got married at the age of 19 and were together till the day he died. Now when I say I have the best memories I have the BEST memories. We were in no way a rich family, but my parents did everything to make us happy. From driving us every week to the the thrift store early to try to get the "best items" to saving up to take us on our first of many family vacations to Wisconsin Dells.
My dad was the first man I ever loved and looking back the ONLY true man I ever loved. He was so invested in my sister and I. In high school he would get to work early just so I could have the car to drive myself to high school. It's the little things I remember like that 15 minute ride with him every morning and watching him walk into the office. Or watching jeopardy and WWF with him.
Or how I could hear him in the background when I would call my mom when I left work and he was asking her if she had my dinner ready. I worked all four years of college, so it was work 7:30am to 4:30pm and school 5:45pm to 9:00pm. Like I said my parents weren't rich so I was out there trying to make my own money $$$ and proud of it. I was raised so well and my parents would constantly be told you have such lovely girls and I know it's because I truly was raised in a loving family.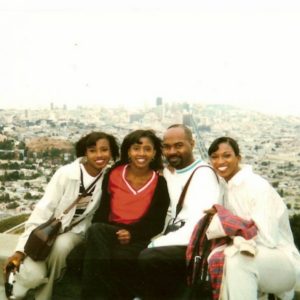 The thing I remember the most that I feel is lost on younger generations is his love for family. My dad didn't have many friends. Lol my mom would make him hang out with some of the church guys cause he constantly just wanted to be around the 3 of us. He was such a family guy. I went to school at night 4 nights a week and my dad was right there with me. He would actually drive me downtown and sit the 3 hours outside and wait until I was done to save me $13 of having to pay for parking every day. Chivalry might not be dead, but guys these days DO NOT compare to the selfless acts my dad always displayed without thought.
So where am I going with all of this? Lol…I just really did pause and ask myself that. I know you probably don't personally care about all the details I gave, but I guess what I'm trying to ask you to think about is "What is a life worth living?" After that ask yourself is how you're living your current life taking you in the right direction to achieve YOUR life worth living? Maybe you even need to re-evaluate what you thought was important.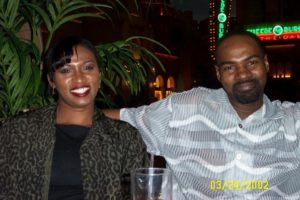 I will be the first to say I have never been one infatuated with money. How I see it you can't take it with you and my personal relationships will always trump being able to say some fancy job title. Looking back now a Life Worth Living deals a lot with who you have to live it with. I'm thankful for my mom, sister, the few close friends I have, and hopefully one day meeting that man that chooses me. Not parts, not try to change me, but love me like my dad loved/loves me. I had an example of what it means to be a good father, husband, Christian, and friend. A life worth living to me is being so happy within my self that I can allow a love like that to come into my life. Merry Christmas and know your life is valuable and time is short…so let's make every second count.
This article is dedicated to my daddy, Larry Johnson, AKA Buddy Buggles. Thank you for being my best friend. Love YOU always.

Copyright secured by Digiprove © 2016