Last week the world said goodbye to the iconic, and irreplaceable pop star, Prince. Known as, the "Purple One," Prince gave the world music that was electrifying, distinctive and soul shaking. He created a sound that would forever be embedded in our culture, but beyond his incredible talent, the legendary singer blessed the world with his expressive fashion on and off stage.
From tunics to bright suits, rocker aviators & paisley prints, we pay tribute to the late artist and his quintessential style. He may be gone, but his style will forever inspire our runways. Prince, a person so rare that we may never have another and wouldn't want another.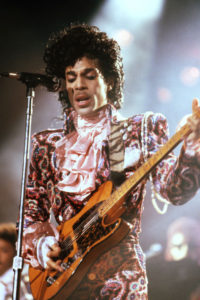 1985
King of paisley and ruffles, Prince was never afraid to show up and show out.
Look 1 • Boxy Chiffon Sleeve Jacket
Look 2 • Blouse and Skirt
Look 3 • Print Cropped Trousers
Look 4 • Colour-block-suede block-heel sandals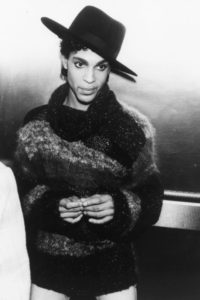 1987
Even in neutral tones, the artist knew how to stand out.
   Look 1 • Textured Ombre Pullover Sweater
Look 2 • Fringed Lace Crochet Shorts
Look 3 • Felt Hat
Look 4 • Faux Suede Booties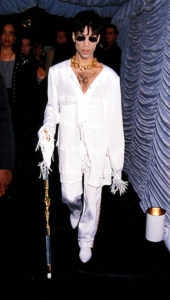 1994
White is never boring when you're Prince.
Look 1 • Trousers
Look 2 • Top
Look 3 • Pointy Toe Pump
Look 4 • Sunglasses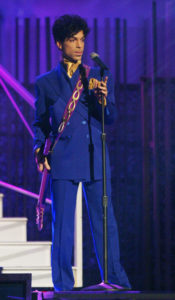 2004
The suit, a staple of the singer.
Look 1 • Girlfriend Blazer
Look 2 • Satin Twill Wrap Top
Look 3 • Palazzo Pants
Look 4 • Metallic Leather High Heel Pump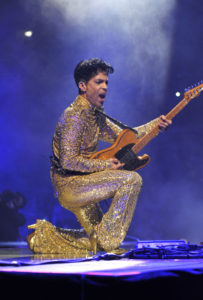 2011
The star was always one to try new looks, and this metallic ensemble lit up the stage.
Look 1 • Jumpsuit
Look 2 • Metallic Leather Heels
Look 3 • Clutch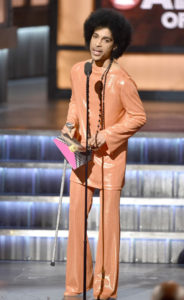 2015
A monochromatic outfit never looked more chic and effortless on Prince.
Look 1 • Palazzo Trousers
Look 2 • Palazzo Top
Look 3 • High Heel Pumps
Look 4 • Necklace
Prince Images HERE

Copyright secured by Digiprove © 2016