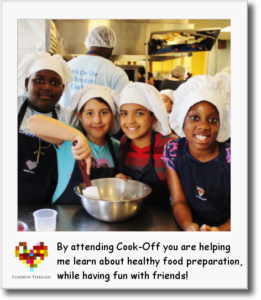 Event: 5th Annual Cook-OFF
Where: Revel – 440 W. Randolph Street
Date: October 1st, Thursday
Time: 6:30 – 9:30pm
Great for: Everyone!
Description: Thirty of Chicago's most recognized restaurants and hotspots will go head to head to create their best dish from garden, the pasture, the seed, or the barrel. Guests will cast their vote to crown a winner from each category.
First off what is Common Threads? Common Threads is a non-profit that provides preventative health program solutions to underserved communities through hands-on cooking and nutrition education. This organization teaches that cooking is a life skill not to be taken for granted. Their working to fight child hood obesity.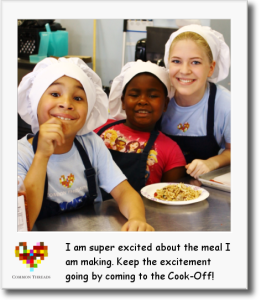 The non-profit organization was founded in 2003 by Chef Art Smith, artist Jesus Salgueiro and CEO Linda Novick O'Keefe. Common Threads operates in eight major US cities. We're glad they're here in Chicago. Support a good cause and reward yourself by feasting on cuisines from these restaurants:
Bar Siena, STK Chicago, Tanta, Yusho, Roys, Quaker, Salero, Atwood, The Fifty, La Briola, Winchester, Whisk, Velvet Taco, TWO Restaurant & Bar, Travelle, The Duck Inn, The Chopping Block, Table Fifty-Two, SideDoor, Sable, Rural Society, River Roast, Revel Room, Lifeway Foods, JIMMY at the James Chicago, Howells and Hood, Farmhouse, Dirk's Fish & Gourmet Shop, Charlatan
Tickets are $85.00 online and $95.00 at the door. Click here to purchase tickets
I had the pleasure of attending a couple years back and I had an amazing time! The crowd was so diverse and I got to try out so many restaurants. It's such a privilege to have all of these great restaurants and chef's under one roof for a great cause.
Eat and Support!
Tavi J.

Copyright secured by Digiprove © 2015-2017