Being a quote on quote "foodie" seems to be the norm now. When it comes to travel most people will do their due diligence on restaurant dining just as much as they research which hotel to stay at. When I travel I try to pick the hottest spots with the most authentic cuisine.
I travel to New York A LOT! The state of New York has such a diverse food scene. If you're looking for authentic Caribbean cuisine bursting with flavor head to Miss Lily's and give Chef Kahari a visit. Chef Kahari Woolcock is the Chef de Cuisine at the Miss Lily's Soho location. Being a native of Jamaica he brings the authentic Caribbean vibes. Chef Kahari is passionate about cooking and started at the young age of 12. He's worked at several high end restaurants and you can find his recipes quoted in popular media sources like Good Morning America and Food & Wine. Chef Kahari is also a regular at distinguished food events such as the Food Network & Cooking Channel South Beach Wine & Food festival.
Cooking for Kahari is not just a career, but a passion. He is the Owner and Operator of the food consulting/catering company Di Sauce, LLC. Kahari thoroughly enjoys helping companies reach their goal by providing advice on streamlining operations and how to provide superior customer service. His catering business receives rave reviews and he likes to share his wealth of knowledge with other small business operators. His goal is for everyone to succeed. Want to learn more about the Jamaican Culture and why Chef Kahari is a rising Chef YOU need to know? Read on below for our exclusive one on one interview.
Tavi J. One on One Interview with Chef Kahari Woolcock
What inspired you to start cooking?
At a young age I would always cook with my Grandmother. However, as I got older I did most of my cooking outside the home with friends. Growing up in Negril Jamaica we would hang out on the cliff side and do Spearfishing. I would push other people away so I could cook. I noticed not only did I enjoy it, but I was getting good at it. I gained further knowledge from people who created dishes I enjoyed. For example, I would go to the guy that makes the best curry goat and he would sit me down and show me how to make it. That's how I learned and developed my passion for cooking. Still to this day when I get to Jamaica my friends provide all the ingredients and I make them a feast to remember.
Can you tell us a little bit about your culinary education and background?
After high school I went to community college and studied Agricultural which now plays a part in my farm to table concept. After college my friend introduced me to a culinary mentorship program located in Ocho Rios Jamaica. I trained with my friend for two years. I was trained in classically French and Italian style cooking. Everything else I've done has just been me training myself and working with Chefs who have mentored me through this process.
How does growing up in Jamaica influence your cooking?
I was raised in a small town called Orange Hill. It's just outside of Negril. I grew up in a farm community and my family was fortunate to have a farm with lots of land. On the farm we had various fruit and vegetable trees. For protein my uncles went fishing and I would tag along. They built canoes from huge cotton trees we had on the property. We would go down to the waterfront which was like a rocky area on the West End. They didn't have GPS so they would use landmarks.  One landmark I vividly remember was a big Birchwood tree that stood right on top of the hill. That's what they would use to navigate themselves back to shore. There was always a little group waiting to assist us pulling the canoes back that were loaded with fresh caught lobsters and crabs.
I do heavy seafood in my menu special selections. I'm drawn into cooking seafood because of my childhood experiences. Living on an island seafood was easily accessible.
Being a native Jamaican when you go to restaurants claiming to be authentic Jamaican Cuisine what do you look for or better yet what should we look for? Any specific dishes?
Definitely. There's always going to be a jerk chicken, oxtail, and rice & peas on the menu. However, it's all about the flavor profile. It comes down to you tasting the Scotch Bonnet, the pimento, a lot of thyme, and you should be able to taste the flavor of the meat that is marinated.
Can you tell us a little bit about your current place of employment at Miss Lily's?
I'm the Chef de Cuisine of Miss Lily's at their Soho location. Miss Lily's is a Jamaican restaurant with four locations. Growing up in Jamaica I've known of Miss Lily's forever. I've also done about six to seven events with The Rockhouse Foundation, which is owned by the founders of Miss Lily's.
What do you feel like you bring to Miss Lily's? And what makes Miss Lily's different from other Jamaican restaurants in the area?
I bring a different perspective to Miss Lily's. Miss Lily's has always been a great restaurant and they have the accolades to prove it. I bring to Miss Lily's my experience and my understanding of the Jamaican culture itself. I share with Miss Lily's my signature dishes that took me years to create. I use a mixture of organic produce I get at the Union Square market every week and I order the best fish. I use my skills to present the meal in the best light and share my love of Jamaica with the customers. I love to interact with guests and share my Jamaican pride and heritage.
Also, as I mentioned I am closely affiliated with the Rockhouse Foundation. It's very very dear to me because they build schools in my community. I know kids in my hometown with special needs that go to that school. Being able to be a part of the organization is very rewarding for me. For me being at Miss Lily's is not just about Miss Lily's. It's about the whole Rockhouse family and what they are doing for the community. I feel like a part of something bigger. It's not just about the food.
I know you're very passionate about cooking and sharing your love of food with the world. What are your future goals?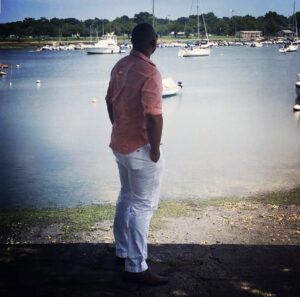 I'll be opening up a restaurant in Jamaica that brings more creativity to the area. I want to present Jamaican cuisine on a different scale than it's presented now. Based on my experience working at high end restaurants I've realized that the Jamaican food we have in Jamaica on a whole is not very polished. It's still based on how it was presented when we were growing up. Because of necessity and trying to make food stretch you would always have way more starch than protein. I want to bring awareness to health benefits and structuring a dish that's more balanced. I want to utilize the fresh herbs and fresh fruits that have not been used and that have been overlooked in the culture. I want to bring an awareness of health benefits and connect with local farmers and fisherman that bring up fresh produce every morning. My goal is to build an entire business around what's local.
I also still run my own farm so I plan on introducing a line of sauces in the future.  Most people focus on the main product, but I also want to pay a lot of attention to how much detail is placed in the making of the condiment which is the sauce that will be on your dish. My concept is the proof of any dish is the sauce.
In Carribean and Jamaican food we do a lot of stews. A lot of times in stews the highest quality meat is not being used so the sauce is always what covers that.
I plan on having high quality organic vegetables and not having anything artificial added. So, just using techniques to bring out the best quality in the marination process and the carmelization process so you can really taste clean healthy fresh sauce. It's not about covering up anything it's about accompanying the dish with sauce that's really clean and healthy and can stand on its own. When you combine both the sauce and the base you can see how elevated the dish becomes.
Can you tell us a little bit about your consulting and catering business?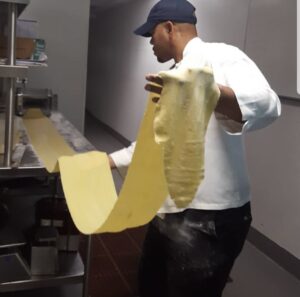 I started a consulting company called Di Sauce, LLC. Initially I targeted small Jamaican restaurants. Jamaicans come from a hustle mentality. We grew up learning to hustle and a lot of us did not have the opportunity to learn how to structure a business. The problem was there was not any systems or processes in place. I began teaching small aspects like how to plate dishes. In addition I taught bigger concepts like how to lay out the business. How to keep track of the inventory and other huge operational processes. Since I'm from Jamaica it's personal to me to help the Jamaican restaurants.
The other part of Di Sauce, LLC is the international catering aspect where I cater events such as birthdays and weddings. I'm available no matter how big or small the event size. I also cater a lot of couple anniversary dinners.
For catering is it just strictly Jamaican cuisine or do you do other types?
I was trained in classic French and Italian. So spending years in my mentorship program I definitely can cook French and Italian. Jamaican food is just because I grew up in Jamaica and I learned about the culture and food growing up. So I'm natural at that. Most of my catering now is a melting pot. I do everything across the board. Some events I'm cooking three different cuisines. I do it all. I make my event experience very unique.
A lot of us have experienced the beauty of Jamaica. You grew up in Negril. Can you tell us a little bit more about Negril and what sets it apart from other areas in Jamaica?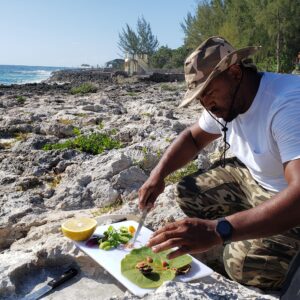 Negril is the number one tourist destination in Jamaica. So it's seven miles of white sand beaches and another 3 or 4 miles of cliff side where they have the famous Rick's Cafe and also cliff diving. Negril is on the edge of the water so we always have fresh seafood. People go there just for that. The food is fantastic! I believe the best Curry Goat comes from my hometown Orange Hill. I'm not afraid to say I believe it's the best curry goat in the world. The effort that goes into the grass fed goats and overall usage of the fresh herbs and spices that grow in the area make it unbeatable. The people growing up in this community learned how to sustain themselves and they had to use what they had to create the dishes. Overtime they got less dependant on artificial seasonings and they cook more organic.
You mentioned you grew up in a small community. What made you come to the United States?
For me small communities can often times have small mindsets. Everyone wants to be the big fish in a small pond and I never wanted to be that.  I wanted to go out there in the world and see how good I was in comparison to the world and not just in comparison to where I was. I wanted to push myself to the next level, but there weren't many opportunities  where I was to showcase what I can do. I want to be an example for the people who live in my community to realize that even though we cannot see a way out it's there and we can still have dreams and goals and reach out for them. We don't have to see a way we just have to believe and push forward. I made the decision to come to the U.S. to follow my dream of being a Chef. I knew it would be rough but worth it at the end of the day if I continue pushing myself.
Chefs nowadays are viewed as Rockstars thanks in part to all the cooking competition shows. Do you have any future plans on competing or doing any cooking shows?
I definitely plan on competing on TV one day.  My perspective is you get one shot and I want to make sure my goals are aligned so when I go on that platform I have my products and business ready. You're going to automatically gain some attention whether you win or lose and I want to transfer all of that attention to the projects I'm working on.
What are some of your favorite cooking competition shows?
I like watching most of the cooking focused shows on Netflix's. Chef's Table is one of my favorites. I love Hell's Kitchen. I love Kitchen Nightmare. I like watching MasterChef, Beat Bobby Flay, and Chopped.
Speaking of watching those cooking shows. Who inspires you?
Chef Thomas Keller. I really respect his work and I study all of his books. His take on food is genius. Chef Thomas Keller approach to food has always been clean and simple. It makes sense to me. I like his end result and I like his presentation. I like his complete approach to food.
Another inspiration of mine would be my Grandma on my dad's side. My father was her last born child, but I became her baby because at 6 days old my mom brought me to my Grandma's house and she never came back. From that point on I was her baby. She taught me everything I know. She was the only mother I ever had. I have aunts and cousins that chipped in, but for the most part it was always her. She had core principals in terms of being respectful and being disciplined and working hard. What I gained from her was no matter how tired you are you still need to push. My grandmother molded me into the man I am now. Everything I do has a piece of her in it because I can remember stuff from her when I am at my lowest point. I can remember stuff she says. Like when I get carried away she's always saying "Don't be a boastful young man" So I always remember those stuff and they keep me grounded. When I'm tired she says "Just keep working. Whoever is  the person who is supposed to see will see." My Grandmother is the reason why I'm motivated. She is the reason I do the things I do and how I do them.
What advice would you give to aspiring Chefs? Especially those who come from a challenging background.
Practice. Work hard and put in the time. Don't do it for the money. Be hungry and addicted to growth. Your addiction should be growing and learning. Be open to learn. Take a job because  you want to learn not because you care about the money. If you learn enough the money will come. Trust the process. Pick someone that you believe can help you and ask them for help. Feel free to go to them. Ask them, research   practice cooking, and doing you. Develop your own style of cooking. Each person cooking style will be different. Learn the basics and create stuff on your own.
A lot of people ask me for recipes now and I tell them it's not the recipe. You can find recipes anywhere. What you need to learn is the techniques and get comfortable with doing the small things. Be disciplined in whatever you do. That's it. Be disciplined, work hard, and believe that you can do it.
Can you explain more what you mean about techniques?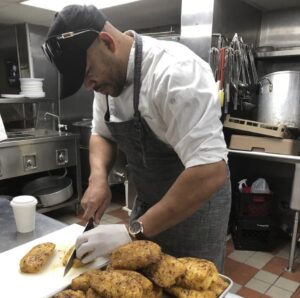 Example learning how to sharpen the knives and cut uniform. By doing that when you cut the same size vegetable not only does everything look better when you finish but everything is cooked to the same even doneness to avoid some pieces being overcooked and undercooked. The number one thing you do is you cut them the same size. You may not think cutting all the pieces the same is a big deal but it's the biggest deal.
Learning how to sauté and caramelize so you get the best flavors. You develop flavors by knowing techniques like learning how to blanch. If you have broccoli, carrot, and an squash you want them to have the same doneness. Those things make a difference.
Can you tell us about one special food memory that you have you'll never forget. Something special to you?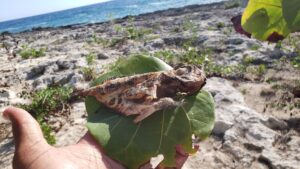 Probably a Roast Fish. As friends after leaving highschool none of us had a job so we would always go to the cliff side and do spearfishing. We would build a bond fire and let it burn all the way down. We would get the fresh fish and put it right on top of the charcoal. Then let it cook or let it roast for 10 minutes each side.  To add flavor (since we didn't bring seasoning) we would dip the fish back in the salty water and then it would have so much flavor going through it. You could taste the burn notes and it was so amazing. Every time I go to Jamaica I try to recreate that. Every single time.
Can you discuss with us a little bit about how the pandemic has affected your industry?
The pandemic has crushed the industry and it's still doing it now. Restaurants were closed so a lot of people were without jobs. For me I was without a job also so I went back to Jamaica to redo my farm. I spent the early part of the pandemic in Jamaica farming. I know not a lot of people have the flexibility to do stuff like that. A lot of people were just really trying to survive and now it's like a double edge sword. People are not going back to work because their scared of catching Covid or for various other reasons. The industry is struggling to find staff. A lot of people lost their lives. I know a lot of people I have worked with before are not here with us today. It has really opened my mind to thinking outside the box. It showed me we need to build closer ties with family. You just never know. The pandemic has affected us a lot in many different ways.
How has being Black in the industry affected You?
I think being Black in the industry has its challenges but just like everything else you gotta get in where you fit in. You're going to be celebrated somewhere. Restaurants need skilled people right now. If you have a choice choose to be happy and go around people who are open minded. We can't change how a person thinks but we can change where we go and how we want to be treated and don't except anything less. I think it's a good time for Black Chefs in America right now. There is a lot of focus being placed on Black Chefs now in America and people are more open to the food. Jamaican food is becoming more mainstream. Black chefs are believing in themselves and bringing the culture to the forefront. Black Chefs are being true to their flavor profile. Stay true to what you believe and there is a place for you to shine.
Make sure to follow Chef Kahari on social media to see what he's up to next!
Instagram @ChefKahari and @Disaucellc

Copyright secured by Digiprove © 2021