SummertimeCHI is in full effect! Chicago is the place to be if you like music, festivals, and TONS of good eating. One standout festival that kicks off the summer vibes is the Windy City Smokeout. The four day country music festival brings together some of the worlds best pitmasters to showcase their BBQ skills. One of the fame Chef's that will be taking part in the festival is Chef Dominique Leach of Lexington Betty Smokehouse.
Chef Dominique Leach is a classically trained Chef turned nationally recognized pitmaster. She's the owner of Lexington Betty Smokehouse which she named after her grandmother. Chef Dominique is quickly becoming a household name with her various accolades and TV appearances. She's been on Food Network's CHOPPED, a judge and contestant on Food Network Canada FIRE MASTERS, and her restaurant was recognized as the "Best Barbecue in Chicago" by Good Morning America.
If you're heading to Windy City Smokeout make sure to stop by Chef Dominique station where she'll be serving up Wagyu Steak Dogs, Wagyu andouille sausage, and BBQ seasoned fries. I cannot wait to check out all this deliciousness, but in the meantime checkout my one on one interview with Chef Dominique Leach below.
Chef Dominique Leach Interview with Tavi J.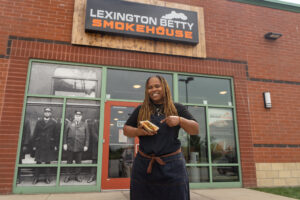 You started your own line of Beef Franks. Out of all the meats to grill, what made you decide to do a Lexington Betty Smokehouse Wagyu Beef Frank? 
Franks are quintessential to Chicago and a nod to our roots, so it felt appropriate to start with the Waygu Beef Franks. We have several new products on the horizon, though!  

What would you say is the perfect topping(s) for your Wagyu Beef Dog?

For an extra kick, my favorite toppings for the Wagyu Beef Dog are pico de gallo and jalapeños, although I love several different topping variations!
As a pitmaster, please help us up our game. 🙂 Can you tell us one mistake commonly made when grilling and how to fix it?

Overcooking proteins is a very common grilling mistake. Using a thermometer to gauge the temperature and pull the meat from the flame at the appropriate time is an easy fix.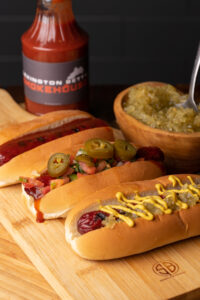 Is there a particular restaurant or chef you're looking forward to seeing at the Windy City Smokeout? 
I'm excited to meet anyone who is a part of the pitmaster community, but am especially looking forward to seeing Chef D'Andre from Soul & Smoke.
What upcoming endeavors do you have going on for the remainder of 2023?

I competed on the new season of Food Network's BBQ Brawl which premieres on Monday, July 10th, so follow along to see how I do!
*ALL photos courtesy of GAZ Consulting and Design*

Copyright secured by Digiprove © 2023