The Albion Manor and The Parlour at The Albion is a duplex English Pub and Cocktail Parlour in Lincoln Park at 1480 West Webster Avenue, Chicago, Illinois 60614
New Epicurean Small Bites Menu at The Parlour The Albion Manor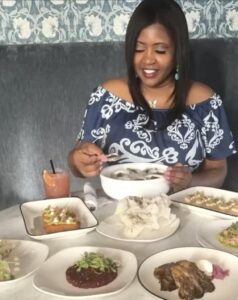 The Parlour at The Albion Manor
, the Cocktail Parlour above the English Pub in the Lincoln Park neighborhood of Chicago, launched a new epicurean small bites menu on May 11th. The new menu is only offered in The Parlour when it is open for service on Thursdays, Fridays, and Saturdays. This compact but robust and inventive menu from
Chef James Menendez
 blends well with the laid-back luxe lounge seating and cocktail-focused
atmosphere of The Parlour. 
The savory menu will start with seven rotating dishes, with the inaugural menu consisting of: 
Alemar Bent River Toast 
(camembert, pickled onion, cornichon, sourdough), 
Chicken & Chorizo
(avocado puree, lime crema, pickled onion, fried tortilla), 
Hiramasa Tartare
(avocado puree, caper, preserved lemon, dashi vinegarette, puffed rice chips), 
Cured Beet Tartare
(fermented pepper, preserved lemon, caper, pickled kombu, scallion, puffed rice chips), 
Roasted Maitake (
ricotta, pickled onion, ras el hanout butter), 
Scallop Carpaccio
(pea, pea puree, rhubarb, fermented daikon), 
Island Creek
Oysters
(dashi, cucumber, apple gelee)
The house-made dessert menu includes three initial offerings of: Panna Cotta (vanilla panna cotta, caramel, smoked kiwi, streusel, kiwi sorbet), Chocolate Mousse (compressed apple, apple cider vinegar gel, toasted cashews, passionfruit ice cream), Mango Poundcake (vanilla poundcake, mango cream, mango ice cream, compressed mango, toasted cashew)
In addition to being open for special events such as Burlesque and Drag Shows plus other entertainment and cocktail services on Thursdays, Fridays, and Saturdays, The Parlour at The Albion is also available for private events and gatherings. For more information, visit TheAlbionManor.com.

Copyright secured by Digiprove © 2023