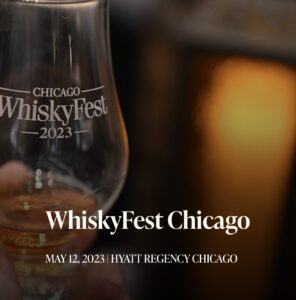 One of my favorite events is BACK on May 12th. WhiskyFest presented by Whisky Advocate Magazine is the leading whisky festival in North America.
You get to taste whiskies from around the world and learn from the experts. This is your chance to taste from a selection of single malt and blended Scotch, Irish, bourbon, rye, Tennessee, Japanese, Canadian, and craft-distilled whiskies, all assembled in one Grand Ballroom. High-end rum, cognac, and other spirits will be available as well.
Many distillery representatives will be on hand at the pouring booths to explain how their whiskies are made. I always make sure to attend a FREE seminar as well. So much knowledge!!
Make sure to get your tickets before they sell out!
WhiskyFest
May 12, 2023
Where: Hyatt Regency Chicago
Address: 151 E Wacker Drive, Chicago
Time: 5:30pm VIP ($375) 6:30 GA ($295)

Copyright secured by Digiprove © 2023