Several thoughts come to mind when I think about the suburb of Evanston. Evanston is located only 12 miles North of Downtown Chicago. My family used to live in the area and I remember going for long walks on the weekend while admiring the large mansions situated near the lakefront.
Evanston is also known as a college town. The colors purple and white can be seen in abundance from the students and alumni of Northwestern University. There's so much to do in Evanston and if you want to stay in the heart of the action the Graduate Hotel is the place for you.
Graduate Hotels is a collection of hand-crafted hotels in university-driven towns around the globe. From the instant you walk through the doors, you'll be immersed in local culture and charm unique to each city. The 30+ hotel locations celebrate and commemorate each community's energy. In case your wondering the hotels are not just for college students. In fact I think it's super fun if you stay here and like me, are almost 20 years removed from your college experience.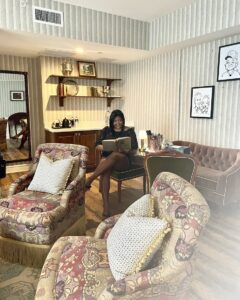 The hotel rooms bring forth college nostalgia  — from treasured campus memories to your favorite travel moments. You'll be lounging and remembering your glory days. The Graduate in Evanston is located just steps from Northwestern University campus near Lake Michigan's shore. The hotel offers modern accommodations but with a twist of vintage decor. The rooms are super cozy and are filled with classic fabrics, plenty of patterns and wood-turned details in the furniture.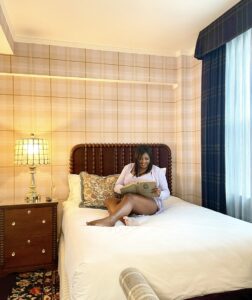 Graduate Evanston hotel offers a mixture of guest rooms, accessible rooms, and suites. I stayed in the Graduate Queen suite. The suite offers more stretch room and comes with a wet bar, dining table, and refrigerator. For an extra fee you can even bring your pet!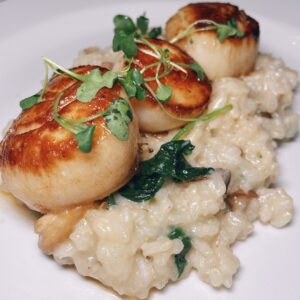 There's plenty of places to dine in Evanston, but if you're looking to stay put in the hotel, give onsite restaurant The Homestead Room a try. We had dinner and breakfast there. The menu is filled with delicious American comfort food and John Hughes-inspired cocktails. Some of our favorite menu items were the spinach & artichoke dip, fried Buffalo cauliflower, and the house special of the night scallops & risotto. Definitely make sure you save room for dessert! The skillet cookie is warm and extra gooey. Just the way I like it!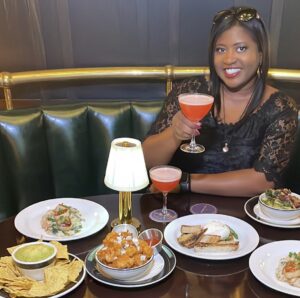 After dinner we grabbed a cocktail and enjoyed it on the super cute patio. The rocking chairs are so charming! If you're looking to venture outside of the city checkout the wonderful town of Evanston and make The Graduate Hotel your home away from home. 🙂
The Graduate Evanston
1625 Hinman Avenue, Evanston IL

Copyright secured by Digiprove © 2022