LuxeHome A Taste of CHILL
A Curated International Wine & Culinary Event in cooperation with Wine Spectator Magazine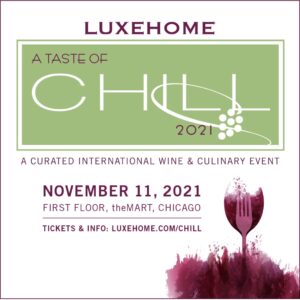 Now in its Fifteenth year, A Taste of CHILL will showcase some of the best in food, wine, and design in a select group of LuxeHome Boutiques, all in the name of charity. While A Taste of CHILL will have a different look and feel, we will unite to create an innovative wine and epicurean experience for all.
Since its inception in 2007, CHILL has raised over $2.1 million to support many of Chicago's charitable organizations. This year, we are proud to support the incredible work of the Respiratory Health Association and Saturday Place.
Thursday, November 11th
6pm to 8pm
Where: theMART
Address: 222 Merchandise Mart Plaza
Cost: $125/Ticket
Tickets: https://www.tix123.com/tickets/?code=CHILL21

Copyright secured by Digiprove © 2021