Iconic R&B Male Group Boyz II Men Set to Perform Live November 6; Attorney Ben Crump and Business Leaders Connie Lindsey and Brett J. Hart to Receive Honors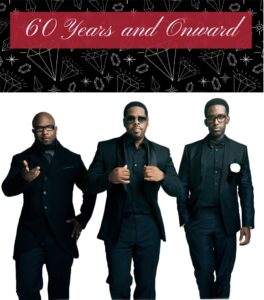 Urban League President and CEO Karen Freeman-Wilson announced via social media that iconic R&B group Boyz II Men will take the stage at the organization's 60th Annual Golden Fellowship Dinner. The highly anticipated affair will be held on Saturday, November 6, 2021, at the Hyatt Regency Chicago.
"This year marks 105 years of the Chicago Urban League's existence and 60 years of bringing our friends and supporters together in a celebration of fellowship, so we had to have legendary entertainment to match," said Freeman-Wilson. "The music of Boyz II Men crosses generations and genres. I can already feel the energy they're sure to bring to this performance."
The Golden Fellowship Dinner is the Chicago Urban League's biggest annual fundraiser. After hosting the event on a virtual platform in 2020 due to the COVID-19 pandemic, the organization plans to return to an in-person celebration this year, with a live broadcast option for virtual attendees. The black-tie gala will begin with a champagne reception at 6:00 p.m., followed by dinner at 7 p.m., and an after-party at 10 p.m. All attendees will be required to submit proof of vaccination in advance and to wear masks throughout the evening. Seating will observe appropriate social distancing.
Each year, the Golden Fellowship Dinner attracts a notable cross-section of the city's civic and corporate leaders, human rights advocates, philanthropists, clergy, elected officials and more.  The theme for this year's gala is "60 Years and Onward: Meeting the Moment with the Movement." Organizers will reflect on six decades of incredible partnerships in pursuing the Chicago Urban League's mission and highlight how the Urban League movement is meeting today's challenges that continue to hinder racial and economic equity.
"While we celebrate the strides that the League has made on behalf of Black people in areas including housing, education, entrepreneurship, employment and advocacy, there is still more work to be done," Freeman-Wilson added. "Our powerful village of staff, clients, volunteers, donors and stakeholders help us write history daily. Our fight for equity in every setting is ongoing, making the League's mission, work and presence more critical than ever."
For the Golden Fellowship Dinner on Saturday, November 6, tickets for in-person attendance are $600 each and virtual tickets are $200. Virtual attendees will receive a gift card to order dinner from a local restaurant.
To learn more and purchase tickets to the the Chicago Urban League's 60th Annual Golden Fellowship Dinner, visit the 2021 Golden Fellowship event page.

Copyright secured by Digiprove © 2021