IT'S HERE! CHICAGO GOURMET ANNOUNCES 2021 LINEUP
AND TICKET SALES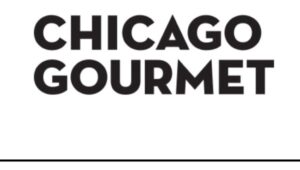 Chicago Gourmet, one of the nation's most distinguished food festivals – is pleased to reveal its 2021 lineup and announce ticket sales. Organizers at the Illinois Restaurant Association (IRA), the event's founding sponsor – along with presenting sponsor Southern Glazer's Wine & Spirits – have curated a month-long celebration beginning September 1 that champions Chicago's diverse culinary landscape while reuniting food and drink enthusiasts with their favorite chefs, fellow foodies and the memorable experiences they crave. Tickets and reservations will be available at chicagogourmet.org beginning at 10 a.m. CST TODAY, Thursday, August 5.
Eager to showcase their establishments after a most challenging year – as well as collaborate with their industry peers and friends – star chefs and leading restaurants throughout Chicagoland return to participate in both longtime fan favorites and newly envisioned events, which include:
Hamburger Hop presented by DoorDash, Buckhead Meat and Blue Moon. The iconic Hamburger Hop is back and bigger than ever.  A hit in 2020, the Citywide Hamburger Hop once again takes the battle beyond Millennium Park. Chef competitors will offer tasty burgers for dine-in, delivery or carry out from September 1-30. Food lovers are encouraged to hop around town or visit the DoorDash app or website and try as many burgers as possible. One dollar from every burger sold will benefit the IRAEF. Based on flavor and overall presentation, they will vote on their favorite at chicagogourmet.org by September 22. Visit the continually growing list of restaurant participants here.
AND! The longtime fan-favorite Hamburger Hop makes a festive return in person at the Harris Theater rooftop on Friday, September 24 from 6 to 9 p.m. There, organizers will announce the champ of the citywide grilling battle, while also crowning the Peoples and Judges' winners of those chefs participating onsite that evening. Hosted by the effervescent celebrity chef Stephanie Izard and judged by a panel of leading experts, the evening's guests are in for a night of tasty burgers, cold beer, wine and spirits and unparalleled skyline views.
$130 per person, exclusive of taxes and fees, 21+.

Tacos & Tequila! The perfect pair. Tacos & Tequila presented by US Foods is a newly announced extravaganza hosted by renowned Chef Rick Bayless (Frontera Restaurants). Showcasing an array of gourmet tacos and agave spirits presented by some of the city's most impassioned leaders of authentic Mexican cuisine, the event will be held on Thursday, September 23 from 7 to 10 p.m.at the Harris Theater Rooftop.
Guests will enjoy a range of flavors while exploring more than one dozen premium tequilas and mezcals, as well as beer and wine selections. DJ, mariachi and mojiganga performances will keep toes tapping all night long! ¡Salud!
$95 per person, exclusive of taxes and fees, 21+.
Grand Cru presented by UnitedHealthcare. An expanded variation of the Grand Cru takes place in person on Saturday, September 25at the Harris Theater Rooftop. The exclusive affair will showcase the world's finest wines curated by the nation's leading wine experts, an enhanced focus on artisanal craft spirits in a newly added Artisanal Cocktail Lounge, and unforgettable cuisine prepared by Chicago's award-winning chefs.
Enthusiasts will taste and learn in "grand" style with Master Sommeliers including Serafin Alvarado and extraordinary master mixologists like Daniel de Oliveira (both with Southern Glazer's Wine & Spirits), while master chefs will prepare decadent bites to match. Two sessions will be offered from 2 to 5 p.m. and 7 to 10 p.m.
$255 per person, exclusive of taxes and fees, 21+. Space is limited.
Go Gourmet! After presenting a series of intimate, sold-out events last year, Go Gourmet returns in 2021, featuring numerous events curated with care by beloved chefs at leading restaurants and venues citywide. From daytime gatherings and evening soirees to multi-course feasts representing a host of cuisines and themes, Go Gourmet events range in gathering sizes and feature premium wines and spirits from the Southern Glazer's Wine & Spirits expansive portfolio.
Taking place throughout the entire month of September, fans can look forward to countless opportunities to reunite with each other and Chicago's stellar culinary community including:
September 1: Celebrating Phil Vettel: A Four-Star Feast. Celebrating the contributions of dining critic Phil Vettel, who eloquently chronicled Chicago's restaurant industry for more than three decades, the multi-course dinner will be hosted by Chef/Owner Tony Priolo and Owner Ciro Longobardo at Piccolo Sogno, with special guest chefs Paul Kahan (One Off Hospitality), Martial Noguier (BISTRONOMIC) and Mindy Segal (Mindy's Bakery / Mindy's Edibles). Don't miss this special evening, and its (many) commemorative toasts!  6 p.m. cocktail reception, 6:30 p.m. seated dinner; $175 per person, inclusive of tax and gratuity; Piccolo Sogno (464 N. Halsted St.).
September 7 and 14: Passport to Pizza presented by Performance Foodservice. Grab your passport and get ready to eat your way around the world! Join certified Pizzaioli, Robert Garvey, for a one-of-a-kind experience honoring Chicago's very own staple – pizza! Robert has spent years perfecting the pie, and he invites pizza-lovers into his home, where he'll showcase some of his worldly creations! Enjoy a slice, (or 5, no one is counting). Pizza will be paired with wine selections from Ruffino and spirited cocktails from Campari America. 6:00 p.m.; $65 per person, inclusive of tax and gratuity; Robert's Pizza & Dough Co. (454 N. McClurg Ct.).
September 11, 12, 18, 19: Bar Siena Fitness Series. Held two weekends in September, join Chef/Partner Fabio Viviani for Bar Siena's popular wellness brunch. Guests will work up a sweat at an expertly led HIIT or yoga class, earning a festive brunch to follow that includes savory and sweet brunch items and interactive wine and cocktail stations. Classes and instructors vary weekly; see details below. 9 a.m. class, 10 a.m. brunch; $65.50 per person, inclusive of tax and gratuity; Bar Siena (832 W. Randolph St.).
September 14: Mentorship is a Virtue. Guests will have the opportunity to experience an extraordinary evening with Virtue's award-winning Chef and Owner Erick Williams and his all-star team Chef de Cuisine Damarr Brown and Pastry Chef Becky Pendola. Working with Williams since his time at MK, Brown and Pendola welcome guests to gather around the Virtue table for this special meal. 6 p.m. cocktail reception, 6:30 p.m. seated dinner; $149 per person, inclusive of tax and gratuity; Virtue (1462 E. 53rd St.).
September 14: Wagyu + Sake Dinner hosted by Lettuce Entertain You Enterprises. Join an interactive and delicious evening indulging in wagyu, widely considered the world's rarest and most exquisite beef. The five-course dinner is a collaboration between Lettuce Entertain You Chefs Naoki Nakashima, Master Sushi Chef Kaze Chan of Sushi-san and Chef Evan Packer of RPM Steak. The exclusive menu highlights wagyu and includes perfectly paired sake and wine. The evening is presented with the Consulate-General of Japan in Chicago and Southern Glazer's Wine & Spirits. 6:30 p.m. cocktail reception, 7 p.m. seated dinner; $225 per person, inclusive of tax and gratuity; RPM Steak (66 W. Kinzie St.).
September 15: Respecting Nostalgia and Avoiding Authenticity. Finding innovation through the lens of familiarity is the ethos for the way the team at S.K.Y. prepare meals. Join Chef/Owner Stephen Gillanders, Pastry Chef Tatum Sinclair and their team as they demonstrate to guests how to innovate in 2021 by taking something identifiable and transforming it into a unique and inspired dish. Two sessions offered (5:30 p.m. cocktails, 6 p.m. seated dinner and 8:30 p.m. cocktails, 9 p.m. seated dinner); $118 per person, inclusive of tax and gratuity; S.K.Y. (1239 W. 18th St.)
September 22: Celebrating Leading Ladies. Camaraderie and legacy are at the heart of this multi-course dinner hosted by Owners Clodagh and Amy Lawless of The Dearborn. They, along with Executive Chef Aaron Cuschieri and Pastry Chef Julianna Westgor, will welcome Sophie Evanoff of Vanille Patisserie to their kitchen as the trio invites guests on a journey of iconic recipes originated from leading women figures in culinary history. Wine expert Alpana Singh and owner of Terra & Vine will emcee as she presents wines from women-owned wine and spirits-makers. Two sessions offered (5:30 p.m. cocktails, 6 p.m. seated dinner; 7:30 p.m. cocktails, 8 p.m. seated dinner); $130 per person, inclusive of tax and gratuity; The Dearborn (145 N. Dearborn St.).
The Grand Tasting on the Main Lawn will not take place in Millennium Park this September, with a spectacular return planned for 2022.
Tickets to all Chicago Gourmet events go on sale at 10 a.m. CST on Thursday, August 5 at chicagogourmet.org.
Health and Safety at Chicago Gourmet
Chicago Gourmet is focused on the health and safety of its guests, talent, partners and employees. In accordance with City of Chicago recommendations, full COVID-19 vaccination or negative COVID-19 test results will be required to attend all 2021 Chicago Gourmet events. For patrons who are not fully vaccinated, a negative COVID-19 test result must be obtained within 72 hours of attending Chicago Gourmet events. For those who have questions about COVID-19 vaccines or to find a nearby vaccination location, visit www.vaccinefinder.org.
All guests will be required to:
Comply with the Chicago Gourmet Attendee Health Pledge. Visit chicagogourmet.org to read the pledge.
Bring a printed copy of their Vaccine Card, Vaccine Record or Negative COVID-19 test.
At outdoor events, masks are required for unvaccinated guests when not actively eating or drinking. When indoors, all guests should wear a mask when not actively eating or drinking.

Copyright secured by Digiprove © 2021