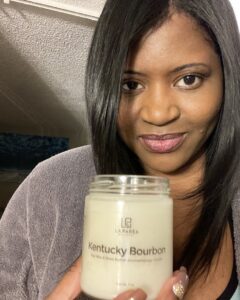 There's something about spring that screams "Renewal" "Refresh"… "Self-Care."
I gave into my senses and released tension with the help of La Parea Wellness and their line of plant-based aromatherapy products. Each of their loving-created balms, oils, candles, and more uses traditional plant derived remedies from the Andes and Amazon with a modern touch in order to treat the worries and aches of the 21st century.
I tried out a couple of their products:
Candle & Soap Trio Gift Box $74.99
I love SOY candles and beautiful smelling soaps. All the candles are made using all-natural soy wax and shea butter as well as essential oil blends. The candles are hand-poured in small batches to ensure quality. They are all paraben-free and plant-based.
Each soap is made using plant based shea and olive oil soap bases as well as all-natural oil blends to cleanse and nourish the skin.
I was obsessed with the candles and soaps. Usually I'm a shower person, but I lit a candle, put on some music, and laid back in the bathtub as the fragrance surrounded me. Such a relaxing evening!
What else did I try……
Sleep Box $29.95
The sleep box comes with a 2 oz Face & Body Mist, 10ml bottle of Somnia essential oil, and an adjustable silk eye mask. First of all let me say the mask is the BEST mask I have ever tried! No light is getting in there and the silk felt so smooth against my skin. 🙂
The Zen mist has you resting easy while it regenerates your skin. I enjoyed the scent of perpperment and lavender in this relaxing spray.
If you're looking for natural plant-based aromatherapy products head over to La Parea Wellness website and puruse the products. There's definitely something for everyone. It's time to spring forward and renew the mind!

Copyright secured by Digiprove © 2021