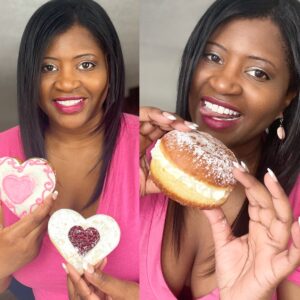 The holidays aren't over yet!! There's two holidays quickly approaching that call for yummy dessert. Valentine's Day is less than 2 weeks away and Fat Tuesday is not far behind (2/16). Delightful Pastries is the one stop shop to make sure you and your love ones enjoy the sugar rush! 🙂 Delightful Pastries is a family-owned and operated bakery. They've been serving delicious home-style European pastries, cakes and baked goodies to their faithful Chicago clientele for more than 20 years.
Valentine's Day, February 14th

Make your Valentine's Day extra sweet with a handmade treat from Delightful Pastries (5927 W Lawrence Ave, Chicago, IL 60630; 773-545-7215).  A selection of delicious candies and pastries will be featured this Valentine's Day, the perfect surprise for your valentine, family or co-workers.
For the Valentine's Day traditionalist, choose from a selection of handmade candies, Chocolate Dipped Strawberries, Pecan Turtles,Orange Liqueur Truffles, Plum Brandy Truffles or Hazelnut Praline Rocher Truffles. Delightful Pastries has something sweet for health enthusiasts too, such as the sugar free Keto Almond Truffles and vegan Chocolate Bark with Pistachios, Cherries, Hazelnuts, Cranberries and Apricots, made with 70% bittersweet chocolate.
Those who prefer pastries will have a selection of seasonal treats, such as the Death by Chocolate Mousse Hearts, Carmel Macademia Congo Bars, Hazelnut Praline Paris Brest, Sugar Cookie Hearts with Royal Icing, Linzer Hearts with Raspberry or Passion Fruit Jelly.
Pre-orders will be taken for a Valentine's Day Box of cookies and truffles, the cost will be $30 and the box will contain: 2 assorted truffles, 2 Pecan Turtles, 2 Linzer cookies, 2 Decorated Hearts with Royal Icing, 1 Paris Brest and 1 Death by Chocolate Mousse Heart.
Call Delightful Pastries at 773-545-7215 or stop in to inquire about pricing or place an order. Visit DelightfulPastries.com for full Valentine's menu.
Fat Tuesday, February 16th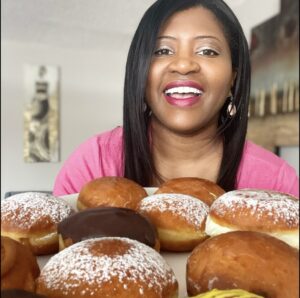 This year more than ever, celebrating Paczki Day with delicious homemade Paczki will be appreciated by all of us needing an indulgence.
The acclaimed Delightful Pastries (5927 W Lawrence Ave, Chicago, IL 60630; 773-545-7215), celebrating its 20th anniversary, keeps their bakery stocked with their tasty paczki (traditional Polish doughnuts) year-round. But the annual Packzi Day is something very special.
This year, Paczki Day falls on Fat Tuesday, February 16 and Delightful Pastries has already geared up for eager Chicago Packzi lovers' far in advance.
While walk in orders are available, Delightful Pastries owner Dobra Bielinski recommends ordering in advance. Minimum order is a dozen and orders must be made by February 10.
"We encourage everyone to call and order in advance to minimize long waits. We will have social distancing precautions, and for those who have pre-ordered, curbside pickup is available by calling 773-545-7215 when you arrive."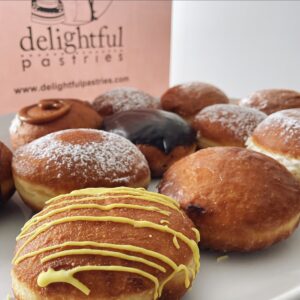 Delightful Pastries has amazing flavors to please all tastes, ranging from traditional flavors such as Custard Topped with Chocolate Fudge, Apricot Jelly, Plum Butter, Raspberry Jelly and Rose Petal Jelly. If you're more adventurous, try the gourmet flavors such as Fresh Strawberry and Whipped Cream; Fresh Strawberry; Passion Fruit Jelly with a great taste of the Caribbean; Salted Caramel with scratch-made caramel using sea salt; and German Chocolate with pecans and coconut custard topping.
Delightful Pastries' signature Drunken Paczki have helped make their name famous, with three booze-filled options: Vodka & Vanilla Bean Custard, Jameson Whiskey with Chocolate Custard and Moonshine & Lemon.
Call Delightful Pastries at 773-545-7215 or stop in to inquire about pricing or place an order. All advance orders must be received by February 10. Visit DelightfulPastries.com for full Paczki menu.

Copyright secured by Digiprove © 2021