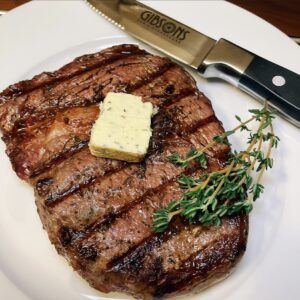 My ultimate go to treat yourself meal is STEAK! Nothing beats a juicy steak cooked over an open fire. Chicago is known for our many delicious steakhouses and one of the best is Gibson's Steakhouse. Gibson's was founded in 1989 with the iconic Gibson's Bar & Steakhouse located in the Gold Coast of Chicago. (Also referred to as the heart of the "Viagra Triangle" for local Chicagoans). 🙂
If you're not up to dining out Gibson's is still here to fulfill your mouthwatering steakhouse desires. Gibson's launched an online retail steak shop. Now you can get yummy restaurant quality steaks delivered right to your door.
Gibson's gift boxes features 3 steak offerings: the bone-in-filet, The New York Strip, and the Ribeye. All three are 100% grassfed, free-range Grassfed Australian beef, hand-cut and expertly wet-aged for a minimum of 75 days. You will also receive a 6oz. bottle of the famous Gibsons Seasoning Salt, in order to cook your steaks to perfection. Besides steak Gibson's Steakshop also offers grass fed Australian steak burgers, various seasoning salts, Gibson knives, aprons, and more!
So what makes Grass Fed Australian Beef a cut above the rest?
Australia is one of the only countries in the world to conduct a full-scale Life Cycle Analysis of the environmental impact of beef & lamb production from the farm to delivery in the US. In doing so, we learned that:
Transport <5% of greenhouse gas emissions, water and land impacts, confirming food miles (or "locally produced") is not a suitable indicator of environmental impact.
In a separate study over the last 30 years, we learned that Aussie ranchers have:
Reduced their water use by over 65%
Reduced their animals' greenhouse gas emissions intensity by 14%
I was gifted the Gibson's Rush Street Box ($112). Featured 2 Grassfed Australian  Ribeye cuts, 4 Grassfed Australian  steakhouse burgers, and 6oz bottle of Gibson's seasoning salt. I also received the sold out Gibson's Gift Set ($100) which featured 1 Gibson Apron, 2 Gibson signature knives, 4 6oz bottles of Gibson's seasonings (Original Salt, BBQ, Seafood, Blackening).
If you need some tips on how to cook your steak check out the blog with True Aussie and Gibson's Corporate executive Chef, Chef Dan Huebschmann.
https://gibsonssteak.com/blogs/news/how-to-grill-your-gibsons-steak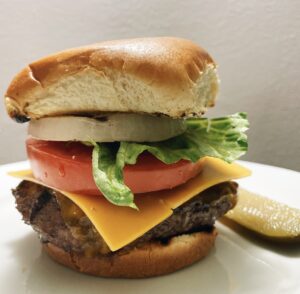 My steaks and burgers turned out perfectly. I've also used the Gibson seasonings on salmon, vegetables, and my homemade soups.
Give yourself, or someone special, a cut of what makes Gibson's great.
https://gibsonssteak.com/collections/gibsons-steak-shop

Copyright secured by Digiprove © 2021-2022