Wings, Wings, and more Wings! I checked out six of the 50 wing flavors from 'The Wing Experience.' All I can say is YUMMY and I'm stuffed. Read on about the new menu below.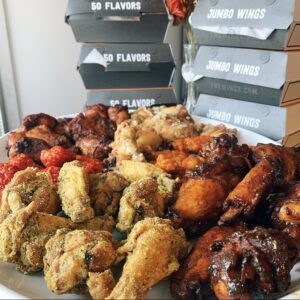 The leader in casual dining BBQ, Smokey Bones announces its increased investment and full promotional support for its fully virtual brand 'The Wing Experience.' Based off the positive response to its launch in 2019, The Wing Experience re-launches today with dedicated packaging, new boneless wings, a dedicated online ordering and delivery platform, and a category-leading fifty flavor offerings. The Wing Experience now operates in 61 locations across 16 states.
Beginning this week, the Wing Experience is available for pickup or delivery from all 61 Smokey Bones locations through its newly launched website and online ordering platform at www.thewingx.com, and is also available for delivery from UberEats or DoorDash.  The menu features Jumbo smoked and Jumbo traditional bone-in wings, new crispy boneless wings, and new crinkle cut fries.  The Wing Experience now also features a category-leading menu of fifty wing flavors.  Guest can choose their favorite from one of 9 Buffalo, 5 BBQ, 6 Fruit, 9 Global, 8 Rich & Creamy, 4 Adventurous, 6 Dry Rub, and 3 Nashville Style flavors.  Some of the new additions include strawberry chipotle, garlic parmesan, hot cinnamon candy apple, garam masala curry, and so many more.
The Wing Experience menu offers 50 wing flavors and crinkle cut fries.  The specialized menu allows the brand to focus on making the best wings in America with the most flavor options anywhere.

Copyright secured by Digiprove © 2020