2020 has definitely been a whirlwind! The pandemic has us changing the way we view and interact within our current surroundings and the world at large. For three or four months a large percentage of the world quarantined and left certain industries uncertain of what was to come next. With cleanliness, precaution, and social distancing becoming a number one concern…. businesses needed to figure out ways to raise the safety standards, but also to put consumers at ease.
The hotel industry was hit hard during the pandemic. With more knowledge and safety parameters people are trickling back into reality, albeit a new one. Traveling is increasing, but there are still many who prefer to keep it local this year. So how about a staycation????
I did all the hard work for you (LOL) to pick a hotel that was not only in a great location, but offers many amenities and follows safety/cleanliness procedures to help you feel at ease. I highly recommend staying at the Renaissance Chicago downtown hotel. From the spectacular luxury suite views, to the tantalizing flavors at onsite rooftop bar Raised, and also the surrounding attractions at every corner….. THIS IS THE PLACE TO STAYCATION AT! Check out my experience below to help you plan YOUR next staycation adventure!!
Tavi J. Staycation at the Renaissance Downtown Chicago Hotel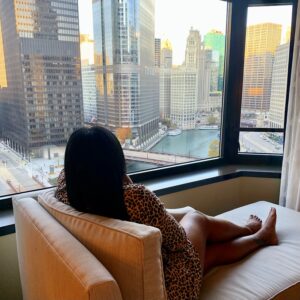 The Renaissance Chicago is located in one of the best locations! Located at 1 W. Upper Wacker Drive, you can tell upon arrival that you're in the heart of downtown. The hotel is in close proximity to the theater district, local landmarks, various attractions/entertainment, shopping, dining, and our enchanting river walk.
As soon I walked into the hotel lobby I was transported into a creatively designed setting. Local artwork and intriguing design elements are showcased throughout the hotel lobby and within the rooms.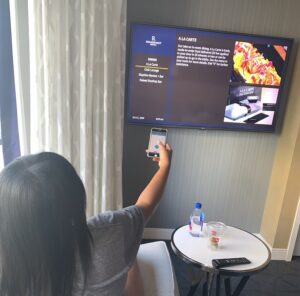 During this ongoing pandemic extra measures are taken at the Renaissance to help guests feel at ease right from the beginning and throughout your stay. At check in we were greeted by the front desk staff through a plexi glass protective guard to help prevent the spread of droplets from one individual to another. There were safety measure printouts that outlined measures being taken by Marriott hotels internationally, but the front desk was also kind enough to explain some features to take advantage of within our rooms. For example there is a QR code on the TVs within the rooms to program your cellphone to act as the remote versus using the remote controller. Your cellphone enables you to scroll through television channels and to check out the restaurant menus. How cool is that! The whole check in process was very informative and went very smoothly!
As we headed to our luxury suite we noticed safety precautions like hand sanitizer placed in predominant public spaces and also the elevator is limited to four people with social distancing markers in place.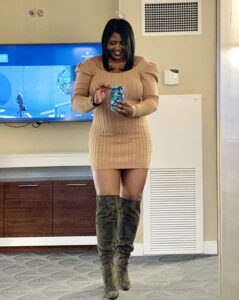 I've always loved staying at hotels! My favorite part is walking into the room for the first time and checking out the new digs. I was NOT disappointed taking my first few steps into our luxury suite. First thing I was greeted by was the AMAZING view of the River Walk. The River Walk is a local favorite with river dining, amazing views, and boats galore passing through. I already knew that gazing out the window would be my number one priority that weekend. Other standouts was the beautiful and comfy blue couch in the living space (I want it!!), the interesting artwork on the wall, the King Size bed with luxe plush bedding, the full length mirrors throughout the suite, and the large bathroom with double sinks (YAY!!!).
There's a video on the hotel channel that shows all the safety measures taken to make your stay pleasurable. I liked the addition of the electrostatic sprayer disinfection used throughout the hallways. Sanitation of high touch surfaces are repeatedly cleaned throughout the day.
As I mentioned before things are constantly changing with the pandemic. My staycation was during Halloween weekend and just a few days before I was to arrive a new city mandate of NO indoor dining was put in place. Luckily for us the Renaissance has an outdoor dining rooftop bar restaurant called "Raised."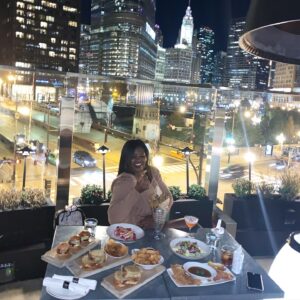 Raised named refers to the iconic bascule drawbridges that line the Chicago river, the river locks that raise the water for passing boats, and the elevation of the urban rooftop location. With that said you are in for an amazing dining experience! The setting is luxurious, but definitely not stuffy. Although we were outdoors during the 40 degree weather we weren't able to tell. The heat lamps and fire pits were doing their job. I would also assume that the glass surrounding the restaurant was helping to keep the wind at bay while still allowing us to take in the city jaw dropping views as we dined.
Normally hotel restaurant food isn't anything to write home about, but Raised is in as class of their own. The menu is small and allows them to make sure each dish is made to perfection. I loved that there was hand sanitizer on every table and QR code to view the menu online. Also, sidenote Raised has an excellent Happy Hour Monday – Thursday 2pm – 6pm with select $11 spirits, $7 wines, $5 beer and food specials.
We ordered pretty much the whole menu and were not disappointed. Our favorites would have to be the Cobb Salad, Beef Tenderloin sliders, and the grilled cheese. Also don't forget dessert!!! We thoroughly enjoyed the raspberry crunch. Hats off to the Chef! Cocktails were also flowing that evening! I would highly recommend the Watered Flowers Vodka based cocktail. It's beautiful (and makes for a great picture) but also very refreshing.
For those not wanting to venture outside you can order A la carte from your room, which we did for breakfast the next day. We loved the contactless delivery service. Your food is retailed packaged and dropped off at your door. Service is also fast and efficient (20-25 minutes).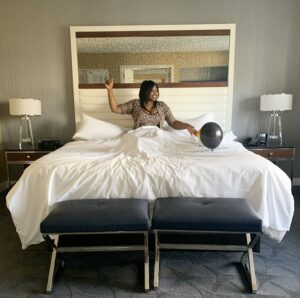 During my short staycaton it was all about enjoying the hotel and dining, but I highly suggest when you plan yours to venture out a bit! I will warn that you should plan ahead due to current restrictions at many businesses. Most restaurants are only taking reservations and based on the activities you choose there might be certain precautions in place.
I want to thank Renaissance Navigator Concierge, John Alcott, for providing us a list of establishments to frequent by the hotel and surrounding areas. I've included some attractions I've visited in the past below.
As I always say we ALL need selfcare! Mine came in the form of a staycation this past weekend to change up my living scenery. Being able to stay in the heart of downtown and seeing the city in all of its magnificent glory help me renew my state of mind. If you're wanting to switch things up, but not ready for travel…. a staycation just might be the perfect experience for YOU!
Renaissance Chicago Downtown Hotel
1 West Upper Wacker Drive, Chicago, IL 60601
A few recommendations to get you started……
Chicago River Walk – Located right across the street from the Renaissance, the River Walk offers miles of restaurant dining, various vendors, and a community marketplace. I highly recommend RPM Seafood Restaurant as well as River Roast Restaurant on the River Walk.
Mercury Skyline Cruise – 90 minute river and lakefront cruise while gazing at the Chicago Skyline
Garrett's Popcorn – True Chicagoan's and tourist alike LOVE Garrett's. I always get the Chicago Snack Mix. Garrett's has several locations throughout the city.
Other landmarks/attractions to visit are: Art Institute of Chicago, Chicago Cultural Center, Willis Tower, 360 at the John Hancock Observatory, and Millennium Park.
Make sure you do your research for adjusted hours or closures due to the ongoing pandemic!

Copyright secured by Digiprove © 2020-2021