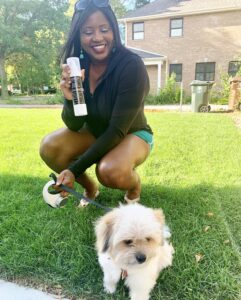 You're probably thinking I'm crazy doing a review on a fragrance that smells like a dog. LOL. I will have you laughing even harder because at first I thought the fragrance was for dogs when I read the product review email. However, once I found out it was a dog fragrance for humans I was intrigued and had to check out the companies website.
Demeter is a "fragrance library" hand crafted in the U.S. The company was founded in 1996 with a unique perspective on fragrance. The original mission was to capture the beautiful smells of the garden and nature in a wearable form. The first three fragrances sold in New York were Dirt, Grass, and Tomato. Demeter has expanded its fragrances over the years to include baby powder, pure soap, Gin & Tonic, Play-Doh, vanilla cake batter, pizza, and more!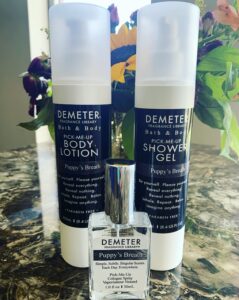 On August 22nd Demeter launched their newest fragrance… "Puppy's Breath." Puppy's breath captures the experience of meeting the new puppy for the first time, up close and personal with a rainbow swirl of happy feelings and memories. It's a combination of warm, wet, and wonderful comfort. The fragrance is slightly sweet, and undeniably organic and alive. Believe it or not Puppy's Breath fragrance took over 20 years to perfect because good was not good enough. The aim was for the scent to be mythical.
The puppy's breath products include cologne spray, shower gel, body lotion, massage oil, mini splash, and atmosphere diffuser. I tried out the shower gel, body lotion, and the cologne spray. The scent is on the sweeter side and I am happy to report that it smelled like a good CLEAN dog. 🙂 Totally not what I was thinking!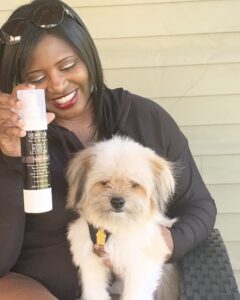 Demeter Fragrance is committed to giving back and will be donating a percentage of profits to local animal shelters, starting with the PA SPCA out of Danville, PA, close to where the Demeter Fragrance factory is located.
If you're looking to bond with your dog and smell like them too 🙂 check out this product line.
https://demeterfragrance.com/puppys-breath.html

Copyright secured by Digiprove © 2020