This Independence Day carries a new meaning for many Americans. What does Freedom mean?
FREEDOM: (Webster Dictionary) the absence of necessity, coercion, or constraint in choice or action. Liberation from Slavery or restraint or from the power of another.
As world events have us coming together to question freedom and equality…let's keep the conversation going. The momentum of calling out injustice's has started a movement and this 4th of July let's remember there's still more change that NEEDS to come.
KRISPY KREME® Introduces All-New Indoughpendence Day Doughnuts
Four star-spangled themed doughnuts and limited-edition Patriotic Dozens Box
available at Chicagoland shops starting Thursday, June 25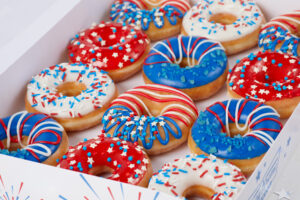 Fresh, delicious and in the pursuit of happiness! This Fourth of July, Krispy Kreme is celebrating America's "indoughpendence" by appealing to the supreme tastes of the nation with all-new patriotic doughnuts.
Krispy Kreme encourages all doughnut fans to celebrate America's land of the filled and home of the glazed sweetness with its new Indoughpendence Day Doughnuts, available beginning June 25 for a limited time at Chicagoland Krispy Kreme shops located in Homewood at 17815 South Halsted Street, Evergreen Park at 9150 South Western Avenue, Hillside at 110 South Mannheim Road and Chicago in Block 37 at 108 North State Street.
The collection features four star-spangled treats, which are also available in a limited-edition Patriotic Dozens Box (the perfect addition to any Fourth of July celebration), while supplies last.
Taste buds will be bursting in air with these new flavors:
Patriotic Sprinkles Doughnut is a festive Original Glazed® doughnut, dipped in white icing and topped with red, white and blue sprinkles.
Strawberry Sparkler Doughnut is an Original Filled Strawberries and Kreme filling, dipped in red icing and topped with star sprinkles.
Original Filled Freedom Ring Doughnut is an Original Filled Original Kreme with flag decoration and star sprinkles.
Firework Doughnut is an Original Glazed doughnut, dipped in blue icing, hand decorated with red and white icing and topped with blue raspberry flavored popping candy.
Share how you're celebrating America's "indoughpendence" with Krispy Kreme and taking part in your own celebrations using #KrispyKremeChicago and following @krispykremechi on Instagram. For more information about the new Krispy Kreme Indoughpendence Day Doughnuts, visit www.krispykreme.com/promos/july4.
Visit www.krispykreme.com to place an online order for delivery or door side pickup, find your closest Krispy Kreme shop and get Hot Light alerts.

Copyright secured by Digiprove © 2020