When the pandemic hit many restaurants still stayed open for pickup and delivery. However, with city rules those restaurants were not allowed to have dine in customers.
Ghost Kitchen's (professional food preparation and cooking facility set up for the preparation of delivery-only meals. No dining space for walk-in customers) are popping up in many locations. One new Ghost Kitchen to arrive in Chicago is "Smokey Bones."
Smokey Bones Now Available for On-Demand Delivery
with Postmates in Chicago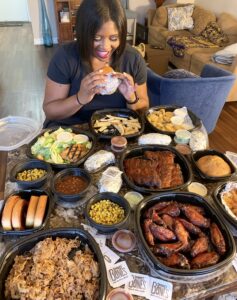 Available now in Chicago, barbecue lovers can order their favorite Smokey Bones menu items for pickup and contactless delivery through Postmates. To place an order, guests can visit https://postmates.com/merchant/smokey-bones-chicago-69253 or download Postmates on iOS or Android and receive free delivery for a limited time.
Smokey Bones opened its first ghost kitchen in Chicago last month offering delivery and pickup only.  The menu features Smokey Bones' famous slow smoked ribs and pulled pork, wings, burgers, grilled salmon, and salads.  Only available in Chicago is a wedge salad of iceberg lettuce, diced tomatoes, chopped red onion, green onions, crumbled blue cheese, bacon pieces, and blue cheese dressing.  Chicken or salmon can be added.  Also new for Chicago only is Idaho burnt ends – potato ends topped with cheddar jack cheese, bacon, chipotle mayo, sweet barbecue glaze, and green onions.
The Chicago ghost kitchen is staffed with Smokey Bones pitmasters to prep, cook and package the food. The food is then transferred to Kitchen United employees who prepare orders for customer curbside pickup and Postmates delivery pickup. The kitchen can be found at 831 N. Sedgwick Street for pickup orders.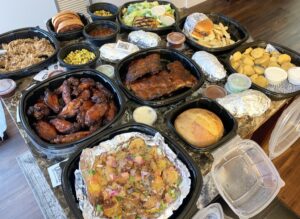 Smokey Bones is a full-service restaurant delivering great barbecue, award winning ribs, and good times in 61 locations across 16 states.  Smokey Bones serves lunch and dinner, and offers a variety of meats that are slow-smoked, fire-grilled, and available for dine-in, pick-up, online ordering or catering delivery.
Ofcourse, you know I needed to check out Smokey Bones for myself! My favorites were ALL of it, but I especially loved the pulled pork, wings, Idaho Burnt ends, and the CheeseCake. Yummy!
Make sure to download the Postmates app and check out Smokey Bones BBQ.
https://postmates.com/merchant/smokey-bones-chicago-69253

Copyright secured by Digiprove © 2020