TOP CHICAGO CHEFS TAKE ON ABT'S CHARITY WING COOK-OFF CHALLENGE
Five Local Celebrity Chefs Will Put Their Wings to the (Taste) Test on March 12 for the Chance to Win $5,000 for Their Charity of Choice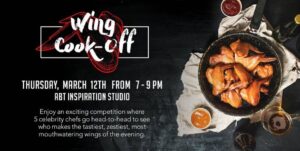 With March Madness right around the corner, what goes better with watching basketball than wings and beer? And that's what you'll get from Abt Electronics and some of Chicago's top chefs at Abt's Charity Wing Cook-Off, an exciting competition, hosted by Steve Dolinsky, renowned food reporter and producer, and ABC7's "Hungry Hound," where five celebrity chefs will go head-to-head to see who makes the tastiest, zestiest, most mouth-watering wings of the evening. Abt, the largest single-store retailer of electronics, appliances and home goods in the nation, located in Glenview, is hosting the event which will take place in their Inspiration Studio – a one-of-a-kind showroom that features 12 luxury kitchen builds by some of the world's most respected brands and conceived by internationally renowned kitchen designer, Mick De Giulio. Abt's Charity Wing Cook-Off will take place on Thursday, March 12 from 7:00 – 9:00 P.M. Tickets are $10 prior to the event and $15 at the door and can be purchased on eventbrite or at www.abt.com/help/events.
The wings will be judged by a panel of celebrity judges and the winning chef will receive a $5,000 donation to the charity of their choice from the Abt Family foundation. The competing chefs will be:
Guests will enjoy wings prepared by all five chefs, as well as beer and non-alcoholic beverages, and will have the chance to vote for their favorite. All proceeds from ticket sales will go to The People's Choice Award-winner.

Copyright secured by Digiprove © 2020